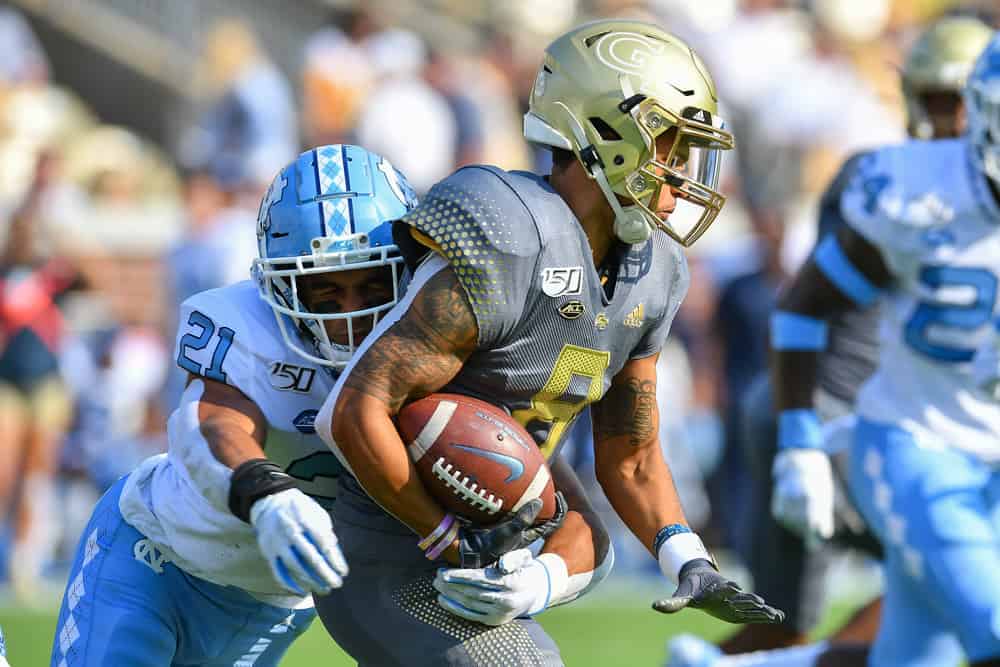 In approximately one month, the 2021 NFL Draft begins.
During this first Christmas of the year, Cleveland fans will learn who the next wave of Browns players will be.
It is hoped that these new Browns will mesh perfectly with the current team and form a championship contender.
The organization has already been busy during free agency, shoring up a number of positions that were a liability in 2020.
The most notable of those signed so far include former Ram safety John Johnson III, former Ram corner Troy Hill, defensive linemen Malik Jackson and Takk McKinley, and linebacker Anthony Walker.
Each addresses an area of need for the Browns.
Only time will tell if the free agency additions get the Browns over the top.
Right now, they bring excitement and giddy anticipation to 2021.
However, there are still a few positions that must be focused on in the draft.
In my previous mock draft, I selected mostly defensive players as that side of the ball for Cleveland needed the most help after 2020.
These were my selections from early February:
1st Round, Nick Bolton, LB, Missouri
2nd Round, Jay Tufele, IDL, USC
3rd Round, Jordan Smith, EDGE, UAB
3rd Round, Keith Taylor Jr., CB, Washington
4th Round, Janarious Robinson, EDGE, Florida State
4th Round, Trey Hill, IOL, Georgia
5th Round, Trill Williams, CB, Syracuse
6th Round, Grant Stuard, LB, HOUSTON
7th Round, J.D. Spielman, WR, TCU
This iteration of my mock draft took into account the Browns recent signings.
I concentrated on mostly defense for the first part of the draft, then went with offense in the later rounds to help with depth in certain spots.
Without further ado, here is my updated mock draft after the free agency period:

1st Round, Pick 26, Jaelan Phillips, EDGE, University of Miami
The additions of Johnson and Hill should solidify the back end of the defense.
Jackson and McKinley help, but I do not believe (yet) that McKinley is a game changer at defensive end.
With the Browns first pick of my mock draft, I chose Phillips.
There were a number of good players still available at this point.
However, Cleveland has to set the tone better when rushing the passer in '21.
Myles Garrett can't be a one man wrecking machine for an entire season, he needs help.
Phillips was originally a UCLA signee who ended up retiring from the program and the game itself after injury and concussion woes plagued his Bruins career.
He eventually decided to transfer to Miami and sat out the 2019 season due to NCAA transfer rules.
When Phillips came back this past season, he showed the world why he was a highly ranked recruit nationally coming out of high school.
In 2020, Phillips had 45 total tackles, three passes broken up, one interception, and eight sacks.
The Hurricanes went 8-3 overall and had one of the better defenses in college thanks, in part, to Phillips.
After the season, Phillips was named a First-team All-American by the American Football Coaches Association and was a semifinalist for the Bednarik Award for the nation's college defensive player of the year.
#Miami Jaelen Phillips:
First play sets up the next
1st rush beats the RT w/ speed & bend on the outside, doesn't even get touched before the QB gets it off
2nd rush RT is only thinking about the outside rush. Phillips takes him to the inside w/ a swim and gets the sack pic.twitter.com/U8a59kMhxF

— Brandon Coyle / NFL Draft (@CoyleNfl) December 31, 2020
Scouts love Phillips' first step.  He is quick at the point of attack and usually puts opposing linemen on their heels.
Phillips uses his hands well and has a few go-to moves when rushing the passer.
At 6'5", 260 pounds, Phillips' length is a game changer.
He can swat away passes and grab a hold of ball carriers who think they have left Phillips behind.
Phillips is good against the run, using his hands and arms to separate at the point of attack and drive up and through his opponent.
He moves well laterally for a big man.
On the negative side, scouts openly question Phillips' injury history.
Also, like other defensive ends, Phillips has a tendency to stand straight up after the snap.
That negates any kind of leverage he would have if he stayed lower.
It also wouldn't hurt if he had a few more pass rush moves.
If he is coached well, Phillips could become one of the best young stars in the game.
Lining him up opposite of Garrett would make the Browns more formidable up front.

2nd Round, Pick 59, Chazz Surratt, LB, University of North Carolina
I was tempted to grab a linebacker with the first pick.
I like the Walker addition as well as the fact the Browns re-signed former Super Bowl MVP Malcolm Smith.
However, the team still needs a flashier set of wheels to affect the second level better.
Surratt was available and I snatched him up.
His name has been steadily climbing the draft board for months.
Surratt was a four-star recruit out of high school and signed with the Tar Heels to play quarterback.
He didn't get any playing time in 2016 as Mitchell Trubisky was the alpha dog QB for the 'Heels.
In 2017, Surratt actually led the team in passing with 1,342 yards and 13 total touchdowns.
When the 2018 season got underway, Surratt was back on the sidelines.
He did not play well enough in the preseason to keep the starter's job and held a clipboard for the entire year.
Then, before the 2019 season began, former Heels and Texas coach Mack Brown returned for his second stint in North Carolina.
Brown and the coaching staff liked freshman Sam Howell and plugged him in as the starting quarterback.
Seeing the writing on the wall, Surratt decided he needed to switch positions and asked to be moved to linebacker.
It turned out to be a great decision.
Although he was new to the position in 2019, Surratt looked like had been a linebacker his entire life.
That year, he racked up an unbelievable 115 total tackles, 6.5 sacks, one forced fumble, one fumble recovery, three passes defended, and one interception.
Surratt was chosen as a First-team All-ACC selection after the season.
In 2020, Surratt had 91 total tackles, six sacks, one forced fumble, one fumble recovery, three passes broken up, and a pick.
He was named an All-American and opted out of the team's bowl game to prepare for the draft.
🤔 @PFF_Mike's guilty pleasure?

Watching UNC LB Chazz Surratt play football pic.twitter.com/dqSKzPcyYd

— PFF Draft (@PFF_College) October 8, 2020
There is a lot to like about Surratt.  He was a former quarterback who knows the position and, therefore, the tendencies of opposing QBs.
Surratt is very quick, agile, and fast for a linebacker.
Scouts like his fluid hips and ability to play sideline-to-sideline.
He can go 0-60 in seconds and packs a punch when he tackles.
His pass rush ability speaks for itself (12.5 sacks from the linebacker position in two years).
In pass coverage, Surratt quickly diagnoses plays and shuts down opportunities for the offense.
At 6'2", 228 pounds, he is light enough to stay with receivers in the flat as well as tall and rangy to keep up with tight ends.
The negative aspects of the game are his relative new-ness to the position.
Scouts note that Surratt does not always take the best angles to the ball which gets him out of place to affect a play.
They also note that he might need to add more weight to play the position in the NFL.
Surratt got himself in trouble when he was overpowered by larger blockers at the point of attack in the run game.
He'll have to work on disengaging quicker from blockers at the next level.
Cleveland has some good vets in the locker room that can take Surratt under their wings and show him the ropes.
Surratt's coverage skills should provide an immediate upgrade at the position as well.

3rd Round, Pick 89, Alim McNeill, IDL, North Carolina State
I was thrilled when I saw McNeill was still available at this point as he is one of my favorite players in the draft.
McNeill came to NC State as a high school running back and linebacker.
Shortly after arriving, the Wolfpack coaches moved him to the defensive line.
To play the position, McNeill added some weight.
The 6'2", 320 pounder is built like a tank, but one who plays a lot faster than said vehicle.
McNeill moves like the former linebacker he was and is difficult to stop one-on-one.
In his first season as a contributor in 2018, McNeill posted 24 total tackles, 3.5 sacks, one forced fumble, and three passes defended.
During the 2019 season, McNeill had 28 total tackles, 5.5 sacks, and two passes broken up.
This past year, he added 25 total tackles, one sack, one forced fumble, one fumble recovery, and even picked off a pass which he returned 18 yards for a touchdown.
After the season, McNeill was named an AP All-American and a First-team All-ACC selection.
Although he is a bit short for an interior lineman, McNeill takes advantage of his size by using good leverage on opponents.
He can get up and under the shoulder pads of his blocker and make them go where he wants.
McNeill is quick at the snap and uses his hands well to separate from his man.
If you need a Nose Tackle, then Alim McNeill is your guy! 📈📈📈 pic.twitter.com/S2PUPw8NZE

— DraftID (@MockDraftMonday) March 21, 2021
Before arriving at NC State, McNeill ran a sub 5.0 40 yard dash and completed the 20-yard shuttle in 4.27 seconds.
Since that time, he has added more weight, but kept his motor and quickness.
McNeill can separate fairly easily from single blocks and move sideline-to-sideline.
Scouts like that he is fluid and flexible, using his body to work around edges and find the ball carrier.
The few drawbacks for McNeill include working against double teams.
His shorter arms led to him being "swallowed up" (scouts words) by larger offensive linemen.
Also, although he does have an effective rip move, McNeill will need to learn more moves and counter moves in the pros.
NFL personnel openly wonder what they are getting after McNeill only started 20 games at the position in college.
Overall, McNeill should develop nicely into a nose tackle lined up over the center.
His push up the middle can cause disruptions that allow the Browns D-ends and linebackers to swoop in for stops.
With the proper development, McNeill will be a fan favorite for years to come.

3rd Round, Pick 91, Jaret Patterson, RB, Buffalo
During a Week 4 game against the Cowboys this past year, running back Nick Chubb went down with an injury.
He would be out for over a month.  In his stead, Kareem Hunt played valiantly, but never cracked the 100 yard mark.
In the four games where he shouldered the rushing load, Hunt ran for 72, 40, 76, and 66 yards.
He saw the end zone twice in that span but both scores were on receptions.
During the month Chubb was out, the Browns went 2-2.
It's with this in mind that I add Patterson with the 91st pick.
He gives the Browns a little more depth and security at the position, just in case injuries again rear their ugly head to the group in '21.
Patterson is a Maryland native who rushed for 2,045 yards and 23 touchdowns during his senior year of high school.
He earned All-State honors after the season.
Despite the standout stats, Patterson was overlooked by most big schools and was ranked a two-star recruit.
He eventually signed with Buffalo along with his brother James.
Patterson redshirted his freshman season in 2017.
In 2018, he burst onto the scene after rushing 183 times for 1,013 yards, a 5.5 yards per carry average, and 14 touchdowns.
The performance led to MAC Freshman of the Year honors.
Patterson gained national attention in 2019 when he led the MAC in rushing with 312 carries, 1,799 yards, a 5.8 average, and 19 touchdowns.
He also gained 209 receiving yards and another score.
Patterson's rushing total was ranked fifth in the nation.
In Buffalo's Bahamas Bowl game at the conclusion of the year, Patterson was named the game's Offensive MVP.
The pandemic caused a late start to the Bulls 2020 season.
Their first game wasn't until November and the team squeezed in six games for their regular season.
They also played in the MAC Championship game and the Camellia Bowl.
In eight games, Patterson toted the rock 141 times for 1,072 yards and 19 touchdowns.
Jaret Patterson: 1,789 rush yards AFTER contact since 2019

1st in College Football💪

— PFF Draft (@PFF_College) March 29, 2021
During a game against Kent State last year, Patterson scored eight touchdowns and rushed for 409 yards.
His rushing mark that day was 18 yards short of the all-time college football record for most rushing yards in a single game.
Patterson was named MAC Offensive Player of the Year and was also named a Second-team All-American.
Although Patterson is only 5'9" and 195 pounds, he plays much bigger than he is.
Scouts note his ability to play instinctive football with amazing field vision.
Patterson has quick feet and is good in small spaces.
Evident on film is his ability to sucker in defenders and then make a deft move to leave them flailing at air.
Patterson is more of a direct line runner who pounds straight ahead and doesn't go down without a fight.
He has a good running angle, leading with his shoulders and driving through opponents.
I like Patterson's patience.
He will wait for his quarterback to set up a fake as well as wait a beat to see his running lanes.
It is fairly obvious that his teammates enjoy blocking for him as Patterson uses those blocks to find more running room.
NFL scouts ding Patterson as an uncreative ball carrier.
He does not always try to slash and gash, instead choosing to plow straight ahead.
Patterson also doesn't seem to have a second level burst.  He plays mostly at one speed the entire game.
He has been called out for not playing at a Power 5 school.
However, that hardly matters to the Browns as Hunt is a former University of Toledo Rocket.
These same scouts believe that Patterson will play better with an NFL team that has a strong offensive line and a running back by committee approach.
That nearly sums up the Browns.  Patterson could provide the team with a third option behind Chubb and Hunt and spell either or both if called upon.

4th Round, Pick 110, Andre Cisco, S, Syracuse
I recently wrote an article about mid-late round safeties the Browns should consider after the Johnson signing and Cisco was one of the players I profiled.
Johnson should mesh nicely with both Ronnie Harrison and 2020 draft pick Grant Delpit.
However, given Delpit's injury that prevented him from suiting up last year and Harrison's own injuries that kept him out of parts of two months, it doesn't hurt to have more depth.
Cisco is a product of IMG Academy in Florida and was actually a teammate of Delpit's at the school.
Coming out of IMG, Cisco was a three-star recruit with interest from a number of Division I schools.
He eventually chose Syracuse to return home to his family in New York.
Cisco was an Orangemen contributor right from the jump.
In 2018, he had 60 total tackles, one forced fumble, nine passes broken up, and no less than seven interceptions.
2019 saw more of the same when he made 65 total tackles, one forced fumble, one fumble recovery, five passes defended, five interceptions, and one pick returned for a score.
Cisco's interception total tied for seventh in the country and he was named a Second-team All-ACC after the season.
Andre Cisco career at Syracuse:
🔸 1,608 snaps
🔸 1 penalty committed pic.twitter.com/4FsJ1VSBuq

— PFF Draft (@PFF_College) February 2, 2021
This past season, he had 11 total tackles and an interception through the season's first two games before his season ended abruptly.
During warm-ups before Syracuse was to face Georgia Tech, Cisco ran into a teammate and tore his ACL, ending his season.
Before the injury, Cisco was adept at taking advantage of opposing quarterbacks.
13 interceptions in a little over two seasons speaks to Cisco's sneaky good ability to read the quarterback and see the play develop at the same time.
At 6'0", 209 pounds, Cisco is quick enough to stay with receivers and just heavy enough to pack a punch when tackling.
His Syracuse film is filled with well-timed hits that make receivers think twice before heading his direction.
Cisco is strong in run support and attacks the line of scrimmage.
In coverage, he can close quickly, backpedal efficiently, is physical with receivers, and has fairly good hip rotation.
Scouts note that he played better in split safety but he can contribute in zone and man coverages.
There were times when Cisco's aggressiveness got the better of him in college.
It led to missed tackles and blown coverages when he committed too early.
Cisco will have to work on taking better angles and staying more disciplined in coverage.
His skill set is more aligned with a free safety in the NFL.
Assuming he is healthy after his ACL injury, Cisco provides not only depth, but the ability to push Harrison and Delpit for playing time.
Having him on board will enhance the Browns safety room.

4th Round, Pick 132, Tre Brown, CB, Oklahoma
The Hill signing was great for Cleveland.  Not only did it help strengthen the position, but Hill is back with his Rams running mate Johnson.
Paired with Denzel Ward, Hill should be a welcome addition to the team.
Brown enhances the position with four years of college reps and the skills to boot.
At Union High School in Oklahoma, Brown was a two-way player who also returned kicks.
His play helped lead the school to a state title.
Brown was so good at his corner position at Union that teams frequently avoided his side of the field.
This is evident when one sees his 26 tackles, one interception total from his senior year.
A number of recruiting sites knew better than to look only at his stats.
Brown was named a four-star recruit and had a ton of interest from schools.
He could have picked anywhere in the country to matriculate to college.
Instead, Brown chose to stay close to home and headed to Norman.
During his freshman season in 2017, Brown saw the field for a handful of games and came away with 12 total tackles and two passes defended.
2018 was better and his totals jumped to 58 tackles, two sacks, and 12 passes broken up.
Brown continued to play special teams for the Sooners and was recognized as an All-Big 12 First-team selection due to his return abilities.
In 2019, Brown had 40 total tackles, 11 passes broken up, and one pick.
This past season, he collected 31 total tackles, six passes defended, and three interceptions.
In four years at Oklahoma, Brown had two 100 yards kick returns and had over 1,200 total yards for a 20.9 yard average.
Most career forced incompletions in the 2021 draft class:

🏆 Tre Brown, Oklahoma – 36 pic.twitter.com/vvrz5y3jfz

— PFF Draft (@PFF_College) February 5, 2021
Looking at the numbers, it is safe to say that Brown has speed.
He has frequently tested in the 4.3-4.4 range in the 40 yard dash.
That speed helped as Brown is a shade under 5'10" and 188 pounds.
Opposing quarterbacks in college attempted to take advantage of Brown's short stature only to find his quickness and hops were not to be tested (as witnessed by 31 passes broken up in four years).
Brown is aggressive in both coverage and run support.
He is a willing tackler and challenges all receivers to beat him.
Sooners coaches rave about Brown's work ethic and leadership ability.
He has very good football smarts and is adept at watching the quarterback and hitting the gas as the quarterback is winding up to throw.
Brown plays up to the role of lock down corner and wants the pressure of the position.
Scouts do worry about his size and they also mention he could be better at tackling.
Brown had a tendency to get his hands on opponents too early, which led to penalties.
He'll need to work on staying with receivers better while not getting handsy.
Brown also has to work on his change of direction and not rely so much on his speed.
Brown will help Cleveland with his special teams acumen.
He provides a nice backup to Hill and Ward and gives the Browns a tool in the kick return game.

5th Round, Pick 169, Sadarius Hutcherson, IOL, South Carolina
On March 18, Browns backup offensive lineman Kendall Lamm signed a free agent offer from the Tennessee Titans.
He will be missed in Cleveland and the Titans will be happy not to play against Lamm, who actually caught a touchdown from Baker Mayfield against Tennessee in Week 13 last season.
The loss of Lamm means the Browns need to add a lineman or two for depth purposes.
Hutcherson will help serve that purpose.
Hutcherson is huge at 6'4", 320 pounds.
He is a force to be reckoned with and has versatility along the offensive line that benefits the Browns.
Hutcherson has close to four years of experience as a starter at South Carolina.
He has more than held his own against SEC opponents.
What stands out most for Hutcherson is his power.  In 2018, he won the Gamecock strength and conditioning award.
At the time, he bench pressed over 500 pounds and squatted 650 pounds.
That power combines with a quick first step at the snap that blows his opponents back.
Think of a lathered up grizzly bear and you have an idea of what Hutcherson is like as a blocker.
Sadarius Hutcherson says he benches 225 lbs 38 times.

For context, 39 reps for 225 lbs was the most on the bench at last year's NFL Combine @wachfox pic.twitter.com/WqeLmFSsZt

— Mike Uva (@Mike_Uva) October 22, 2019
During his time at South Carolina, Hutcherson played at both guard spots and left tackle.  Pro scouts note that he is more suited to the guard position.
In the run game, Hutcherson pulls and leads well and opens huge holes for running backs.
In pass protection, he gets good pad position by staying low and anchoring in place.
Hutcherson uses his hands well to keep rushers at bay and has good flexibility in his trunk.
The downside for Hutcherson is not maintaining consistency with his balance.
He can let his leverage slip sometimes by placing his hands too wide.
That lets the rusher dictate where he is going and leads to potential holding calls on Hutcherson.
There were times in college where he would seem to lose track of players to block while leading on screen plays or blocking in space.
NFL scouts believe Hutcherson is best when used in gap blocking schemes.
It just so happens that Cleveland does use some gap blocking in their play calling.
Hutcherson should fit in well and learn from some of the best linemen in the game.

6th Round, Pick 211, Cade Johnson, WR, South Dakota State
As of now, the Browns will have Odell Beckham Jr., Jarvis Landry, Donovan Peoples-Jones, Rashard Higgins, KhaDarel Hodge and a few specialists at the receiver position.
However, it seems like every other week there are rumors that OBJ wants out.
In today's pro game, you just never know.
With Johnson, the Browns get depth with a small college guy who can play the game, contribute on special teams, and grow into a rotational piece.
Johnson's path to college did not look promising initially.
He did not have a lot of interest coming out of Bellevue, Nebraska.
In fact, only two schools, South Dakota State and South Dakota offered Johnson.
He chose the Jackrabbits due to their up-and-coming stature and surprising win over D-I opponent Kansas in 2015.
After redshirting his first year, Johnson played special teams in 2017.
That year, he returned 30 kicks for 839 yards and two touchdowns.
In 2018, Johnson saw the field as a regular, grabbing 67 passes for 1,332 yards (nearly 20 yards per catch), and 17 touchdowns.
2019 was more of the same with 72 receptions, 1,222 yards, and eight scores.
Johnson was poised to further increase his status in 2020 when the pandemic wiped out the Jackrabbits' season.
Based on his stats in 2018 and '19, Johnson was invited to the Senior Bowl.
One of the best plays of the day so far @seniorbowl

South Dakota State WR Cade Johnson @cade_johnson with the one-handed snag during one-on-ones@RivalsDraft pic.twitter.com/Id0EbgG7hq

— Rivals (@Rivals) January 27, 2021
The 5'10", 175 pound Johnson is a speedy receiver who catches the ball cleanly and has great body control and balance.
He is good at catching the ball away from his body and not waiting for it to hit his chest.
Scouts note that Johnson gets in and out of his breaks quickly, adjusts to poor throws, and makes catches in stride.
It's also evident that Johnson has great eye/hand coordination with soft hands and solid timing as a receiver.
As mentioned, he is a good kick returner and was used on trick plays such as reverses at SDSU.
Scouts also note that Johnson doesn't really have a second gear or elite burst.
WIth his slight stature, he is not as sturdy as receivers with more height and weight.
Johnson can be seen on film running out of bounds occasionally instead of fighting for extra yards.
As with most small college guys, there is always the knock that he played sub-par competition.
Johnson has frequently been mentioned as a player to keep an eye on.
He is intriguing as a prospect and comes at the right price in the 6th Round.

7th Round, Pick 257, Sam Ehlinger, QB, Texas 
With the final pick for Cleveland, I went with a quarterback.
Baker Mayfield is the clear starter with Case Keenum and Kyle Lauletta backing him up.
Ehlinger provides an extra body, competition for Lauletta, and a potential backup to Mayfield in 2022.
Ehlinger comes to the Browns after starting four years for the Longhorns.
He was a four-star recruit coming out of high school and signed with Texas.
In 2017, Ehlinger split playing time with Shane Buechele and still threw for 1,915 yards, 11 touchdowns, and seven picks.
Ehlinger became the Longhorn's starter in his sophomore year.
That season, he threw for 3,292 yards, 25 touchdowns, and five interceptions.
Texas played the Georgia Bulldogs in the Sugar Bowl after the 2018 season and defeated the 'Dogs, and future pro, Jake Fromm.
In 2019, Ehlinger threw for a career best 3,663 yards, 32 touchdowns, and 10 picks.
This past year, Ehlinger had 2,566 passing yards, 26 touchdowns, and five INTs.
(Fun fact, 4th Round mock draft selection Brown picked Ehlinger off during the '20 season to seal a Sooners win).
Ehlinger could have played another year of college ball with new Texas coach Steve Sarkisian, but chose to prepare for the draft.
He left Texas ranked second in program history in career completions, passing yards, total offense, passing touchdowns, and touchdowns responsible for.
Some of the impressive career numbers for Sam Ehlinger:
-8.2 adjusted yards/pass attempt (Top 20 in Big 12 history)
-2,030 total plays (6th in Big 12, 16th in FBS all-time)
-13,339 total yards (7th in Big 12, 20th in FBS)
-127 TD's responsible for (4th in Big 12, 17th in FBS) pic.twitter.com/bJuOzvQ8Ts

— Hook'em Headlines (@HookemHeadlines) January 22, 2021
At 6'2", 225 pounds, Ehlinger brings a fire and competitiveness to the field.
He is a strong leader and can both run and pass the ball.
Ehlinger is a patient pocket passer, allowing his receivers time to get into their routes.
Despite chaos in the pocket, Ehlinger was good at staying cool under pressure.
He stays relatively clean by moving up into the pocket and avoiding the rush.
Scouts note that Ehlinger can make plays with his feet.
He does well in ball fakes and setting up screen throws.
Ehlinger was used in the Longhorns rushing game.
Coaches loved how Ehlinger attacked the game until the final whistle.
His teammates rallied with him and Ehlinger was a program favorite.
The downside for Ehlinger is that he doesn't have a good deep ball.
Scouts have commented that his arm strength is average.
Ehlinger possesses the ability to look off safeties, but he can hold onto the ball too long and get sacked.
There were times during his career where Ehlinger gave up on the pass early and tried to make plays with his feet.
All-in-all, Ehlinger is a project.
He may develop into a serviceable backup, or just provide a body during training camp and/or the practice squad.