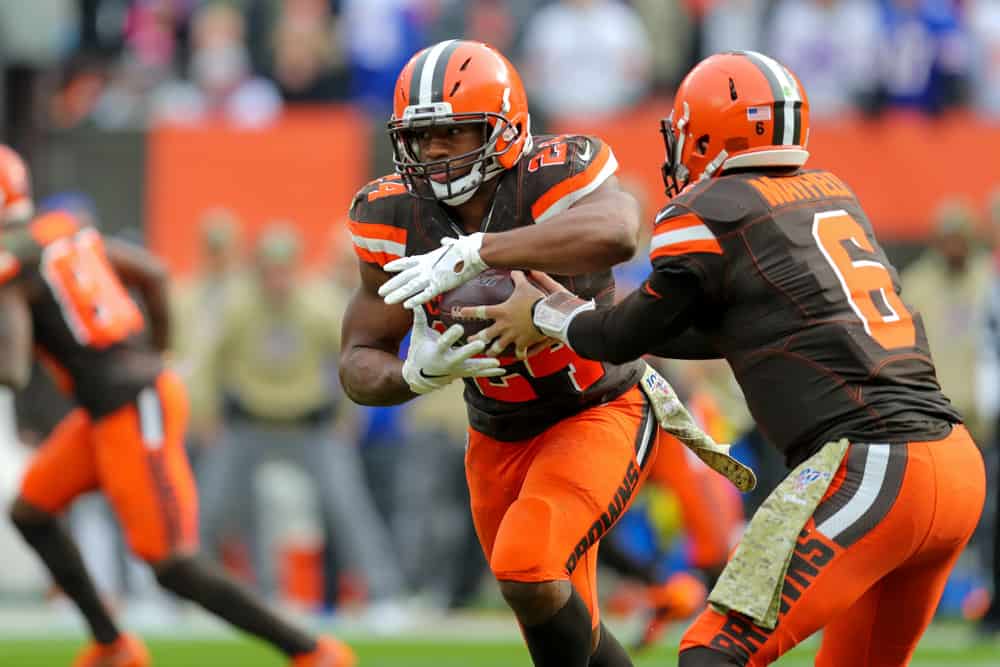 Andrew Berry and Kevin Stefanski got a lot of credit for turning around the 2020 Cleveland Browns offense.
Even when pundits discuss this year's defense, they compare it to how fast the offense turned around last year.
But reality and perception don't always jive.
Cleveland was far from an offensive powerhouse in 2020.
It is true they boasted a top-notch running attack, finishing with the third-most rushing yards-per-game.
Baker Mayfield literally cannot stop throwing touchdowns!!!!!

That's his 4th of the day. It's only the 2nd quarter. pic.twitter.com/CLgVeqF8pW
(via @NFL)

— NFLonCBS (@NFLonCBS) December 6, 2020
But their 24th-ranked passing game left them with only the 16th-most yards-per-game overall.
Everything being relative, fans were rightfully optimistic the team could score late if it had to.
And it is not like the defense was the force behind the Browns' 11 regular-season victories.
Everything conspired against an offensive turnaround last year, too.
There was no preseason, a new head coach and coordinator, a new offensive line, and various Covid list losses.
Baker to Odell Beckham Jr. for the TOUCHDOWN 👊🏽

— Everything Cleveland (@everythingcle_) November 24, 2019
But even after losing Odell Beckham Jr, their most potent weapon, Cleveland improved week after week.
This is especially true of quarterback, Baker Mayfield, whose confidence was at a high point in the playoffs.
Even without Kevin Stefanski's promise of a "more explosive" attack, we expect the offense to be better this year.
Is it possible the Browns finish with a top-3 offense in the NFL in 2021?
Buy: All Arrows Point Up For the Browns Offense 
Moving from the middle of the pack to a top-3 offense might seem like an unrealistic expectation.
But every aspect of the offense seems to point toward significant improvement.
Simply having a normal preseason, with in-person practices, puts every unit at an advantage over last year.
As does the return of their head coach, and every other coach on the offensive side of the ball.
Continuity breeds familiarity and the whole "on the same page" mentality and bonding.
Who has the best offensive line in the NFL? pic.twitter.com/8mJ3wSrCHH

— PFF Fantasy Football (@PFF_Fantasy) March 29, 2021
This is especially true of the offensive line, already ranked as the top unit by PFF, and now returning 5 starters.
Re-signing Rashard Higgins was as much an emotional boost as a logistical need if OBJ returns healthy.
Jarvis Landry's return to his short-yardage Dolphins-like role in Stefanski's offense will be enhanced by the deep threat.
Nick Chubb and Kareem Hunt still provide the best 1-2 punch behind the quarterback.
And speaking of quarterback, the Browns will go as far as Mayfield can carry them.
This will be the first time in his NFL career Mayfield is not starting over in a new offense.
And if his progression during 2020 is any indication, his ceiling is higher than ever in 2021.
Sell: Why Top-3 Might Be Just Out of Reach 
There are many reasons to expect Cleveland's 2021 offense to fire on all cylinders out of the gate.
All the key pieces are in place and their confidence is high.
There might be some who think they over-achieved last year, beating their projected win total by 3 games.
Others can concede the Browns did a good job in the Covid environment, but all bets are off with normalcy returning.
Whether the Browns are a top-3 offense might lie in how we measure the results.
New post (Can the Cleveland Browns WIN the AFC in 2021? | Myles Garrett, Troy Hill) has been published on Favorite Football – https://t.co/t6zMS7MHKX pic.twitter.com/394VflXkAU

— Favorite Football (@FavFootball2020) March 24, 2021
Can Cleveland improve their point total by a full touchdown per game?
That is what it would take to top the 31+ point average posted by the third-highest scoring team last year.
It might be easier to place third in yards-per-game, where the Browns were only 27 yards off the pace in 2020.
But there are 13 other teams between the #3 Titans and the Browns.
Cleveland can lay claim to one of the more efficient offenses, scoring more points per drive than the average team.
Kevin Stefanski's 2020 unit beat the all-time record (2.20) league average last season by 0.18 points.
And now that everyone is familiar and experienced in Stefanski's schemes, it will only get better.
The Verdict: Don't Be Surprised By Cleveland'sTop-3 NFL Offense 
Last season's playoff victory gave Cleveland a taste of something they want more of.
The controversial non-call in Kansas City only serves to amplify their desire to advance further in the postseason.
Bringing the whole offense back- players and coaches included- can't be under-emphasized.
.@RyanDLeaf on @BullandFox: "He (Baker Mayfield) gave you something really special this year. And, one more year in that offense, the wide receivers coming back…I think the Cleveland #Browns can be special with Stefanski, Baker and this team moving forward."

— Keith Britton (@KeithBritton86) February 1, 2021
But a bigger determinant might be the new players… on defense.
Andrew Berry is working hard to give Joe Woods the pieces he needs to realize his defensive vision.
Injuries stole his thunder last year, but there is much optimism heading into 2021.
The improved defense should give the Browns better starting field position and an extra drive or two per game.
All Baker Mayfield and company have to do is maintain their efficiency to score more points.
And that is why the Browns are a good bet to finish with a top-3 offense in the NFL in 2021.