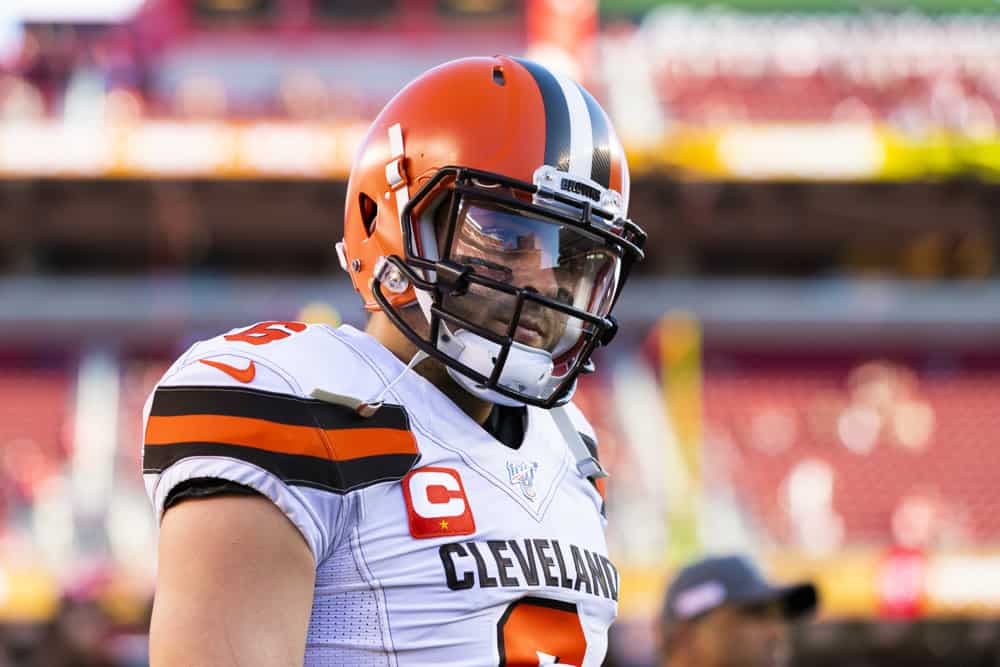 Fox Sports personality Colin Cowherd seems to have changed his tune a bit on Cleveland Browns quarterback Baker Mayfield.
During Monday's edition of "The Herd," Cowherd praised Mayfield's performance during Sunday's 41-35 win over the Tennessee Titans.
"Yesterday was the first time I watched Baker [Mayfield], and I thought, 'Oh, he could win a playoff game,'" Cowherd said. "It's been rocky to get there, a lot of stuff I didn't like. [It was] the first time I watched him and thought, 'Baker Mayfield could win a playoff game.'

"And, I'm going to give him a pass for the second half because they've never led anybody 38-7 at half and they didn't know what the hell to do. They had no idea what to do."
The Browns got outscored 28-3 in the second half against the Titans.
Mayfield completed 20-of-25 passes for 290 yards and four touchdowns in the first half against the Titans.
"This was a really nice moment for Baker [Mayfield]," Cowherd said. "We've always known the ups and downs of Baker [Mayfield]."
Mayfield finished 25-of-33 passing for 334 yards and four touchdowns.
"Baker [Mayfield] proved [he] can go on the road and win a big game," Cowherd said. "I can guide this ship like [Jared] Goff did, like [Patrick] Mahomes did, like Russell Wilson did, but the difference of those three players' temperaments, that win wouldn't unravel them."
Cowherd said it was the biggest win over Mayfield's NFL career.
"When you have the No. 1 quarterback on a rookie contract, you should be winning," Cowherd said. "Russell Wilson got to two Super Bowls. Goff got to one. Mahomes got to one. [Joe] Flacco and Cam [Newton] got to one."
Cowherd mentioned how the Browns are still paying Mayfield's rookie salary, so they had more cap space to add key free agents at other positions.
The Browns made several notable offseason acquisitions, including the signing of right tackle Jack Conklin and Pro Bowl tight end Austin Hooper.
"The question is, when you have that young quarterback and he gets all that talent, he'll never have that much talent offensively the rest of his career because they're paying Baker [Mayfield] nothing and Goff was getting paid nothing and Mahomes getting paid nothing and Russell [Wilson] nothing," Cowherd said. "Can you steer the ship? We know you're not experienced. We know you're young. We know you'll make mistakes, but are you mature enough and steady enough to just kind of move the luxury liner down the river? And, I never thought Baker was."
Mayfield is in his third NFL season and the Browns' front office will soon have to decide whether to pick up the fifth-year option on his rookie deal.
The fifth-year option is expected to cost between $25 million and $26 million.
If the Browns want to sign Mayfield to a long-term contract, it will likely be worth more than $100 million.
Ultimately, it depends on how much guaranteed money Mayfield could earn whichever team decides to pay him.
Cowherd has been critical of Mayfield and the Browns in the past.
However, Cowherd predicted the Browns would make the playoffs before the start of the 2020 season.
Cowherd said Mayfield must work twice as hard to beat the Baltimore Ravens on Dec. 14, the New York Giants on Dec. 20 and the Pittsburgh Steelers on Jan. 3, 2021.