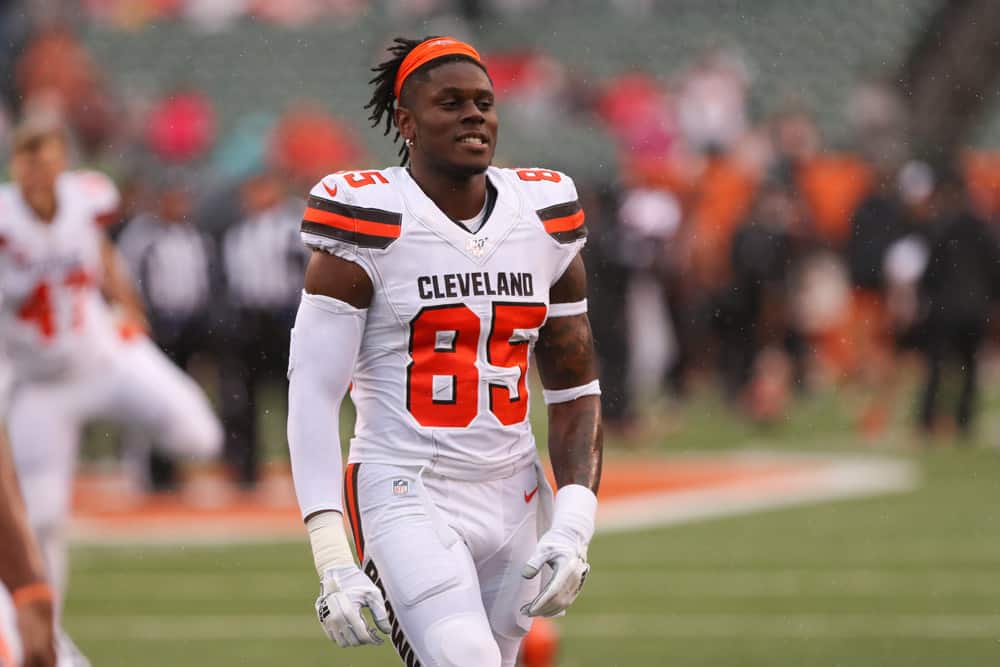 Cleveland Browns tight end David Njoku appeared to be done with the team in 2019.
Head coach Freddie Kitchens had the tight end in his "doghouse" and his future was in question.
Then Kitchens was fired and the new regime in charge exercised Njoku's fifth-year option.
He is now a foundational piece in the long-term and has shared some photos of him training this offseason as he prepares for what will be a pivotal 2020 season for him and his team.
A recent photo showed Njoku looking absolutely ripped and one Twitter user shared concerns about what would happen if his wife saw the tight end.
I hope my wife never meets David Njoku. Or I won't have a wife anymore. Damn. https://t.co/cP6Dw4bYaV

— Fantasy Football Troglodyte (@FFTroglodyte) June 14, 2020
The above tweet was shared by Njoku in his Instagram story in which he made it clear he is not a home-wrecker.
Njoku in Good Spirits
The Browns were in danger of wasting yet another first-round talent when it came to Njoku.
"With the 29th pick in the 2017 NFL Draft, the Cleveland Browns select … David Njoku, TE, Miami."

Watch #NFLDraft on @nflnetwork pic.twitter.com/2Vjxx1nMyx

— Cleveland Browns (@Browns) April 28, 2017
The tight end did miss time with injuries, but was able to come back later in the season.
Then the drama ensued and he finished the year with a total of five receptions and one touchdown.
That was not the production one wants out of a former first-round pick, however, he was fighting against those supposed to be coaching him and helping him get better.
His recent tweet showing him looking absolutely shredded is great news and makes it seem like he is in good spirits and working hard to return better than ever in 2020.
Njoku will be part of a stacked team and for the first time in his young career it appears there will be some competent leadership on the sidelines as well.
Joking around with fans on social media is a good sign at this point in the year.
Job Security for Njoku
2020 could have been a contract year for Njoku.
Now his fifth-year option for 2021 has been picked up and the focus now is on earning a long-term extension.
One is already being discussed for Myles Garrett and it would seem logical for the Browns to have one in mind for Njoku after picking up his option.
Yet he will still have to prove himself even with some added job security.
The Browns handed out a lucrative contract to Austin Hooper and also drafted Harrison Bryant out of Florida Atlantic.
Njoku's best season came in 2018 when he finished the year with 56 receptions for 639 yards and four touchdowns.
David Njoku just scored my new favorite TD. Are you kidding me!?pic.twitter.com/xMFA5XkF7Y

— NFL Update (@MySportsUpdate) November 25, 2018
It was the year the Browns offense finally came alive and that was all supposed to roll over into 2019.
But the story obviously didn't turn out that way.
Losing Njoku would have been yet another failure on the part of Browns leadership.
Andrew Berry recognized his talent and the Browns now have two dominant pass-catching tight ends in addition to the talent at wide receiver.
And from the looks of it Njoku appears to be even stronger than before.
That is going to be a problem for opposing defenses when he comes across the middle in 2020.