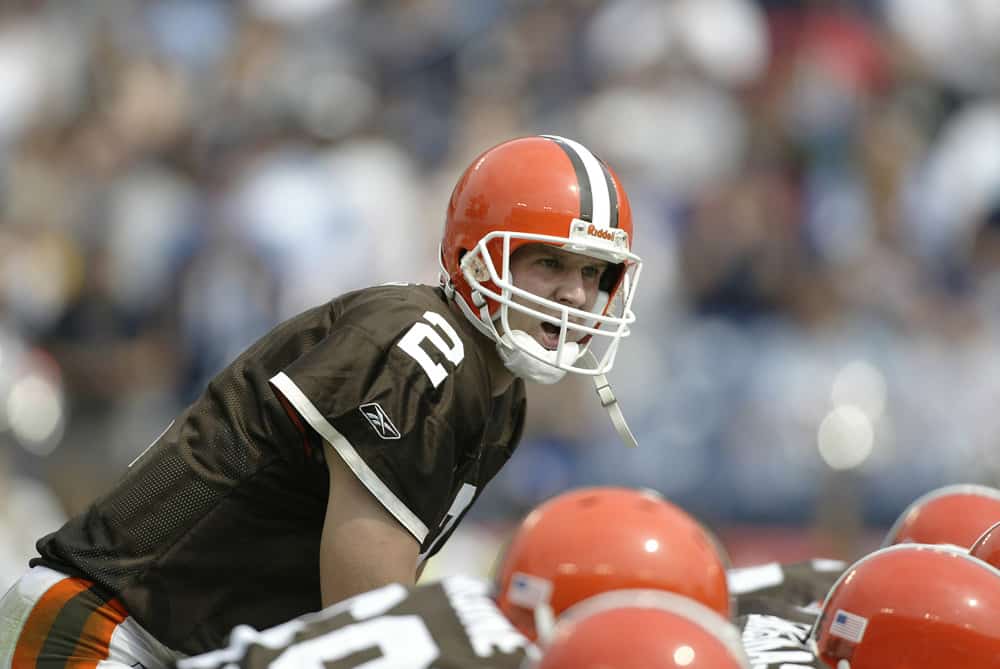 Several former Cleveland Browns players are on the ballot for induction into the College Football Hall of Fame.
Former Browns quarterback Tim Couch — the first overall pick of the 1999 NFL Draft — is on the ballot for the third consecutive season.
Couch — who played for the Browns through 2003 — is among 77 other players and seven coaches from the Football Bowl Subdivision up for consideration.
"It's an enormous honor to just be on the College Football Hall of Fame ballot considering more than 5.4 million people have played college football and only 1,027 players have been inducted," National Football Federation president Steve Hatchell said in a statement. "The Hall's requirement of being a First-Team All-American creates a much smaller pool of about 1,500 individuals who are even eligible.

"Being in today's elite group means an individual is truly among the greatest to have ever played the game, and we look forward to announcing the 2021 College Football Hall of Fame Class Presented by ETT early next year."
More than 12,000 NFF members and current Hall of Famers received ballots via email on Tuesday.
"There is no group more knowledgeable or passionate about college football than our membership, and the tradition of the ballot helps us engage them in the lofty responsibility of selecting those who have reached the pinnacle of achievement in our sport," said Archie Manning, a 1989 College Football Hall of Fame inductee out of Ole Miss.
Their votes are tabulated and submitted to the NFF's Honors Courts, which deliberate and select the class.
In 1998, Couch was a consensus first team All-American for the Kentucky Wildcats, finished fourth in Heisman voting and was named the SEC Player of the Year.
That year, Couch led the country in completions, completing 400 of 533 passes.
Couch also had a 72.3% completion percentage, threw for 4,275 yards and 36 touchdown passes.
In three seasons at Kentucky, Couch completed 795 passes on 1,184 passing attempts, threw for 8,435 yards, 74 touchdowns and 35 interceptions.
Former @UKFootball QB @TimCouchQB among impressive names on 2021 @cfbhall Ballot!

Full Ballot: https://t.co/cWZ66GUxHt

Join the NFF and receive a vote: https://t.co/3nfIaLVtdt pic.twitter.com/PfgBjDGil4

— Football Foundation (@NFFNetwork) June 16, 2020
Joining Couch on the list is Miami Hurricanes quarterback Ken Dorsey, who played for the Browns from 2006-2008.
Dorsey was a two-time Heisman finalist (2001 and 2002), who led the Hurricanes to back-to-back BCS Championship games.
From 1999-2002, Dorsey completed 668 passes on 1,153 attempts, throwing for 9,565 yards, 86 touchdowns and 28 interceptions.
Several other players with Browns' ties are also up for consideration, including Notre Dame linebacker Bob Golic, Alabama cornerback Antonio Langham, Tennessee defensive back Bobby Majors, Colorado running back Rashaan Salam and Georgia Tech linebacker Lucius Sanford.
In 1978, Golic was a finalist for the Lombardi Award, which is given to the nation's best college football player regardless of position.
Golic ranks second all-time at Notre Dame with 479 career tackles, while his 26 total tackles against the Michigan Wolverines 1978 remains tied for the school record.
In the NFL, Golic played nose tackle, defensive tackle, linebacker and defensive end.
Last year, three players who had stints with the Browns were inducted into the College Football Hall of Fame: Wisconsin offensive tackle Joe Thomas (2007-2017), Michigan State running back Lorenzo White (1995) and Texas quarterback Vince Young (2014).
The announcement for the 2021 College Football Hall of Fame Class is set for early 2021.
The College Football Hall of Fame class of 2021 will be inducted on Dec. 7, 2021, during the 64th NFF Annual Awards Dinner.
Click or tap here to see the full ballot of players and coaches eligible to make the College Football Hall of Fame.