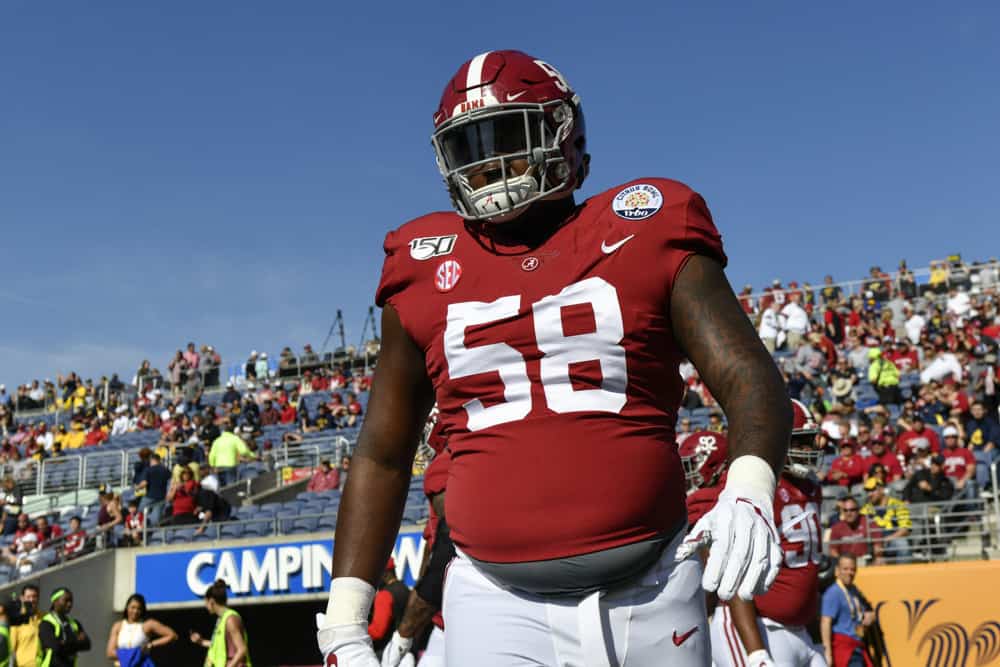 The late Al Davis once said, "I think this, that somewhere, within the first 5-10 plays of the game, the other team's quarterback must go down. And he must go down hard."
Al Davis quotes…1. Just Win Baby 2.The quarterback must go down and he must go down HARD 3. Does anybody know where Snake is😀 pic.twitter.com/jrEUspY6yI

— ArchieBomb (@ArchieBomb1) November 20, 2016
For someone who enjoyed smash mouth, brutal defense (along with a motley crew of defensive personalities) Davis was spot on in his assessment.
If a team can't get to the quarterback, he has all day to pick apart the defense.
For the Browns D-line in 2020, this was a serious problem.
Besides holy terror Myles Garrett (when he was healthy), there was very little push from the Cleveland defensive line.
In a previous article I wrote about defensive ends the Browns should consider for the 2021 NFL draft, I pointed out the unit's lack of pressure.
Garrett had 12 sacks and Olivier Vernon had nine.
From the interior, Sheldon Richardson had 4.5 sacks, Larry Ogunjobi 2.5, and Adrian Clayborn 3.5.
That's the problem.
Yes, Pro Football Focus gave the unit as a whole a ranking of 11th overall in the NFL, but that was due mostly to Garrett.
As any seasoned football coach will tell you, if you do not have a consistent attack from your interior defensive line, it can reveal any deficiencies in the linebacker and defensive back units.
That was definitely true this year.
With a lack of consistent thrust up the middle to disorient opposing quarterbacks, the Browns linebackers and secondary were exposed for what they were-undermanned and woefully thin.
With this in mind, let's harken to Davis' maxim and look at the top five interior defensive linemen the Browns should consider drafting this spring.
Please note that this list is not meant as a ranking system, just a list of players to consider.

Christian Barmore, rising sophomore, Alabama
When watching film of Barmore, it doesn't take long to see why he is ranked as one of the top (if not THE top) interior defensive lineman in the draft.
If the goal of the IDL is to occupy multiple blockers to free up the linebackers, Barmore is the epitome of that goal.
After first signing with nearby Temple University (he is from Philadelphia), Barmore decommitted when bigger schools started showing interest in him by early 2018.
A host of well-known schools such as Oregon, Florida, Georgia, LSU, and Miami pursued him.
However, when Coach Nick Saban came calling, Barmore ultimately selected Alabama.
Barmore ended up as the fifth best defensive lineman in the 2018 recruiting class and was ranked 75th overall in the nation.
After redshirting the 2018 season, Barmore saw more reps in 2019.
Although he was stuck behind some notable names (Quinnen Williams and Raekwon Davis, among others), Barmore still collected 26 total tackles, two sacks, and two passess defended that year.
Once those behemoths left for the NFL, Barmore hit his stride in 2020.
This past year, he had 27 total tackles, six sacks, three forced fumbles, and three passes defended.
In the college football playoffs, Barmore was nearly unstoppable.
In the national championship game against Ohio State alone, he had five total tackles, two tackles for a loss, and one sack.
CHRISTIAN BARMORE. Look for this name come the NFL Draft 👀👀#CFBPlayoff #NationalChampionship
pic.twitter.com/i967XQgHnM

— McKinnell (@zachmckinnell) January 12, 2021
There is a lot to like about Barmore.
He is listed at 6'5, 310 pounds.
With his size and strength, Barmore will push around smaller offensive linemen and can defeat double teams with effort.
His power allows him to maneuver to where he wants to go.
Barmore has great ball awareness as well.
Two of his forced fumbles came on strips of the quarterback while he was still occupied by blockers.
His vision is uncanny and he tracks the ball while unloading blockers.
Barmore also uses his hands very well.
His initial "punch" is capable of knocking his opponent back a step or two, thereby allowing Barmore to begin his attack.
His long arms, along with his field vision and good timing, have led to passes being batted down in mid-flight.
In the clips I watched, Barmore's go-to moves are a shallow swim move (more like reaching over the defender) and a bull rush.
When he gets solid leverage on his opponent, Barmore simply pushes his man out of the way.
NFL scouts would like to see Barmore develop more pass rush moves.
At the next level, he will have to think ahead and develop a more consistent pass rush plan.
Barmore also has a tendency to stand tall after the snap.
That allows his man to get under his pads and keep him in place to nullify his rush.
As I mentioned, Barmore can do well against double teams, if he puts forth the effort.
If he can keep low and work at being more fluid in his leverage, Barmore should do well against double teams.
Despite the negatives, Barmore is an exciting player.  He could have stayed in Tuscaloosa for a few more years to develop.
However, he believed he was ready and many scouts agree.
There are quite a few draft pundits who have Barmore being selected late in the first round.
The Browns first pick is number 26.
Will they grab Barmore if he is still there?
Stranger things have happened.

Levi Onwuzurike, rising senior, University of Washington
Onwuzurike was a three star recruit as he was ending his high school career.
He was still raw, but had generated enough interest that he was looked at by the likes of Georgia, Baylor, and TCU.
However, Onwuzurike chose Washington and the move paid off.
He redshirted his first year in 2016 to help develop his game.
In 2017, Onwuzurike saw action in nine games and had 16 total tackles and two sacks.
During his sophomore season of 2018, Onwuzurike had 34 total tackles and three sacks.
Then, in 2019, he exploded for 45 total tackles and two sacks.
After the season, Onwuzurike was named to the First-team All-Pac 12 team.
As the 2020 season approached, Onwuzurike opted out due to Covid concerns.
Onwuzurike is a big, strong athlete.
His 6'3", 290 pound frame allows him to get good leverage on his opponent and use that leverage to cause chaos.
He has a good base and leg drive to push back his man.
With his arm length, Onwuzurike can keep opponents at bay and look for the ball at the same time.
If he gets his hips under him, his initial strike is lethal.
Levi Onwuzurike – Washington

He has a chance to be the top iDL taken in the NFL Draft. Had a big first day and is looking like one of the better defensive line prospects.

Watch out. pic.twitter.com/sWYN50Vf3g

— Zack Patraw (@NFL_Zack) January 27, 2021
What was also noticable in his film is that Onwuzurike can move well laterally for a big man.
He will peel off his man on the fly and, in one step, change direction to chase down a ball carrier.
His peripheral vision is solid.  On a number of plays, he will stop in mid-stride because he can see what is developing before him.
Onwuzurike can seem to sense when the play is going near him or headed away from him.
Even if the ball is on the opposite side of the field, you will ultimately see Onwuzurike involved in the tackle.
Concerning the negatives in Onwuzurike's game, it looks to me like he relied more on his athleticism at Washington.
He is good at what he does, but he can get better.
For instance, he uses his arms well to separate from his man, but I didn't see any consistent moves and counter moves.
Most of his film shows him extending and bull rushing.
That worked on Saturdays, but it won't always on Sundays.
It was also notable that Onwuzurike can play too tall.  He needs to stay lower and focus on getting his pad level lower.
I saw way too many high tackles from him that ultimately led to some missed tackles.
He has good leverage, he just needs to use it all the time.  Also, Onwuzurike will need to add more strength to his game in the NFL.
He is a tad on the light side for the pros.
Against the run, that will be a liability.
Look for Onwuzurike to come off the board in the second round.

Daviyon Nixon, junior, Iowa
While researching for prospective interior D-linemen, I kept coming across Nixon's name.
Numerous draft pundits (including Mel Kiper Jr.) have lauded the big man from Iowa.
He didn't take a standard path to the college football stage.
However, that's what makes Nixon so intriguing.
As he was getting ready to graduate from high school, Nixon had offers from Iowa and Purdue.
He chose Iowa but his academic struggles due to a learning disability meant he would not be heading to Iowa City as soon as he thought.
Instead, he enrolled at Iowa Western Community College to play ball and work on his academics.
While playing JUCO football in 2017, Nixon gathered 44 tackles, nine tackles for a loss, and five sacks.
His play, and his improved grades, led to more programs showing interest.
Alabama was one of those interested, but Nixon stayed true to his word and headed to Iowa City.
With only a slim chance of getting playing time in 2018, Nixon redshirted.
In 2019, he saw more playing time and 29 total tackles, three sacks, and one pass defense.
Then, in 2020, Nixon made a name for himself.  He increased his numbers to 45 total tackles, 5.5 sacks, one forced fumble, one interception.
His one and only pick (an astounding feat for an interior defensive lineman) against Penn State was a thing of beauty.
Nixon read the quarterback's eyes, dropped quickly into coverage, picked the ball, and rumbled 71 yards for a touchdown.
Daviyon Nixon, a 305lb defensive tackle with the little shimmy of the feet to fool Sean Clifford as he attempts to stop the 71 yard pick six… #NFLDraft | #CollegeFootball pic.twitter.com/PX7jP089bY

— Oliver Hodgkinson (@ojhodgkinson) February 9, 2021
Speaking of the interception, that is one of the many attributes scouts love about Nixon.
His football instincts are uncanny.
Someone his size, 6'3", 305 pounds, has the wherewithal to diagnose a pass, drop into coverage, make the pick and then out hustle everyone into the end zone.
Nixon made a habit of deftly comprehending what the offense was planning and stopping it cold.
Not only is he smart, he has strength and great hand movement.
He separates immediately from his man at the snap and uses his legs to drive his guy back into the play.
His bull rush is difficult for most opponents to overcome.
Nixon stays just low enough to get under the pads of his man and drive them anywhere he wants.
He also uses a rip to get leverage and, every once in a while, a shallow swim move.
When he tackles, it's akin to a bear wrapping up its prey.
The ball carrier will go down.
Although he has only two years of top flight college football experience, Nixon is well liked.
His intangibles are a work in progress and that's what scouts find exciting.
Nixon still has room to improve and should only get better in the NFL.
His pro coach will have to work with him on refining his pass rush technique and he will have to gain more weight to stand his ground against larger NFL linemen.
Most pro personnel see him coming off the board in the 2nd round.
However, I found one mock draft by an NFL writer that had Cleveland taking him with the 26th overall pick.
It will be interesting to see if Nixon's draft stock continues to climb in the coming months.

Jay Tufele, rising junior, USC
The most unfortunate part of the 2020 college football season is the number of athletes who opted out due to Covid.
Tufele is one of those athletes.
He could have benefitted from another year at USC.
However, the tape on him, plus the notes from pro scouts, tell of a player who is ready for the NFL.
In his first season (2018) in Los Angeles, Tufele registered 23 total tackles and three sacks.
During a game against Utah that year, Tufele collected a fumble and rumbled 48 yards to the house.
It was telling to watch him run that distance and not slow down because he was winded.
2019 was a huge leap in his game and he had 42 total tackles, 4.5 sacks, and one pass defended.
Tufele is 6'3, 315 pounds, but plays like someone much lighter.
He has a quick first step and maneuvers easily around most blockers.
Tufele has a rugby background which shows in his speed and fluid movements.
Tufele separates well and uses his hands expertly to punch and disengage from his man.
Tufele's power is fun to watch.
I especially loved the clips where he carries his man with him while also making a tackle.
Not only did he defeat his man, but Tufele made the play along the way.  His moves consist mainly of a power punch, occasional swim, separation and bull rush, and a pretty good rip.
For someone of Tufele's size, he is able to turn on the jets, diagnose blocks on the fly, and (when needed) anchor in place.
In other words, against the run in the 'A' gaps, Tufele stands his ground and rarely gets pushed back.
He is pretty good at keeping his eyes in the backfield while tied up and sheds to make a play.
If the ball goes to the 'B' or 'C' gaps or beyond, Tufele has the ability to turn on a dime and keep pace with the ball carrier.
That leaves his opponents in desperation mode as they try to keep up.
USC DT Jay Tufele with a quick lateral move and swim to blow past the RG and flush the QB out of the pocket #NFLDraft #USC pic.twitter.com/7Ss3vsaltj

— Brian Johannes (@Draft_Brian) July 22, 2020
Another thing to like about Tufele is his tackling ability.
If he gets a hand on the opponent, he'll continue collecting him in toward his body for a thunderous take down.
He does not lose tackles very often.
If the ball carrier is in Tufele's reach, they probably won't make it.
There are a few things Tufele will have to work on in the pros.
Like most D-linemen, he has a tendency to stand too tall after the snap.
That allows his opponent to get under his pads and drive him back.
I also noticed a few times where he seemed lost as to where the ball was.
It didn't happen often, but Tufele will have to practice a little more on ball recognition.
He could also work on more pass rush moves as well as counter moves.
For someone Tufele's size, he will see more double teams in the pros and he will need to counter their moves to be effective.
Tufele has been tabbed as a first round, early second round pick.
Both Todd McShay and Mel Kiper Jr. of ESPN have previously selected Tufele with mock draft picks late in the first round.
In theory, that means Tufele could be available at the Browns position.

Alim McNeill, junior, NC State 
McNeill is another name who is charging up the draft boards this spring.
His game is impressive and I found myself constantly watching and re-watching several of his highlights.
After viewing a number of his plays from three years in Raleigh, I believe he could be selected on day one of the draft.
McNeill was a short yardage back and linebacker in high school.
When it came time to choose a college, he stayed close to home by selecting NC State.
When he got on campus, he was moved to defensive tackle.
Though he is 6'2" and 320 pounds, McNeill does not look overly bulky and he still moves like a linebacker.
During the 2018 season, McNeill turned heads when he collected 24 total tackles, 3.5 sacks, one forced fumble, and three passes defended.
He kept the party going in 2019 with 28 total tackles, 5.5 sacks, and two passes defended.
Last season, McNeill had 25 total stops, one sack, one forced fumble, one fumble recovery, and one pick which he returned 18 yards for a touchdown.
As his college career progressed, McNeill just kept getting better.
What makes McNeill so unique is his strength and speed.
Even though he is only 6'2 (relatively short for a D-lineman) McNeill can hold his own.
He doesn't get pushed around often and he has little difficulty against larger opponents.
Perhaps because he does give up a foot or two, McNeill has good leverage and uses it to stymie blockers and find alleys to the quarterback.
With his compact frame, McNeill strikes, separates, and uses his hands to his advantage.
His quickness at the snap gives him an extra second to use his arms and get separation.
McNeill has a good rip move that he'll combine with his push to get into the backfield and disrupt plays.
NC State DT Alim McNeill has declared for the 2021 NFL Draft

McNeill: Highest-graded P5 defender this season (90.6) pic.twitter.com/JVGqxkTqin

— PFF Draft (@PFF_College) December 6, 2020
Scouts note McNeill's speed as yet another bonus.
Before heading to NC State, he ran the 40 in 4.92 seconds and completed the 20 yard shuttle in 4.27 seconds.
Since then, McNeill has added almost 50 extra pounds, but you wouldn't know it watching him on film.
What I like is his constant motor, push, and fierce arm movements against even the biggest opponents.
If he is momentarily blocked out of a play, McNeill continues tracking to contribute.
Sideline to sideline, McNeill has a huge range to make a stop.
Since he is relatively new to the position, McNeill has his work cut out in the NFL.
He has a good rip move and can separate effectively, but he needs to develop a more complete set of moves.
McNeill will have to learn to counter larger and heavier linemen in the pros and react quickly to double teams.
He can be seen reacting a little late on disengaging from blocks to get the ball.  In the NFL, that will cost his team precious yards.
Scouts also note that he needs to develop a hand punch that will set an immediate tone with his man after the snap.
His ability to attack with his hands and deploy more counter moves will ensure he can separate and make more plays.
If his spring workouts continue to impress, McNeill might be a surprise first day candidate.
As it stands now, most scouts see him coming off the board on day two.