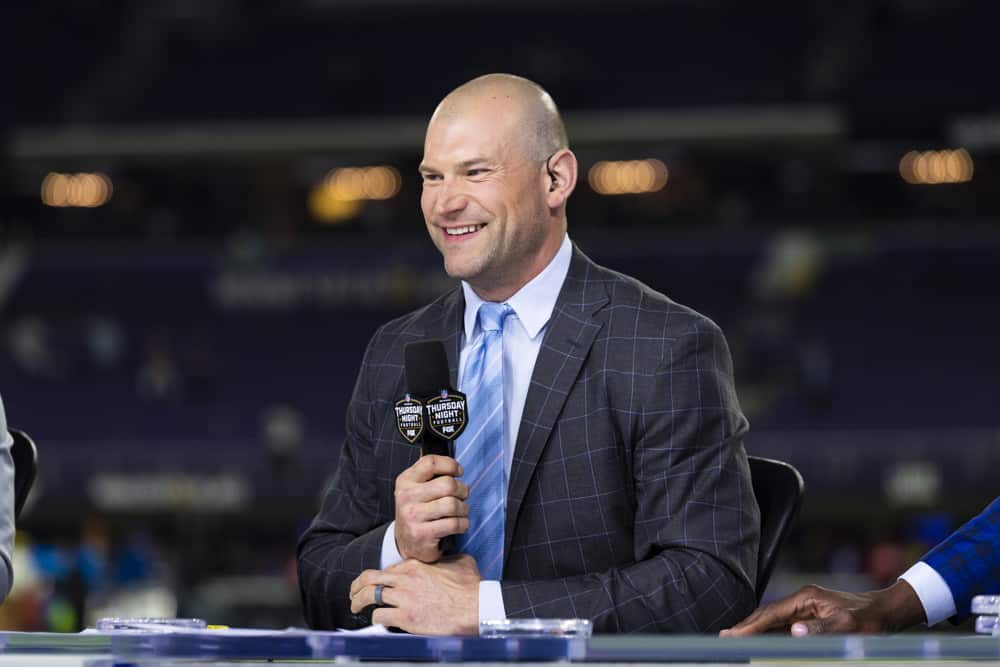 Add Cleveland Browns legendary left tackle Joe Thomas to the growing list of people in favor of JJ Watt becoming a Brown in 2021.
JJ Watt made big news on Friday by announcing that he asked the Houston Texans to release him, and they agreed to do so.
Watt's Announcement
Houston, I wanted you to hear this directly from me… pic.twitter.com/YqT3P6Lb6l

— JJ Watt (@JJWatt) February 12, 2021
This came as a bit of a surprise because all of the news in Houston seemed to revolve around Deshaun Watson and his desire to get out of town.
Watt is an upstanding guy and handled the announcement of his departure with the class we've all come to know and expect.
Fierce Speculation
In the 24 hours since Watt's announcement, there has been fierce speculation on where he will land.
Practically every NFL team has photoshopped its uniform on Watt's body and circulated the idea he is becoming a member of that team on social media.
The Browns are no exception, and Joe Thomas fed the frenzy with this Tweet.
That's a good look…just saying'🔥🔥🔥🏆🏆🏆🍻🍻 https://t.co/DjA1S8e6hK

— Joe Thomas (@joethomas73) February 13, 2021
What JJ Watt Brings To A NFL Team
Watt will be 32 years old before the 2021 season begins.
Without a doubt, he brings a wealth of experience and leadership as well as an outstanding work ethic.
Realistically his best playing years are behind him.
His body has been prone to injuries.
So the question is how much does he have left in the tank, and what is it worth to an NFL team that needs help on defense.
Thomas does not come out and say it, but everyone knows that the Browns do need to improve their personnel on the defensive side of the ball.
Watt was expected to make $17.5 million in 2021 with the Texans.
Potential Suitors For JJ Watt
JJ Watt has already received interest from a dozen teams. 👀

Where is Watt going to land? ⤵️ https://t.co/2yu2CqiPWj pic.twitter.com/4XEDLd9Jwc

— theScore (@theScore) February 13, 2021
At least 1/3 of the league is interested in JJ Watt.
The logical and sentimental choice is the Pittsburgh Steelers so Watt could join his brothers TJ and Derek.
However, the Steelers are bumping up against the cap space so money could be an issue.
Could JJ Watt Be A Cleveland Brown?
Certainly, the Browns are in a better financial position than other teams to pursue JJ Watt.
The question remains is Watt the right choice.
It will be telling if the Browns actively pursued him because their good financial situation may end up being short lived.
There are contract extensions with Nick Chubb and Baker Mayfield to figure out.
Also, there is a laundry list of free agents to figure out how to manage, keep, or move on from.
Adding Watt to the mix will definitely impact all of those decisions.
Conclusion
Top 5 landing spots for JJ Watt
(According to @BryanDeArdo)

1. Pittsburgh Steelers
2. Tampa Bay Buccaneers
3. Dallas Cowboys
4. Green Bay Packers
5. Baltimore Ravens pic.twitter.com/azflbJsSuY

— CBS Sports HQ (@CBSSportsHQ) February 12, 2021
Every day we can anticipate a barrage of rumors and "news" related to JJ Watt and whichever team he is expected to join.
There is no doubt that Joe Thomas's opinion does hold weight within Cleveland.
The reality is that this is just the beginning of the JJ Watt story.
Stay tuned.