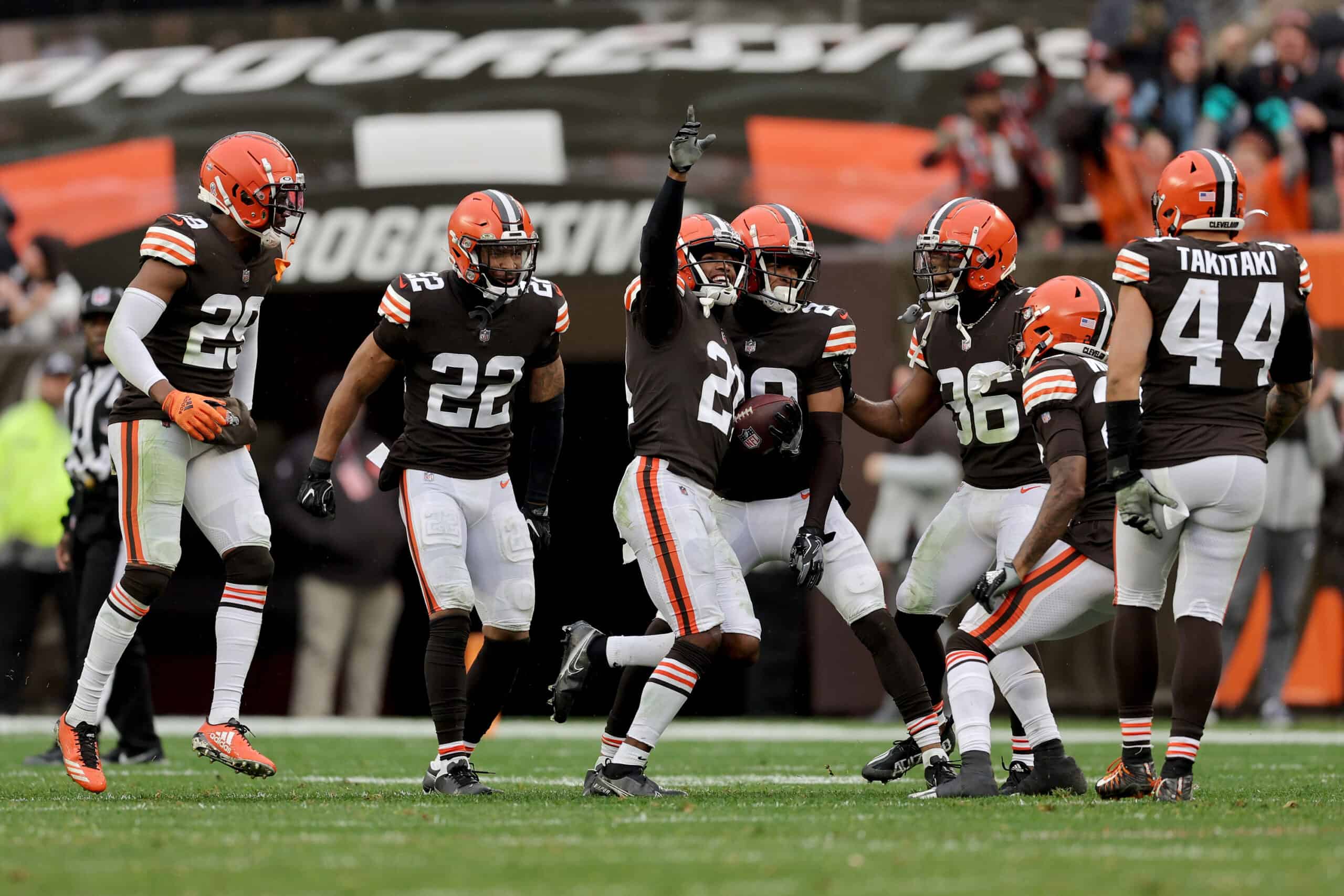 Denzel Ward delivered perhaps the most important hit of the season on Sunday as he tackled Ravens receiver Rashod Bateman short of the first-down sticks.
The tackle secured the ball back for Cleveland, the victory, and ultimately keeps postseason hopes alive in northeast Ohio.
Fourth down stop for the win!#ProBowlVote + @denzelward!

📺: #BALvsCLE on CBS
📲: Browns mobile app pic.twitter.com/VqK1QFbP7x

— Cleveland Browns (@Browns) December 12, 2021
In year four, Ward continues to prove his worth as a number one cornerback.
Week-to-week he takes on the challenge of covering the offense's top-receiving threat, a tiring and sometimes thankless task.
Yet, Ward continues to deliver and makes crucial plays when his defense needs it most.
With just one more year of his contract left, Ward has set himself up to get paid accordingly with a huge contract extension.
The Situation at Hand
Cleveland picked up the fifth-year option on Ward's rookie contract.
This keeps him secure in Cleveland through the 2022 season.
Over the summer, Ward and his agent began extension conversations with the Browns.
#Browns Nick Chubb and Denzel Ward both said their agents have been in talks with the team about contract extensions.

— Camryn Justice (@camijustice) June 15, 2021
Ultimately nothing was agreed upon before the start of the season.
Fans were more focused on a possible extension for Baker Mayfield so much of the conversation about Ward got swept under the rug.
Ward's efforts on the field prevent us from forgetting about his situation too long, however, as Ward and the Browns will get down to brass tacks this summer.
Ward is riding a hot streak with his play right now.
The great plays in coverage and bone-crunching hits are piling up week by week.
His Value to the Defense
Ward is more valuable to Cleveland's defense than many might think.
Plenty of social media posts go on and on about his injury issues, staying on the field, etc.
Yes, Ward has been dinged up quite a bit in his young NFL career.
Still, he's appeared in at least 12 games in each season, including this year.
With injuries so common in the NFL, being available for at least 12 games is something most coaching staffs would live with.
Quarterbacks have nightmares dealing with Ward in man-coverage.
Heading into the bye week, per Pro Football Focus, Ward held the highest grade of all CB's in single coverage and allowed the 2nd lowest passer rating.
That's about as "shutdown" as it gets for an NFL cornerback.
Some Denzel Ward stats courtesy of PFF:

– highest graded CB in single coverage ( 87.2)
– 2nd lowest passer rating allowed (58.5)

The Warden. 🔒 #Browns pic.twitter.com/Q7PqoogFMO

— MoreForYouCleveland (@MoreForYou_CLE) December 1, 2021
His ability to create game-changing turnovers is also crucial to the success of Cleveland's defense.
His pick-six against the Bengals helped the Browns seize early control in a much-needed divisional win in Cincinnati.
DENZEL WARD TO THE HOUSE
pic.twitter.com/GHoeJgozKZ

— PFF (@PFF) November 7, 2021
Cleveland's depth at the position falls severely without Ward there.
Rookie Greg Newsome II has been very impressive but is still inexperienced.
Greedy Williams flashes brilliance from time to time but has not been able to put it all together consistently since being drafted.
Franchises often go years without having a true, elite cornerback on their roster.
While Cleveland has one in Ward, many don't want them to squander the chance to keep him around long-term.
Contract Talk
Pro Football Focus ranked Ward as the 8th-best outside cornerback heading into this season.
So far, Ward has only improved that ranking with his stellar coverage and improvement in tackling.
Xavien Howard, Tre'Davious White, and James Bradberry are corners who have comparable deals to what Ward might expect.
Ward may not be in the "top-three" debate yet, however, "top-five" and certainly "top-ten" remain plausible.
Somewhere in the ballpark of four years, $60 million ($15 million annually) would make sense for Ward.
Anything over $17-million annually would put him in the top-five highest-paid cornerbacks' category.
While it'd be difficult to argue Ward hasn't earned that, Andrew Berry has plenty of others to pay as well.
If Berry can retain Ward for somewhere in that $15-$17 million per year range, that'd be considered a win for the front office.