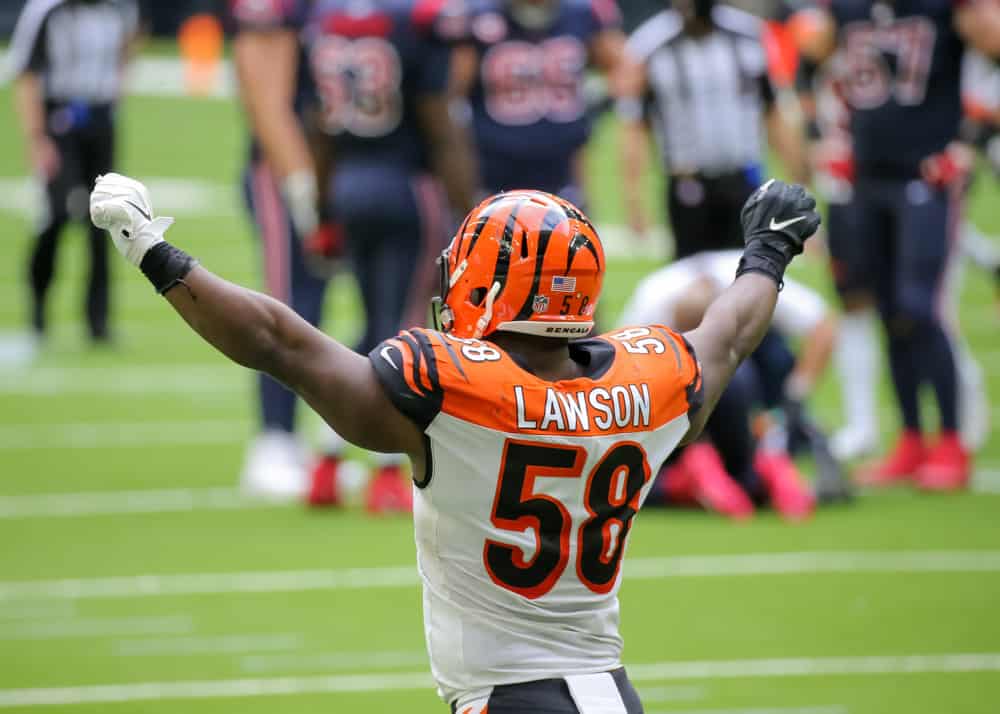 The Cleveland Browns need help on the defensive line.
Earlier this offseason, they cut veteran defensive end Adrian Clayborn in order to save cap space.
They also have Olivier Vernon and Larry Ogunjobi as pending free agents.
This roster is a few impact players away from being legitimate Super Bowl contenders.
That being said, Browns fans shouldn't be surprised if the front office is aggressive this offseason.
Could Carl Lawson Be The Answer?
There are a handful of potential fits available in free agency this offseason.
However, one sneaky addition could be 25-year-old defensive end Carl Lawson.
The former fourth-round pick has quietly put together a fairly solid resume.
Through 51 games, Lawson has 81 tackles, 19 tackles for loss, and 20 sacks in four seasons with the Cincinnati Bengals.
At first glance, those aren't the most impressive stats, but Lawson has been consistent and reliable.
He is an impactful player on the field even if it doesn't always show up on the box score.
Carl Lawson uses the long arm to counter & get to the QB for the sack. @carllawson55 is a pass rushing threat! #passrush #freeagent pic.twitter.com/uGrPJDUJ99

— DLineVids (@dlinevids1) March 10, 2021
Last season, Lawson recorded 36 tackles, 5.5 sacks, and two forced fumbles through 16 games.
The Bengals did trade Carlos Dunlap to the Seattle Seahawks mid-season, so they might plan on attempting to re-sign Lawson.
However, the Bengals are likely going to be stuck in a bidding war with plenty of other organizations.
Lawson To Cleveland?
On paper, Lawson does seem like an ideal fit for the Browns.
He is a relatively young player that has been healthy throughout most of his career.
The hope is that he'll continue to learn and improve his game as time goes on.
Lawson is limited in the run-game, but is a useful situational pass rusher.
There are plenty of things that Lawson does on the field that could be beneficial to an organization.
I present to you a collection of Carl Lawson long arms.

He's one of the rare EDGE rushers whose inside move is his staple instead of his counter. His long arm is one of the plus pass rush moves in the league. pic.twitter.com/LlvAf5JsBU

— Matt (Double__Underscore) Weston (@Matt__Weston) March 12, 2021
The Browns are desperate to find another pass rusher to play alongside Myles Garrett.
Obviously, the defensive line needs help with Vernon and Ogunjobi likely headed elsewhere.
Lawson would help soften the blow and he should be a fairly affordable option.
As of right now, Lawson is expected to get four years around $55 million total, according to Pro Football Focus.
He would obviously get a lot less in guaranteed money, but that does sound like a reasonable deal.
Doing that deal would give the front office plenty of cap space left over to get other players signed.
The Browns should be able to bring in a linebacker and defensive tackle, assuming they sign Lawson to around $55 million total.
Cleveland does not want to spend all their money on one player.
Last offseason, the Browns tried to go all-in on Jadeveon Clowney.
The #Browns have made a new offer to Jadeveon Clowney. pic.twitter.com/O6FmlGvvwl

— Everything Cleveland (@everythingcle_) June 15, 2020
He ultimately decided to sign elsewhere, which ended up being a blessing for Cleveland.
Bringing in Lawson on a reasonable deal solves the pass rushing problem in one fell swoop.
That should still leave Cleveland with plenty of money leftover to bring in other impactful players through free agency.
Lawson might not be the best defensive end available, but he makes sense for this roster going into the 2021 season.