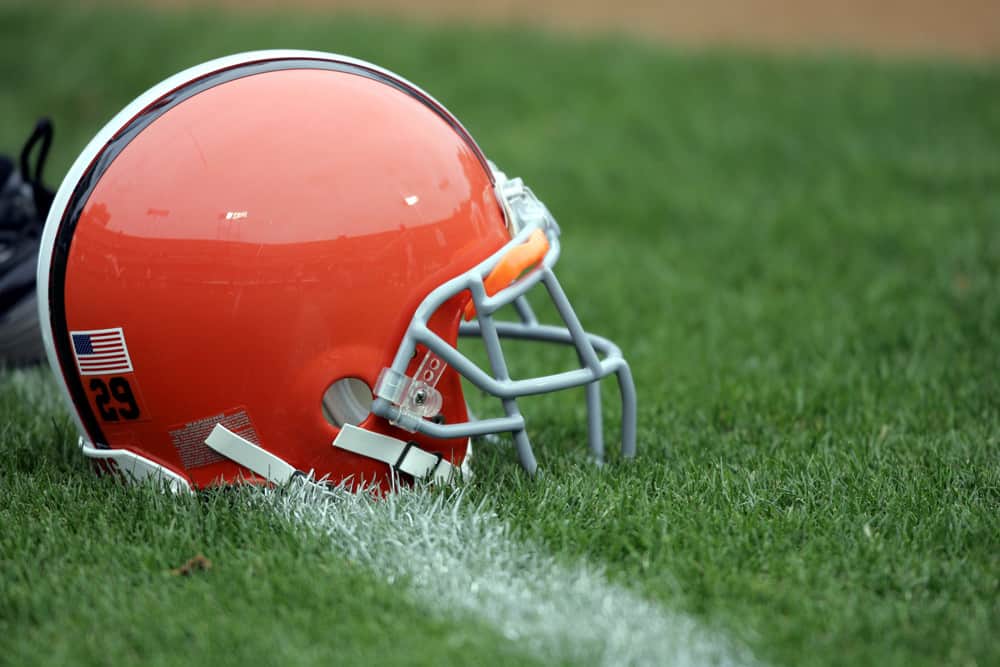 Frank Ryan, Jim Brown, Gary Collins, Bill Glass, Jim Houston, Galen Fiss, and Lou Groza are among the players that Cleveland Browns fans typically associate with the team's last NFL championship in 1964.
However, the 1964 Browns team consisted of 42 individual players, and they each contributed to the success of the team in 1964.
Ed Bettridge was one of the 42 players on the Cleveland team in 1964.
Bettridge played on special teams and helped Cleveland win the 1964 NFL championship.
Ed Bettridge 1964 browns champion will be at Tutys in beavercreek ohio to watch the browns beat the chargers join us pic.twitter.com/l6SxaB4RM2

— todd blocher (@boneflinger) September 28, 2015
We take a look at the life of Ed Bettridge – before, during, and after his NFL playing career.
The Early Years Before College
Edward Neil Bettridge was born on September 16, 1940 in Sandusky, Ohio.
Sandusky is located in northern Ohio, about midway between Toledo to the west and Cleveland to the east.
Bettridge enjoyed growing up in Sandusky.
"I just really liked growing up there. . . . I loved that there was so much to do. Sandusky had great parks, a great school system, great recreational facilities and great sports programs. I also loved Cedar Point, Catawba and the islands. There were also a lot of really good people in Sandusky. It was a perfect setting for me."
John and Hazel were Bettridge's parents.
Bettridge attended Sandusky High School, graduating in 1958.
At Sandusky High School, the name, "Bettridge", had been associated with football excellence.
Bettridge's father, John, had starred at Sandusky High School, including that he scored six touchdowns in a game against Bellevue in 1929 and 47 touchdowns over his high school career.
After high school, John Bettridge (a fullback) played for Ohio State before heading to the NFL; in 1937, he played for the Cleveland Rams and the Chicago Bears.
In recalling his father, Bettridge stated:
"Other than Orlando Pace, my dad was the greatest player to come out of Sandusky. My brother was also really good, a three-time star athlete. There are only eight players at Sandusky that have ever played in the National Football League, and my dad and I are two of those eight. That's pretty great."
When he was a child and entered the Sandusky High School stadium (then known as Strobel Field), Bettridge "felt something. I felt that I was destined to play football."
About his high school years, Bettridge said:
"Our teams were still running a single-wing attack, and everyone else went to a T-formation. We were a little slow in catching up, but, still, the tradition and the history of Sandusky football was second to none back then. . . . My parents started me in school before I should have started, and I was always behind everyone else, in size, until my senior year in high school, when I played tackle and middle linebacker. I led the team in tackles, interceptions and blocked extra points."
At Sandusky High School, Bettridge also was on the swimming and track teams and served on Student Council.
Bettridge was not heavily recruited by colleges.
He ultimately decided to attend Bowling Green State University ("Bowling Green") in Bowling Green, Ohio.
The College Years
At Bowling Green, Bettridge initially did not even have a scholarship.
Bettridge made the freshman team at Bowling Green as a "walk-on".
He played well as a freshman, leading Bowling Green in tackles.
The Bowling Green coaches were sufficiently impressed with Bettridge's play that they awarded him a scholarship and promoted him to the varsity team.
Bettridge gives credit to his future College Football Hall of Fame Bowling Green head coach Doyt Perry.
"[Perry] was like a father figure to me. I didn't mature enough in high school, and when I went to Bowling Green, it was just a huge difference, and things changed dramatically for me because of Doyt Perry."
Bettridge lettered in football at Bowking Green in 1961, 1962, and 1963.
In 1961, as a sophomore, Bettridge played on both offense, as a center, and on defense, as a linebacker.
Bettridge led Bowling Green in tackles in 1961.
Bowling Green posted an 8-2 record and won the Mid-American Conference title in 1961.
Among Bowling Green's victories in 1961 were three shutouts – 40-0 over Marshall on September 23, 1961, 21-0 over Western Michigan on October 7, 1961, and 20-0 over Southern Illinois on November 18, 1961.
As a junior, in 1962, Bettridge again led Bowling Green in tackles.
For his play in 1962, Bettridge was named to the Mid-American Conference All-Conference team.
In 1962, with a 7-1-1 record, Bowling Green again won the Mid-American Conference title.
Bowling Green defeated Marshall 48-6 on September 22, 1962 and Kent State 45-6 on October 20, 1962 and shutout Southern Illinois 21-0 on November 17, 1962.
Before his senior season, in 1963, Bettridge was described as a "[g]reat all-around football player who can be equally tough on offense or defense . . . Mobile for his size".
Bettridge broke his foot in 1963.
While he played the whole season, the injury affected his performance in 1963.
Bowling Green had an 8-2 record in 1963, including a 28-0 shutout of Dayton on October 5, 1963.
The Pro Football Years
In part because of his foot injury, Bettrridge was not drafted in the 1964 NFL draft.
However, the Cleveland Browns signed Bettridge as an undrafted free agent in 1964.
"Back then, every boy dreamed of being on the Cleveland Browns. It was my lifetime dream. To be from Ohio, and play on the Browns, it was just so special. . . . But not only did I make it, I surpassed (my dream) of playing on a world championship football team."
In 1964, Bettridge (playing at a height of six feet and one inch and at a weight of 235 pounds) played in three regular season games.
Bettridge played on special teams and did not start any regular season games.
Bettridge was part of a Browns special teams unit that ranked in the 1964 NFL regular season first in average yards per punt return (15.2), second in field goal percentage (66.7%), tied for first in extra point percentage (100%), first in average yards per kickoff return allowed (20.2), fifth in total punt return yards allowed (184), and second in extra point percentage allowed (91.4%).
Cleveland, with a 10-3-1 record, won the NFL East Division title in 1964.
Ed Bettridge 1964 Browns linebacker. pic.twitter.com/pbde7bSwE7

— Keith A. Sexton (@KeithASexton54) March 30, 2019
It was the first division championship for the Browns in seven years.
On December 27, 1964, Cleveland advanced to play the Baltimore Colts in the 1964 NFL championship game.
Bettridge played in the game and helped the Browns limit the Colts to only 29 kickoff return yards on three kickoff returns and 18 punt return yards on two punt returns.
In addition, on special teams, future Pro Football Hall of Fame Cleveland kicker Lou Groza was perfect on two field goal attempts and three extra points.
The Browns shutout the Colts 27-0 to win their first NFL championship in nine years.
The 1964 NFL championship game turned out to be the pinnacle of Bettridge's NFL career.
"I hurt my ankle in a scrimmage, and it never really healed properly. I tried to hook on with (another team), but I had problems with the ankle, and it never worked out after that."
1964 was Bettridge's only season in the NFL.
The Years After The NFL
Bettridge married Kathy.
They had two children.
After his season in the NFL, Bettridge was an assistant coach for Eastern Michigan University and then worked in sales.
He retired in 2001 and settled in Avon Lake, Ohio (a suburb of Cleveland).
Come see Ed Bettridge. 1964 championship Browns team. Peters Pub now. pic.twitter.com/xA9govyenN

— PGH Browns Backers (@PGHBB) September 17, 2017
Bettridge serves as an "ambassador" for the Browns.
In this role, Bettridge attends team-sponsored functions and makes appearances at "Browns Backers" organizations; he signs autographs, speaks with fans, and helps to auction off memorabilia for charities.
In describing Bettridge, Tony Straziuso, chapter president of the "Huron Browns Backers", stated:
"He is just so awesome. He is like the grandpa that you never had. He is just a great, selfless guy who we really like having come meet with us."
Bettridge has been inducted in the Sandusky High School Athletic Hall of Fame.
In addition to Bettridge, there were 10 other players (excluding Lou Groza, who technically was Cleveland's "starting" kicker) on the Browns roster in 1964, who did not start a regular season game in 1964.
Some of these 10 players probably are well-known by Cleveland fans.
Most notably, running back Leroy Kelly was to have a Pro Football Hall of Fame career for the Browns.
Walter Roberts was the leading kickoff returner and a punt returner for Cleveland in 1964.
Quarterback Jim Ninowski started 11 regular season games for the Browns over his seven seasons with the team.
Linebacker Sid Williams was to start 10 regular season games for Cleveland in 1965.
Browns fans are likely less familiar with other of these 10 "non-starting" players.
Running back Charlie Scales had started five regular season games for Cleveland in 1962.
Wide receiver Clifton McNeil was to be an All-Pro player for the San Francisco 49ers in 1968.
Tight end-wide receiver Tom Hutchinson and tackle Roger Shoals each played in all 14 regular season games for the Browns in 1964.
Defensive tackle Mike Bundra played in nine regular season games for Cleveland in 1964.
Defensive back Dave Raimey played in five regular season games for the Browns in 1964.
Each of these 10 players and Bettridge contributed to Cleveland's championship in 1964, even if they were not starters.
These contributions could have come as a substitute on offense or defense or on special teams.
They could have come from their role in training camp, preseason games, or practice before regular season games.
They could have come just from supporting or otherwise helping starting players.
All of these "non-starting" players have the memory of being part of a championship team.
Bettridge still wears his championship ring.
"There isn't a day that goes by that I don't talk about the Browns in some way or another. It's just the gift that keeps on giving, and it's a special thing. That doesn't happen to too many athletes."
Jim Brown and Ed Bettridge may not have shared many experiences in their respective NFL careers, but Cleveland Browns fans are glad that they share one – NFL champions in 1964.