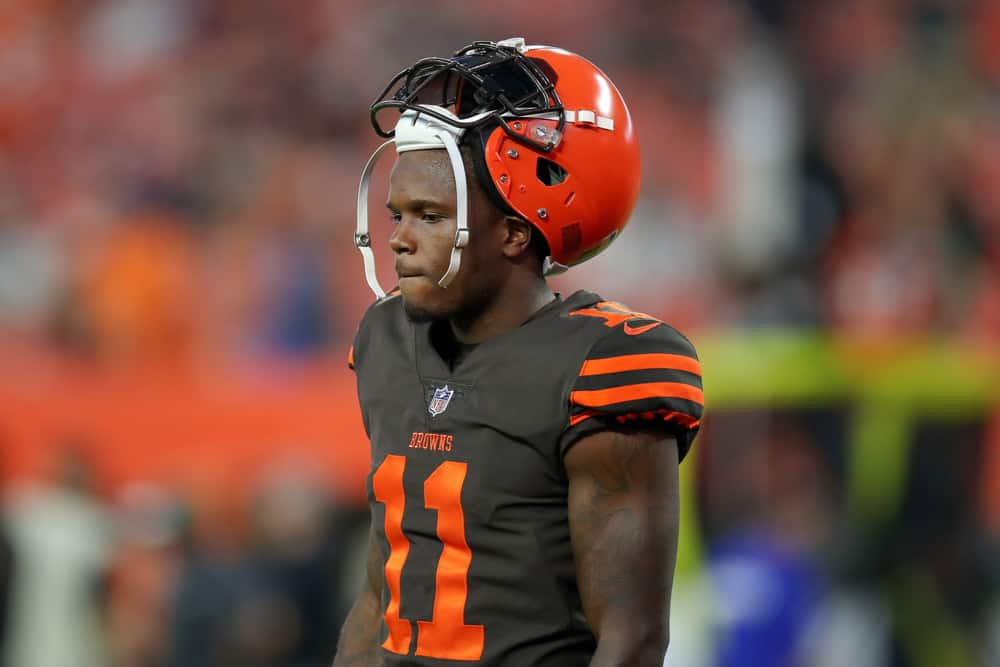 One of John Dorsey´s final personnel decisions was to release Antonio Callaway.
That happened back in November of last year.
Callaway wore out his welcome in less than two seasons with the Cleveland Browns.
But when the XFL told Oliver Luck to improve the talent pool of XFL wide receivers, Callaway found a new home.
Former #Cleveland #Browns WR Antonio Calloway has signed on with the #XFL's #TampaBay #Vipers.

Calloway is currently suspended in from the #NFL for violating the substance abuse policy. The suspension was for ten games.

— Game Changer Sports Network (@TheOfficialGCSN) January 17, 2020
Unfortunately, the former Brown suffered a season-ending injury before playing a down in the upstart league.
That cost the league "more than six figures", according to legal papers filed by XFL owner, Vince McMahon.
More bad luck followed as much of the nation went into shutdown mode in April.
The league canceled its season early in the face of closed venues.
It was a financial disaster for the fledgling football league.
On April 9, McMahon fired his commissioner, Luck.
The next day, the XFL announced it would cease operations and declared bankruptcy shortly afterward.
But McMahon promised to cover Luck´s salary personally if the league folded or went bankrupt.
That is why Luck, whose sports administration skills brought instant credibility to the XFL, took the job.
And that is why Luck sued McMahon for breach of contract.
Which Brings Us Back to Callaway
Vince McMahon filed counter-statements in court this week to justify Oliver Luck´s termination.
After filing the paperwork, both parties rescinded certain allegations.
But McMahon still harps on three specific reasons he could legally fire Luck.
He claims abandonment of duties and personal use of a company cell phone.
Luck´s assertion that travel bans prevented him from reporting to work is verifiable.
As is the amount of personal cell phone use as his phone is already under forensic analysis.
But the third reason is what put Antonio Callaway and his checkered past back in the spotlight.
XFL unsealed, McMahon blasts Luck for signing Antonio Calloway https://t.co/UL5Qv2T940

— Daniel Kaplan (@KaplanSportsBiz) May 13, 2020
McMahon cites the league's policy of not hiring players with problematic backgrounds.
Since all eight XFL teams are league property, McMahon says he should have signed off on the Callaway deal.
The league owner alleges he told Luck to fire Callaway.
But Luck did not respond fast enough, costing the league Callaway´s $125,000 signing bonus and more.
Luck says he was directed to upgrade the talent level across the league and Callaway was such an upgrade.
Callaway´s substance abuse issues with the NFL reportedly centered around cannabis.
But the XFL was quite public in that they would not screen nor penalize their players for marijuana use.
It is unknown whether Cleveland shared Callaway´s tardiness and other issues with Luck.
Callaway also has a known driving and possession arrest that was downgraded to a traffic ticket.
But Luck maintains it was a reasonable signing and did not violate the XFL´s policy.
They´re Not Going Away
Neither entity in the case appears willing to settle.
Luck was so confident, he filed a motion to let McMahon simply pay what he owes him.
McMahon´s response indicates a fight is forthcoming.
Luck, who is the father of former Colts quarterback Andrew, is not backing down.
"Oliver is thrilled that this can all be aired in the court of public opinion, because his position is that he was wrongfully terminated," said Paul Dobrowski, one of Luck's attorneys.
Luck´s contract not only included McMahon´s promise to cover his salary personally if needed.
It also included a 30-day cure period to address any claims made before terminating for cause.
McMahon insists Luck´s actions, including the Callaway signing, amount to gross negligence and voids the contract.
Which means we´ll probably be seeing more of Antonio Callaway´s story for a while.