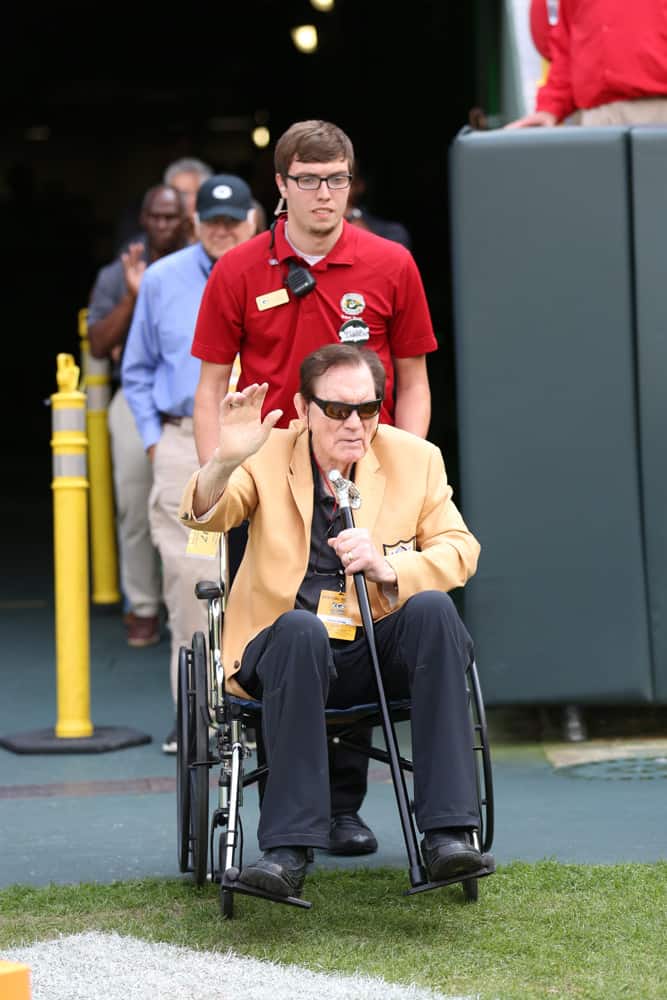 Forrest Gregg is a name synonymous with winning football.
He was a 15-year vet with the Green Bay Packers and Dallas Cowboys who helped lead the Packers to five NFL championships and the first two Super Bowls.
ON THIS DAY IN 1968! Dad & Forrest Gregg carried Vince Lombardi off the field after the Packers defeated the Raiders in Super Bowl II. This was Green Bay's 3rd consecutive NFL Championship and Lombardi's last game as Coach of the Packers. Photo by Neil Leifer pic.twitter.com/jU64bnnc63

— Daniel Kramer (@DanKramerPhotos) January 14, 2022
Gregg also helped the Cowboys win Super Bowl VI in his final season.
Gregg was considered an "iron man" by playing in 187 consecutive games and setting the standard for future offensive tackles.
After retiring as a player, Gregg began a coaching career that lasted until 1995.
His first opportunity as a head coach came in 1975 with the Cleveland Browns.
Unfortunately, Gregg's tenure lasted only three years and he was fired during the 1977 season.
Four years later, he was the head coach of the Cincinnati Bengals and led the team to a Super Bowl XVI berth.
Although the Bengals lost a close game to Joe Montana and the San Francisco 49ers, Browns fans were left to wonder why Cleveland fired Gregg.
Here is a look back at what happened to Forrest Gregg in Cleveland.
Assistant Coach for the Browns 
Gregg's success as a player helped him transition easily to an assistant coach.
After retiring from the Cowboys in early 1972, he took a job as the offensive line coach for the San Diego Chargers.
In his second season with the Chargers in 1973, Gregg was tasked with building a line that would block for new quarterback Dan Fouts and veteran Johnny Unitas.
After the conclusion of the '73 season, Gregg was at home when he received a phone call from Browns owner Art Modell.
Modell wanted Gregg to coach Cleveland's offensive line in 1974.
I wanted to find a photo of the greatest pair of slacks ever worn by an NFL coach on the sidelines, and here it is, posted by the Browns on Twitter two years ago in tribute to Forrest Gregg. Look how the pattern on the pants matches the collar. Imagine this in orange and blue! pic.twitter.com/FuKgOUnpzW

— Andrew Mason (@MaseDenver) April 18, 2021
It just so happened that the Browns head coach at the time was Nick Skorich.  Skorich had been Gregg's line coach in Green Bay.
It was an easy decision and Gregg happily accepted.
"I looked forward to joining one of the NFL's great franchises," Gregg explained in his book, Winning in the Trenches: A Lifetime of Football, "and I was hoping to become part of the Browns' championship legacy."
Unfortunately, the Browns were not great in 1974.
The franchise suffered through a 4-10 record, the worst win total in team history.
Skorich was fired after four years with the club and Modell immediately named Gregg as his new head coach.
The news about his promotion surprised Gregg and he shared later that he had to hustle to a men's clothing store to buy a suit and tie for his introductory press conference.
A Rough Start, then Cancer
The Browns didn't get much better in Gregg's first year as head coach.  In fact, the team regressed to 3-11.
Cleveland stumbled badly to begin the season, losing their first nine games.  Then, two straight wins were followed by a 1-2 record to close the season.
Forrest Gregg of the #Cleveland @Browns.
Source: @Cleveland_PL in Dec. 1975 @ClevelandMag pic.twitter.com/04352Rfhil

— John Skrtic (@SkrticX) September 1, 2020
It didn't help that quarterback Mike Phipps had a horrific year, throwing for only four touchdowns against 19 interceptions.
A few months after the season ended, Gregg was diagnosed with cancer.
He underwent two surgeries to remove the cancer during the summer of 1976, then went back to work.
A Winning Record in '76, Gregg is Fired in '77
In the 1976 NFL Draft, the Browns drafted Purdue's Mike Pruitt with the seventh overall pick.
He was expected to contribute to Cleveland's offensive woes.
The Browns did improve significantly in Gregg's second season.
That year, the team was inspired by their head coach's battle with cancer and he demanded their best.
Cleveland went 1-3 to begin the year then won eight of their final ten games.
Phipps was injured during the first game of '76 and Brian Sipe would take over and help lead the Browns to a 9-5 record.
The league recognized Cleveland's drastic turnaround and named Gregg their NFL Coach of the Year.
The last time a #Browns HC won COTY was in 1976, when Forrest Gregg won the award. pic.twitter.com/O6KtKfmpsn

— MoreForYouCleveland (@MoreForYou_CLE) December 22, 2020
In 1977, the Browns began the year 5-3.  Then, during a Week 9 game against Pittsburgh, Sipe sustained a season-ending injury and backup Dave Mays took over.
With Mays, and eventually Terry Luck, Cleveland only won one game the rest of the year.
To make matters worse, before the team's final regular-season game against Seattle, Modell fired Gregg.
Assistant Dick Modzelewski stepped in and the Browns lost to the Seahawks by a point.
After leaving Cleveland, Gregg spent 1978 out of football then coached the CFL's Toronto Argonauts in 1979.
In 1980, the Bengals hired Gregg to be their head coach.  He boldly announced his intentions during his first press conference.
"I'm in this business to win football games. And there is talent here to win. What we want to do is put that talent together and step forward from this day on," he said.
Cincinnati had a 6-10 record in '80 before going 12-4 in 1981 and losing to the Niners 26-21 in Super Bowl XVI.
Why Wasn't Gregg Successful in Cleveland?
Gregg's lack of success in Cleveland, according to Gregg himself, came down to one person, Modell.
Not too shabby a player, either. RIP. (Art Modell truly was an amazingly astute football man. He managed to fire Paul Brown, Jim Brown, Bill Belichick & Forrest Gregg in one lifetime.) https://t.co/18oyi5BSRq

— Joseph Hansell (@JosephHansell) April 12, 2019
In his book, Gregg mentions that one of the first issues with Modell came in 1976.
Modell wanted Pruitt to start immediately as a rookie while Gregg believed that the young back needed time to transition to the pro game.
Ultimately, Gregg got his way and Pruitt would only start two games in two seasons, totaling 343 rushing yards in 1976 and 1977 combined.
Modell also complained to Gregg that he didn't like how the Browns training camp set-up at Kent State looked.
According to Gregg, Modell wanted the practice fields to look a certain way, including where the blocking sleds should be positioned.
Then, Gregg and Modell clashed on what to do with Phipps.
While it was clear that Phipps was not a very good quarterback, Gregg wanted him as a backup to Sipe.
The coach's fear was that if Sipe got hurt as a starter the team wouldn't have a capable backup to be competitive.
However, Modell had promised Phipps that he would release the quarterback if he didn't start.
#RIPJohnMadden Head coaches Forrest Gregg and John Madden walk off the field. Oct. 9, 1977, in #Cleveland. (Ron Kuntz Collection/Diamond Images via Getty Images). pic.twitter.com/C0t7yh7B48

— John Skrtic (@SkrticX) December 29, 2021
In May of 1977, Modell kept his promise and traded Phipps to the Chicago Bears without talking to Gregg first.
"As a coach, I never would make a promise like that," Gregg said in an interview. "I wouldn't make that kind of promise to anybody."
The coach's fear was realized when Sipe went down against Pittsburgh in 1977.
Backups Mays and Luck were only able to collect one victory between them.
The losses eventually led to Modell firing Gregg before the '77 season concluded.
Modell hired Sam Rutigliano in the spring of 1978 and the Kardiac Kids would get the franchise back to the playoffs in 1980.
A measure of Revenge?
It's fitting that Gregg would eventually be hired by the Bengals.  At the time, Cincinnati was owned by former Cleveland coach Paul Brown.
After helping to start the Browns in 1946 (and having the team named after him) Brown won seven championships.
Furthermore, Brown only had one losing season during his years in Cleveland.
In 1961, Modell bought the team and fired Brown two years later.
The coach then made his way to Cincinnati in 1968 and worked hard to make the team competitive.
In Gregg's final weeks with Cleveland in 1977, he reached out to Brown to vent his frustrations.
Though the @Bengals fell to the @49ers in #SuperBowlXVI, the Bengals had an incredible season leading up to that Super Bowl. The team headed into the playoffs with a 12-4 record and two playoff wins with the help of QB Ken Anderson and HC Forrest Gregg. #ThrowbackThursday pic.twitter.com/nHzS3SrWpz

— NFL Alumni Cincinnati Chapter (@NFLACincinnati) September 9, 2021
The Bengals owner knew all-too-well about Modell's meddling.
"There was one thing I learned from my stay in Cleveland," Gregg wrote. "With the Browns, there was no room for two strong personalities at the top."
Brown hired Gregg, and when Cleveland was stumbling through a five-win season in 1981, the two men were smiling all the way to the Super Bowl.
References
https://www.cleveland.com/browns/2009/10/they_played_the_game_forrest_g.html
https://en.wikipedia.org/wiki/Forrest_Gregg