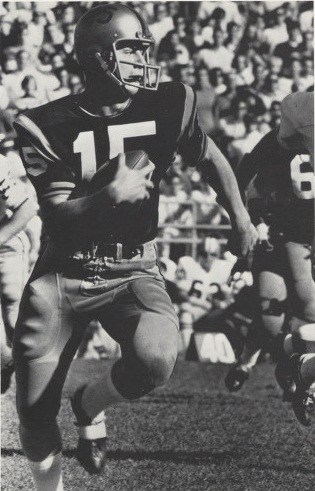 The search for a franchise quarterback seems to be an endless quest for most NFL teams.
Every year we read about a newly drafted quarterback envisioned to be the savior of some moribund franchise.
That quarterback is touted as the hope for the future that will pull the team out of the depths of despair.
Unfortunately, we also see the results of many of those false claims.
More likely than not, the hoped-for franchise quarterback does not pan out the way the team (or the fanbase) believed they would.
Inevitably, these once heralded athletes acquire the "bust" label and are thrown on the scrap heap.
At their inception, the Browns were fortunate to have a franchise signal caller.
Otto Graham was the very definition of team leader and team builder.
Graham led Cleveland to four consecutive AAFC championships and three NFL championships before he retired after the 1955 season.
After Graham's retirement, the Browns went looking for the next franchise quarterback.
By 1958, Milt Plum seemed to be the answer.
However, he was at the helm when Cleveland saw three straight seasons of playoff-less football.
In 1963, Frank Ryan came along and returned glory to the team which included the 1964 NFL championship.
Once Ryan departed, Bill Nelsen helped lead the team to playoff appearances, but couldn't win the big one.
Before Nelsen's worst season as a Brown (1970) Cleveland drafted Purdue's Mike Phipps in the first round as an insurance policy against Nelsen's decline.
Mike Phipps of the Cleveland @browns
Source: https://t.co/uvYxTro7sL pic.twitter.com/BLEKJMgJDp

— John Skrtic (@SkrticX) September 8, 2020
Two years later, Phipps was named the starter and led the team to the divisional round of the playoffs.
Unfortunately, that was the last time Cleveland made the postseason with Phipps.
Here is a look back at the life and career of Browns quarterback Mike Phipps.

Replacing a Legend at Purdue
Michael Elston Phipps was born on January 19, 1947, in Shelbyville, Indiana.
He attended Columbus High School in Columbus, Indiana and played football well enough to garner interest from nearby colleges.
After vacillating between Indiana University and Purdue, Phipps chose Purdue and immediately walked into a pressure cooker.
Bob Griese was the quarterback at Purdue when Phipps arrived.
Griese had finished eighth in the Heisman Trophy balloting in 1965 and was runner up for the award in 1966 (Phipps' freshman year).
Griese's last collegiate game was the Rose Bowl versus USC.
The Boilermakers took down the men of Troy 14-13.
Once Griese departed for the NFL, the pressure to succeed him was thrust upon a batch of no less than eight quarterbacks.
Phipps eventually won the QB battle and was named the starter as a sophomore for the 1967 season.

A Stellar Career in Gold and Black
Any worries over whether Phipps was up to the task effectively ended on September 30, 1967.
That day, the Boilermakers took on number one and heavily favored Notre Dame.
Phipps played like a natural leader and the program took down the Irish 28-21.
The upset landed Phipps on the cover of Sports Illustrated and into the hearts of Purdue fans everywhere.
Purdue's Mike Phipps pic.twitter.com/UVAmHJvX

— John Farrer (@jsfarr) August 10, 2012
Phipps continued to perform well that year, helping the team to an 8-2 record and lopsided victories over the likes of Ohio State.
With his ability to both pass and run, Phipps set a program record for total offense and a share of the Big Ten title.
He completed the season with 1,800 passing yards, 11 touchdowns, and seven picks.
Mike Phipps as a Purdue Boilermaker, by Alan Maver, 1967 pic.twitter.com/WOOALAV7sX

— OldRabbleLore (@OldRabbleLore) September 3, 2020
In 1968, Phipps and the Boilermakers charged out to a 3-0 start by outscoring their opponents 124-34.
At that point, Purdue was the top-ranked team in the country.
However, OSU then blanked Purdue in their fourth game before the program bounced back to win five of their next six games.
Phipps suffered an ankle injury during the year that kept him out of two games.
The Boilermakers again finished 8-2.
Due to the injury, Phipps only threw for 1,096 yards, three scores, and nine interceptions.
At the end of the season, Purdue was ranked in the top ten for the second year in a row.
Phipps' senior year of 1969 was one for the ages.
In the first game of the year, he rushed for 104 yards and threw for 286 in a win over TCU.
That marked the first time in school history that a player rushed for over 100 yards and threw for over 200 yards in a single game.
The following week, Phipps beat Notre Dame for the third year in a row, 28-14.
Then, in a matchup of college football all-star quarterbacks, Phipps took on Jim Plunkett and Stanford on October 4, 1969.
That day, Phipps threw five touchdown passes (Plunkett had four) and a two-point conversion to beat Stanford 36-35.
At one point in the fourth quarter, Purdue was down by two touchdowns before Phipps brought the team back.
Purdue lost the following week to Michigan, but then ended the year with a 5-1 mark (8-2 overall).
Phipps had his best season as a collegian, passing for 2,527 yards, 23 touchdowns, and 18 picks.
He was named a unanimous First-team All-American as well as a First-team Academic All-American.
His play on the gridiron led to Phipps being a Heisman finalist.
In one of the closest finishes in the history of the award (1,488-1,334 votes), Phipps finished second to Oklahoma running back Steve Owens.
However, he did win the Sammy Baugh Trophy for the nation's top collegiate passer.
Phipps is ranked ninth in Boilermaker history for passing yards in a career (5,423) and eighth all-time in passing touchdowns with 37.
Mike Phipps Purdue Legend 1966-1969 🚂💨💨💨🟡⚫

– Heisman Trophy Runner Up 1969
– 1967 Big 10 Champion
– 3-0 vs Notre Dame
– Declined a Rhodes Scholarship to focus on his 12 year NFL Career

Goodnight #CFBTwitter 😴 pic.twitter.com/56TLTIVXCu

— CFB Home (@CFBHome) January 15, 2021
Paul Warfield and the 1970 NFL Draft
As the 1969 season was coming to a close, the Browns found themselves on the losing side of the NFL Championship game.
For the second year in a row, the Browns missed out on the title, losing to the Colts 34-0 in 1968 and then to the Vikings 27-7 in '69.
Owner Art Modell and head coach Blanton Collier looked long and hard at their quarterback situation and wondered if they needed an upgrade.
Nelsen had arrived in Cleveland in 1968 after five years in Pittsburgh.
He was a good quarterback, but the team knew Nelsen was playing with two balky knees (four surgeries on his right knee, two on his left) and he might not last much longer.
With this in mind, they decided to address the position in the 1970 draft.
Since Cleveland had been in the title game in 1969, the team's 1970 draft pick was low.
The top three quarterback prospects heading into the draft were Louisiana Tech's Terry Bradshaw, San Diego State's Dennis Shaw, and Phipps.
There was no way Cleveland would get one of the three at their position.
Looking over the draft order, the Browns believed the Dolphins (who had the third overall pick) would be open to a trade.
Modell called Miami to gauge their interest.
The Dolphins were open to the idea as long as Cleveland sent them receiver Paul Warfield.
Warfield was already a Pro Bowl caliber receiver and it pained Modell to consider sending him south.
However, believing their quarterback need took precedent, he agreed to the deal.
With their new number three pick, the Browns drafted Phipps.
Jan 27, 1970: The @Browns traded Paul Warfield to the @MiamiDolphins for a draft pick they would use on QB Mike Phipps. Warfield (former Buckeye) continued his Hall-of-fame-career with the Dolphins. Phipps (former Boilermaker) had career stats of 55TD 108INT. pic.twitter.com/wUMMnMiB1X

— Sad CLE Sports (@SadCleveland) January 27, 2019
Clipboard Holder in 1970 & 1971
Although the Browns drafted Phipps, they still had Nelsen, who they planned to start for the time being.
By the third game of the season, the team was sitting at 1-1.
In Week 3, Nelsen was benched and Phipps inserted to try and salvage a win against Pittsburgh.
Phipps gave the Cleveland faithful a thrilling 15-7 comeback victory.
Instead of keeping Phipps in the starting lineup, the team went back to Nelsen.
In Week 9, because of a playing slump by Nelsen, Phipps got the start, but this time the Browns lost to division rival Cincinnati 14-10.
That was all the game action the rookie saw that year.
As the team fell to 7-7 on the season, Phipps' stat line was one start, 529 passing yards, one touchdown pass, five picks, and 94 rushing yards.
In 1971, Phipps was still tied to the bench in favor of Nelsen.
The Browns won four out of their first five games.
Nelsen then found himself in another slump as Cleveland lost four straight.
Phipps was the starter for Week 9 against Kansas City but came up short 13-7.
Nelsen was reinserted the following week and led the team to five victories to end the season.
The Browns returned to the playoffs and were promptly bounced by the Colts in the Divisional round 20-3.
On the year, Phipps had 179 passing yards, one touchdown throw, four interceptions, and 35 rushing yards.

Finally a Starter in 1972
By Phipps' third year, Nelsen's knees were all but shot.
However, he was named the starter again by head coach Nick Skorich coming out of training camp for the 1972 season.
The Browns were beaten in Week 1 by the Packers, 26-10, and Nelsen's time as Cleveland's quarterback ended.
Phipps was named as the new starter and made good on his potential.
Mike Phipps got a lil dirty… #Browns pic.twitter.com/OpLOWoAmQa

— Seb 🩸🇨🇦 (@CJ28MTL) June 11, 2019
Phipps went 10-3 for the remainder of the year and finished with 1,994 passing yards, 13 touchdown passes, 16 interceptions, 256 rushing yards, and five rushing touchdowns.
He was such a revelation for the franchise that Skorich couldn't help but gush over his new star quarterback.
"I think it was one of the greatest trades the Browns have ever made," Skorich said . "We had to give up a super receiver but we got a great young quarterback in Phipps. He'll play 15-18 years."
Cleveland found themselves in the playoffs with a 10-4 record and faced off, coincidentally, against Warfield and a strong Miami team.
Skorich's "great quarterback" completed nine passes, threw for 131 yards, one touchdown, and five picks.  (Warfield had a total of two catches for 50 yards and two rushes for 41 yards).
Despite Phipps' poor play, Cleveland nearly defeated the eventual Super Bowl champions 20-14.

Difficult Days in 1973 and '74
Unfortunately, the playoff game against Miami was a harbinger of things to come.
In 1973, Phipps helped the team get off on the right foot with a 3-1 record to start the season.
He also led a come-from-behind win against Pittsburgh and almost pulled out another against the Chiefs in a Week 12 tie.
Today in #Browns History:

1951: In a 13-turnover game, the Browns roll past the Chicago #Cardinals 49-28.

1973: Browns tie #Chiefs 20-20 on a last minute Mike Phipps pass to Milt Morin.

2012: #AAF star Trent Richardson sealed a 20-17 win with a 3-yard run in the 4th v #Raiders pic.twitter.com/RGnCgQ5dc7

— That One Sports Show (@tosspodcast) December 2, 2018
However, the Browns would only win four more games that year on the way to a 7-5-2 record.
Phipps threw for 1,719 yards, nine touchdowns, and a career-high 20 interceptions.
Phipps might have seen the writing on the wall before the 1974 season started.
In the 13th round of the 1972 NFL Draft, the team selected San Diego State's Brian Sipe.
The former Aztec quarterback was then parked on the team's reserve squad and never saw the light of day for two years.
Given Phipps' 1973 performance, the team (not so subtly) moved Sipe to the active roster before the 1974 season.
By the halfway mark of the year, the Browns were mired in a 1-5 record.
During a Week 7 game against Denver, Sipe came in to salvage a 23-21 victory.
Sipe ended up starting five games for Cleveland and split playing time with Phipps during many of the contests.
The uneven play and aging roster ultimately led to a disastrous 4-10 overall record and cost Skorich his job.
For the season, Phipps had 1,384 passing yards, nine touchdowns, and 17 picks.

Phipps Continues to Underwhelm in 1975 and 1976
Phipps was still the starter in 1975.  Under new head coach Forrest Gregg, the team promptly dropped their first nine games.
Phipps finally helped turn things around (briefly) during Week 10.
In a game against cross-state rival Cincinnati, he threw for 298 yards, two touchdown passes and no interceptions.
Cleveland had its first victory of the year, 35-23.
The Browns then split their last four games to finish 3-11.
Phipps started 11 games that season with Sipe starting two.
That year, Phipps would throw for the second-highest yardage total of his career, although that total was an underwhelming 1,749 yards.
He also ended the season with 19 picks and only four touchdown passes.
One of my earliest #Browns memories was of older kids in the neighborhood arguing over the Mike Phipps / Brian Sipe QB controversy. pic.twitter.com/fiNYiqdXy2

— 🇺🇸The Brown Spider!!!🇱🇷 #D4L (11-5) (@BrownSpiderCLE) May 11, 2020
During the 1976 season opener against the Jets, Phipps suffered a separated shoulder during a tackle.
The Browns were able to pull out a 38-17 victory that day under Sipe's direction.
While Phipps was recuperating from his injury, Sipe continued to play well.
After three straight losses following the New York game, Cleveland won eight of their last ten games to finish 9-5.
Phipps would only start one more game that season and it was clear the team was ready to anoint Sipe as the new savior.

Trade to Chicago
After the 1976 season (146 passing yards and three scoring passes total), Phipps was no longer welcome in Cleveland.
On May 3, 1977, the Browns traded him to the Chicago Bears in exchange for a fourth-round pick in 1977 and a first-round pick in 1978.
That pick in 1978 became a memorable Phipps parting gift as the franchise used the selection on future Hall of Famer Ozzie Newsome.
Phipps' tenure in Cleveland officially ended with a 24-25-2 overall record as a starter, 40 touchdown passes, and 81 interceptions.

Limited Playing Time in 1977 and 1978
Phipps' arrival in Chicago coincided with Bears running back Walter Payton's ascendance to pro football immortality.
The third-year back ran for 1,852 yards and 14 touchdowns in 1977 on his way to being named the NFL's Most Valuable Player.
The emphasis on the ground game, along with competition from quarterbacks Bob Avellini and Vince Evans, meant that Phipps rarely saw the field that year.
Although the Bears ended the season 9-5 and lost in the Divisional round of the playoffs to the Cowboys, Phipps had three completions for five yards total.
In 1978, Phipps started four games and completed 53% of his passes for 465 yards, two touchdown passes, and 10 interceptions.
That year, Payton's near 1,400 yard rushing season wasn't enough and the Bears missed the postseason with a 7-9 record.

Phipps and the Bears get back to the Playoffs in 1979
Although he still battled Avellini and Evans for playing time, Phipps was the starter for 10 games in 1979.
He threw for 1,535 yards, nine touchdowns, and eight picks.
That marked only the second time in his career where Phipps threw for more touchdowns than interceptions.
The season did not begin well for the team as they lost five of their first eight games.
Hey #Bears fans: in 1979 Mike Phipps went 9-1 as a starter for the Bears. Your QB is almost as good as he was. So there's that. Feel better? pic.twitter.com/Fit0bVuehd

— Eric Loy (@MrEricCLoy) November 26, 2017
However, Phipps and Chicago got back on track with a Week 9 victory against San Francisco and only lost one more game the remainder of the season.
The Bears' 10-6 overall record got them back into the playoffs where they faced Philadelphia.
During the contest, Payton ran for two short-yardage touchdowns and Phipps was limited to a 43% completion percentage, 142 passing yards, and two costly interceptions.
Chicago's season ended 27-17.

1980, 1981, and Retirement
Phipps hoped to capitalize on his 1979 success in 1980, only to have his playing time limited again.
That season, he started six games and completed 50% of his passes for 630 yards, two touchdown passes, and nine interceptions.
The Bears took a step back, again, and ended the year with a 7-9 mark.
1981 was Phipps' 12th year in the league and he spent it mostly on the sidelines.
While Chicago was stuck in neutral again with a 6-10 record, Phipps only saw action in three games.
After throwing for 171 yards and two touchdowns, the writing was on the wall.
Following the season, the Bears drafted BYU quarterback Jim McMahon in the 1982 NFL Draft.
A new coach, former Bears tight end Mike Ditka, also signaled the end of Phipps' career and he was released by the team that spring.
Faced with little prospects, Phipps retired from the game.
His overall numbers as a Brown and Bear are a 38-31-2 record, 10,506 passing yards, 55 passing touchdowns, 108 interceptions, 1,278 rushing yards, and 13 rushing touchdowns.

In Retirement
Since retiring from the NFL, Phipps has spent nearly three decades working at Northwestern Mutual as a financial representative.
He is married with five children and lives in Florida.
Although accolades and acclaim eluded him in the pros, Phipps was inducted into the Purdue Intercollegiate Athletics Hall of Fame in 1995 and the College Football Hall of Fame in 2005.

Why didn't things work out in Cleveland?
After any failed attempt to develop a "franchise" quarterback, team personnel (and fans) want to know why things didn't work out.
Where Phipps is concerned, the answer is not easy.
He played well at Purdue and was considered one of the top quarterback prospects heading into the 1970 Draft.
He entered a difficult situation in Cleveland with Nelsen entrenched as the starter when he arrived.
However, he faced the same situation at Purdue when he was a freshman and Griese was the starter.
It probably didn't help that he was pulled after only one start during the 1970 and '71 seasons.
Most coaches on the hot seat will do anything to salvage their job.
However, it is well known that Collier knew 1970 would be his final season due to extensive hearing loss, so playing or sitting Phipps wouldn't have affected Collier either way.
Nick Skorich could have, conceivably, played Phipps more during the 1971 season without much risk of getting canned.
Although, it is more likely that Skorich wanted to start his tenure as head coach by not playing Phipps and riding Nelsen to the postseason (which he did).
It is also possible that Phipps was simply not scouted well during his time at Purdue.
NFL history is replete with examples of over-hyped college stars failing in the pros.
For example, Phipps' college stats may have overlooked mechanical issues in his throwing motion that was not seen or simply waved away.
The problem with this theory is Phipps more than foreshadowed his pro career while at Purdue when he threw for a total of 37 touchdowns and 34 interceptions.
Or, maybe Phipps was just trying too hard to live up to expectations and it got the better of him. He seemed to admit as much during a 2019 interview when he was asked what it was like playing in Cleveland.
"It was a tough experience in terms of playing with Cleveland because of the Paul Warfield trade," Phipps said.  "Cleveland traded him to Miami for the first-round pick they used on me. Paul was a star at Ohio State and for the Browns who was from Warren, Ohio. He was a hometown hero. An excellent player in his prime. Consequently, there were repercussions from fans and players. Not that they were upset about it. They welcomed me. But I think they expected immediately to get the same talent on the field that they lost in Paul. And that just wasn't happening. Having to overcome some of that, it was an obstacle. I just had to deal with it. There was a lot more added pressure on me from the beginning. But that's just the way it was. I dealt with it and did my best. That's how I will leave it."