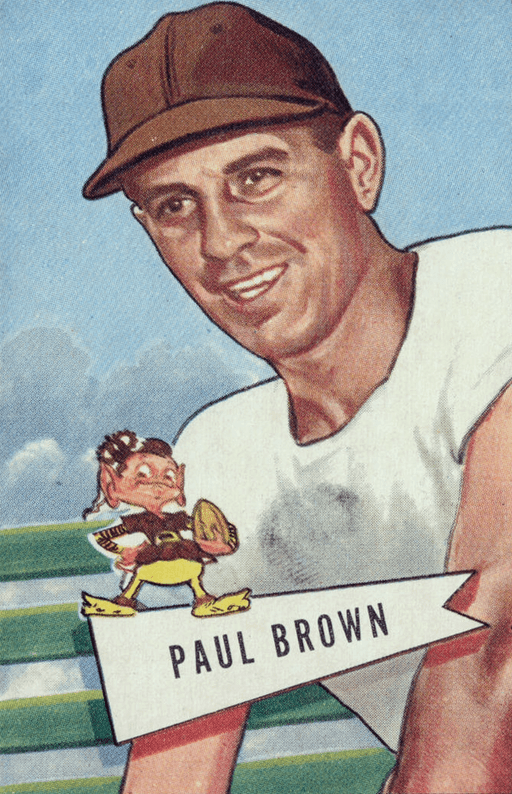 It can be said that the Cleveland Browns wouldn't be where they are today without their original head coach, Paul Brown.
This statement has nothing to do with the team's futility of the past three decades.
In this case, we are talking about their literal existence in the NFL.
Businessman Arthur B. McBride got in on the ground floor of the new All-American Football Conference in 1944 by buying the rights to the new Cleveland franchise.
McBride originally tabbed then Notre Dame head coach Frank Leahy as his coach and general manager.
However, Notre Dame threw a fit at the idea and McBride backed away from the deal.
Denied his plan A, McBride asked a local writer to suggest a new name.
The writer thought Brown, who was in the Navy at the time and coaching at Great Lakes Naval Station, (and who formerly coached at Ohio State) would be a good choice.
McBride pitched the idea to Brown and Brown accepted.
This choice would prove to be the best decision McBride made as owner of the club.
Brown would soon become one of the best coaches in the history of the AAFC as well as the NFL.
This is his story.

Ohio Made
Paul Eugene Brown was born on September 7, 1908 in Norwalk, Ohio.
"When you win, say nothing. When you lose, say less."

Paul Brown was born today in 1908.

Pay homage. pic.twitter.com/DwmLN1ikQS

— HOMAGE (@HOMAGE) September 7, 2020

He grew up in Massillon, Ohio, which was a football hotbed with a high school and professional team both called the Tigers.
When Brown entered Massillon Washington High School, he took one look at his small frame and figured track and field was his sport.
Focusing on the pole vault, Brown figured his time playing football as a young man was in the past.
That changed when Massillon's head coach, Dave Stewart, saw how hard Brown worked at pole vaulting.
Stewart convinced Brown to join his football team and eventually Brown became the Tigers' starting quarterback.
Over the course of his junior and senior seasons, Brown led Massillon to a 15-3 record.
As his high school graduation loomed, Brown chose to attend Ohio State to continue playing football.

College Career and the Origin of a Coach
Unfortunately, Brown never had the opportunity to try out for the Buckeyes team.
So, after his freshman year in Columbus, he transferred to Miami University in Oxford, Ohio.
Brown became the starting quarterback for Miami and posted a 14-3 record during his two seasons with the team.
In 1928, he was named All-Ohio Small College Second-team by the Associated Press.
#MondayMotivation from the wise words of football legend and @MiamiUniversity alumnus Coach Paul Brown. pic.twitter.com/VJdXglqoWS

— Miami Football (@MiamiOHFootball) May 16, 2016

Brown studied pre-law while in college but instead decided to pursue a career in teaching.
His former high school coach, Stewart, used his connections and got Brown a job at the Severn School in Maryland.
When he arrived at Severn, Brown was focusing on preparing for the upcoming school year.
That's when destiny knocked on his door. In a 2015 NFL Films documentary about Brown, his son Mike Brown (who currently owns the Cincinnati Bengals) recalls the moment his dad became a football coach. 
"When he showed up (at Severn), they asked him if he wanted to help out as an assistant," said Brown.  "The head coach took sick and he couldn't go on and that's how my father became a football coach." 
Paul Brown accepted the offer, seeing the opportunity as a reflection of his profession. 
"I'm primarily a teacher and I think a coach has to be a teacher," Brown said. 
Coaching at the High School Level
Brown was a quick study as the new football coach at Severn.
His 1930 team finished the year with a perfect 7-0 record.
In 1931, Brown and Severn were a respectable 5-2-1.
As his second year at Severn was coming to a close, Brown learned that the head coach position at Massillon was open.
He quickly jumped at the chance to return home.
As a former Tiger player who also had a 12-2-1 record as a high school coach, Brown was named the new coach at Massillon.
By 1932, the Tigers had fallen on hard times.
Formerly an area power, the school had been mediocre at best in the previous six years before Brown arrived.
Surveying the team, Brown knew that discipline and hard work were needed for Massillon to return to respectability.
It did not take long for him to whip the program into shape.
His first Tigers team posted a winning record at 5-4-1, one year after finishing 2-6-2.
The next year, Massillon improved to 8-2. In 1934, the Tigers only lost one game.
By that time, Brown had built up a coaching style that would carry him for the rest of his life.
He was a no-nonsense leader who did what he needed to build his program.
Among other ideas, Brown cultivated the local junior high talent to prepare them for his high school program.
Coach Paul Brown
Letter to his 1934 Squad pic.twitter.com/JaEQABdgtD

— Ross T Watson (@CoachRossWatson) April 20, 2018
Brown also ignored race when that subject was a hot-button issue across the country.
He constantly added African Americans to his team even though other schools shunned players of color.
It was Brown's belief that, if the player could play the game, they should play no matter what they looked like.
From 1935-1940, Brown's Massillon squads only lost a single game (in 1937, when most of his team was out with the flu).
The Tigers won five state championships during this time and were High School Football National Champions four times.
In 1940, Massillon dominated their opponents, and that team is still considered one of the best high school teams of all time.
During the preseason that year, the Tigers played a scrimmage against Kent State University.
Massillon pounded the college kids 47-0.
Paul Brown coaching exhibit: A reminder of success at Ohio State, Cleveland http://t.co/VqHHSRw1fs pic.twitter.com/q4OUtDndNw

— Will Conzie (@villian77) January 7, 2015
Brown's last five years with Massillon were also impressive because his teams outscored opponents 2,393-168.
Although he had now become a legend at the school, Brown decided to look for a new coaching opportunity after the 1940 season.
He didn't go too far, however.
After an 80-8-2 record (which included a 35-game winning streak) at Massillon, Brown packed his bags and headed southwest to Columbus.

Brown Transitions to the College Level
Before Brown chose to leave Massillon to coach at Ohio State, he had a checkup with his doctor.
Because of his coaching style and very detailed approach to football, his doctor had concerns.
Worried that he was, "Wound too tight," the doctor advised Brown not to pursue coaching at a higher level.
Today in Ohio State history: 1941. Paul Brown makes his coaching debut with the Bucks. After building up an 80-8-2 record in nine years at Massillon, Brown takes the OSU job at the age of 33. Brown wins his first game 12-7 over Missouri. His first year in Columbus he'd go 6-1-1. pic.twitter.com/RXdBwE0ULp

— David Kinder II (@davidkinderii) September 27, 2018
Thankfully, Brown ignored the advice of his doctor and accepted the Buckeye job anyway.
Much like he did at Massillon, Brown put his new charges through their paces after arriving in Columbus.
In addition to the tough practices, quizzes, and drills, Brown also spent time preparing his freshmen to play once they were eligible.
He also implemented the 40-yard dash to improve quickness in his players.
The results of his rigorous methods paid off for Ohio State immediately.
In 1941, the Buckeyes went 7-1, with their only loss coming at the hands of Otto Graham and his Northwestern Wildcats squad.
Near the end of that season, the Japanese military attacked Pearl Harbor, which thrust the country into WWII.
Despite the wartime threats, college football continued to play in 1942.
That season, Brown brought in local talent including Bill Willis and Dante Lavelli.
The '42 squad rolled over their opponents except for the Wisconsin Badgers.
However, that loss was compounded only because many of the Buckeye players had ingested bad water and became sick.
At the end of the year, Ohio State claimed their first National Championship after finishing at the top of the Associated Press poll.
With the war raging across the globe in 1943, many of Browns players were drafted and shipped off to fight.
Playing young men who were not yet enlisted or drafted, Brown's OSU team suffered through a 3-6 record.
It wasn't long before Brown himself became a part of the war effort.
Joining the Navy, he was commissioned as a lieutenant.
Brown was given his new assignment, which meant his position at Ohio State was on hold while he served in the military.
After three seasons, an 18-8-1 overall record and a national championship, Brown left Columbus for his next gig.

Brown Coaches the Great Lakes Navy Team
When Brown arrived at The Great Lakes Naval Training Station outside Chicago in 1944, he was tasked with running the base's football team.
Having to use the play calling schemes already in place, Brown fortunately had a team with some talent.
During the '44 season, Great Lakes played against other service academies and some college teams.
That year, the Bluejackets finished 9-2-1.
RT OhioStateOnBTN "RT BTNDaveRevsine: Per the great Jerry Emig, aka BuckeyeNotes, Luke Fickell will be just the second ever former OhioStateFB head coach ever to coach against the Buckeyes, joining the legendary Paul Brown, whose Great Lakes Navy team lost to the Bucks 26-6 …

— The Buckeye Cast™ (@thebuckeyecast) September 5, 2019
In 1944, destiny struck Brown in more ways than one.
First, his Great Lakes team played well and finished in the top 20 in the nation.
Second, one of his players was an Ohio kid named Marion Motley who would later join Brown in the pros.
Third, a new football league called the All-American Football Conference (AAFC) was being formed.
Among the clubs in the new eight-team league was an outfit in Cleveland owned by Arthur "Mickey" McBride.
McBride initially offered the head coach position of his new team to Notre Dame's Frank Leahy.
Leahy passed on the offer and it was suggested McBride seriously consider Brown.
The offer Brown received to become the Cleveland coach was too good to pass up.
McBride offered him a $17,500 salary (over $200,000 in today's market), full control over football operations, a partial ownership in the team, and a stipend while he was still in the military.
Brown accepted the position and informed Ohio State that he would be leaving the team after his military commitment ended.
School officials were incensed that he wasn't returning to the Buckeyes.
However, Brown's mind was made up.
After a 1945 season that saw the Bluejackets finish 6-4-1 and take down a powerful Notre Dame team, Brown headed back to Ohio.

Leading the Browns
Brown arrived in Cleveland with a roster in place that was stacked.
He had done some heavy recruiting during 1945 and several high-profile players had signed on with him to play.
Among the new faces in Cleveland were: Graham, Willis, Lavelli, Lou Groza, and Motley.
In building his new team, Brown continued to stick with his core values.
In order to construct a great team, he needed great players.
It didn't matter the color of their skin.
If you could play, Brown was going to bring you in.
Clevelanders saw this firsthand when Willis and Motley arrived.
"I want to be what the New York Yankees are in baseball or Ben Hogan is in golf", he said
McBride then held a contest to find a name for the new franchise.
After "Panthers" was rejected, the team was named after Brown, who was not fond of the decision.
From their inaugural year in 1946 through their last season in the AAFC in 1949, the Browns laid waste to the competition.
In four years, the team went 47-4-3 and won the AAFC Championship each year.
After the 1949 AAFC season, the league folded, and Cleveland moved to the NFL.
Coach Paul Brown lecturing the @Browns in 1952 #ThisWasCLE pic.twitter.com/Id8rkxxsuC

— This Was Cleveland (@thiswascle) December 15, 2014

At first, rival NFL teams scoffed at the Browns entry into the league.
They believed that Cleveland would get crushed at the hands of the superior play in the NFL.
That opinion died after the Browns first NFL contest against Philadelphia.
Using a game plan heavy in pass plays, Cleveland beat the Eagles 35-10.
Embarrassed by the loss, many Philly fans and football pundits decried the Browns style of play by saying the team did not play "real football."
Brown's retort was to then beat the Eagles at their own game.
Later in the 1950 season Cleveland played Philadelphia again.
This time, Brown called only running plays.
The result was a 13-7 Cleveland victory.
The '50 season ended with an NFL Championship for Cleveland.
The team would play in the championship game each year through the 1955 season, winning it all in 1954 and '55.
"Old Days"Cleveland Browns coach Paul Brown and Linebacker and future Pittsburgh Steelers Coach Chuck Noll#65 watch from the sidelines during a 1953 Game at Cleveland Stadium.#Cleveland #browns #1950s #Steelers #Pittsburgh #NFL #HOF pic.twitter.com/LQzSJ8gu8q

— Tom's Old Days (@sigg20) September 3, 2018
By the time the 1950s had ended, Brown had experienced only one losing season.
With the 1960s looming, Brown had reloaded the team by drafting Syracuse's Jim Brown and bringing in other talented players.
Little did he know that his decision to sign another stellar college athlete would have dire consequences.

Modell Fires Brown
Although Cleveland did not get to the playoffs between 1960-1962, the team posted winning records each year.
Brown continued to build the team by drafting or signing players he believed would contribute right away.
However, some of the Browns players chafed at his rigid coaching style and play selections.
In 1961, the franchise was bought by 35-year-old advertising executive Art Modell.
Modell listened to the concerns of the Browns who complained about how Brown ran the team.
As a result, Modell began to have serious doubts about Brown's leadership and questioned many of his decisions.
The beginning of the end came when Brown angled to sign former Syracuse running back Ernie Davis.
The "Elmira Express" was drafted in 1962 by the Washington Redskins.
However, Davis refused to sign with Washington because of the racist history of their owner, George Preston Marshall.
Brown pounced on the opportunity and traded running back Bobby Mitchell to the 'Skins in exchange for Davis.
This move angered Modell because Brown did not consult with him before making the trade.
To make matters worse, shortly after being drafted, Davis was diagnosed with leukemia.
The cancer slowly ate away at Davis until he passed away in May of 1963.
However, by then Brown was gone from the team.
Fed up with Brown's lack of communication, as well as his "declining" football skills, Modell fired Brown on January 7, 1963.
"They took my team away from me," Brown's son, Mike, later recalled him saying.  
Jan 9, 1963: The @Browns officially announced with the firing of Paul Brown with the words: "Paul E. Brown, head coach and general manager, will no longer serve the team in those capacities" pic.twitter.com/A3av8IdP4H

— Sad CLE Sports (@SadCleveland) January 9, 2018
A Brief Retirement, then Return to the Game
Stunned by his firing, Brown retreated to the west coast and lived a quiet life in San Diego.
He could have spent the rest of his life in comfort, but that wasn't Brown's style.
"It was terrible," he later recalled. "I had everything a man could want: leisure, enough money, a wonderful family. Yet with all that, I was eating my heart out."
In 1967, Brown was enshrined in the NFL's Hall of Fame.
His bio on the Hall of Fame website reads, "The most pleasant way of life is to have a job you love, and I love coaching.  Money is relatively unimportant to me, once I've taken care of the comforts of my family."
HOF Coach Paul Brown was born OTD in 1908. Coached for 25 season w/ @Browns & @Bengals. 1st coach & co-founder for both organizations. pic.twitter.com/9FjOOzBFC9

— Pro Football Hall of Fame (@ProFootballHOF) September 7, 2017
Not satisfied with retirement, Brown bought a controlling interest in the new expansion Cincinnati franchise of the American Football League in late 1967.
In exchange for his financial backing, Cincinnati hired Brown to be the coach and general manager along with the right to represent the team in all league matters.
With that promise in hand, Brown was back in the pros.

Brown Builds the Bengals
After taking the reins as the Cincinnati coach, Brown got to work.
He brought in some bright, young assistants including Bill Walsh as well as his son, Mike.
The team did not play well in Brown's first two seasons, but by 1970, things were beginning to look up. 
Paul Brown. pic.twitter.com/6TcXwKl6bx

— BengalsCaptain (@BengalsCaptain) August 10, 2020
That year, the AFL merged with the NFL and Cincinnati was placed in the same division as Cleveland.
This made Brown happy as he would get a chance to regularly face off against Modell.
Before the '70 season began, the Bengals starting quarterback, Greg Cook, sustained a career-ending injury.
The team decided to start Virgil Carter, who did not have the arm Cook had, but was athletic.
In order to take advantage of Carter's strengths, Brown and Walsh designed what was the early version of the West Coast Offense.
In 1970, the Bengals lost their first game that year to the Browns in Cleveland.
Brown was booed when he did not shake Brown's head coach Blanton Collier's hand after the game.
Brown defended himself, saying, "I haven't shaken the other coach's hands after a game for years," Brown explained at the time. "I went up to him before the game, and we did our socializing then."
Later that year, Cincinnati did beat Cleveland, which Brown called his "greatest victory."
After finishing 8-6 that season, the Bengals went to the playoffs where they took on the Colts and lost 17-0.
Three years later, the Bengals returned to the playoffs and faced a Dolphins team in the middle of a dynasty.
Miami took out Cincinnati 34-16 on the way to their third straight Super Bowl.
Bengals head coach Paul Brown and QB Sam Wyche pic.twitter.com/fxRA2aEY4r

— SportsPaper (@SportsPaperInfo) April 26, 2018
By Brown's eighth season in Cincinnati, the team was taking shape and competing well.
Quarterback Ken Anderson was becoming a star and his play helped the Bengals to an 11-3 record in 1975.
In the Divisional Playoff game against Oakland that year, the Raiders defeated the Bengals in a hard-fought 31-28 victory.
Four days later, Brown stunned the franchise when he telephoned to say he was stepping down as coach.

Death and Legacy
After 25 years as a professional head football coach, Brown had a 213-104-9 record.
He also won seven championships, was named coach of the year several times, named to the NFL's 100th Anniversary All-Time team, voted into the Hall of Fame, and placed in the Browns Ring of Honor.
Brown stayed with the Bengals after he quit coaching, serving as the team's president.
He oversaw Cincinnati's two trips to the Super Bowl in 1981 and 1988.
On August 5, 1991, Brown passed away due to complications from pneumonia.
He was 82.
Although he is gone, Brown's legacy continues to touch the pro game.
Among the many innovations Brown brought to the game of football include: Use of playbooks, film study, substitutions of players during drives (instead of after a series), huddles, play calling using a radio and phone system, the 40 yard dash, the facemask, the "taxi" squad, the "draw" play, early version of the West Coast Offense, and intelligence tests.
#bengals Paul Brown #whodey #newdey 1st coach to use game film to scout opponents, hire a full-time staff, test players on knowledge of a playbook. invented modern face mask, practice squad and the draw play. played role in breaking professional football's color barrier – LEGEND pic.twitter.com/EsQs6J981o

— Bengal Jim's BTR (@bengaljims_BTR) June 1, 2019
"He's the greatest coach in the history of professional football, clear and simple. Everything I do today, Paul Brown did. It all started with Paul Brown. He took football from being a sport to a profession," said former Browns and current Patriots coach Bill Belichick in 2019. 
Years ago, former NFL Commissioner Pete Rozelle had the same assessment of Brown's contributions to the game.
"Whether they know it or not, nearly everyone in the game of football has been affected by Paul Brown," Rozelle said. "His wealth of ideas changed the game."
Brown also spawned an entire generation of coaches who would become some of the greats in the NFL.
Notable names include: Don Shula, Weeb Ewbank, Bill Walsh, and Chuck Knoll.
Those coaches would further influence their own assistants all the way to the modern era.
Nearly 30 years after his death and Brown's ideas, strategies, concepts, and style are found all over the game of football.
It's a fitting tribute to one of the best to coach the game.