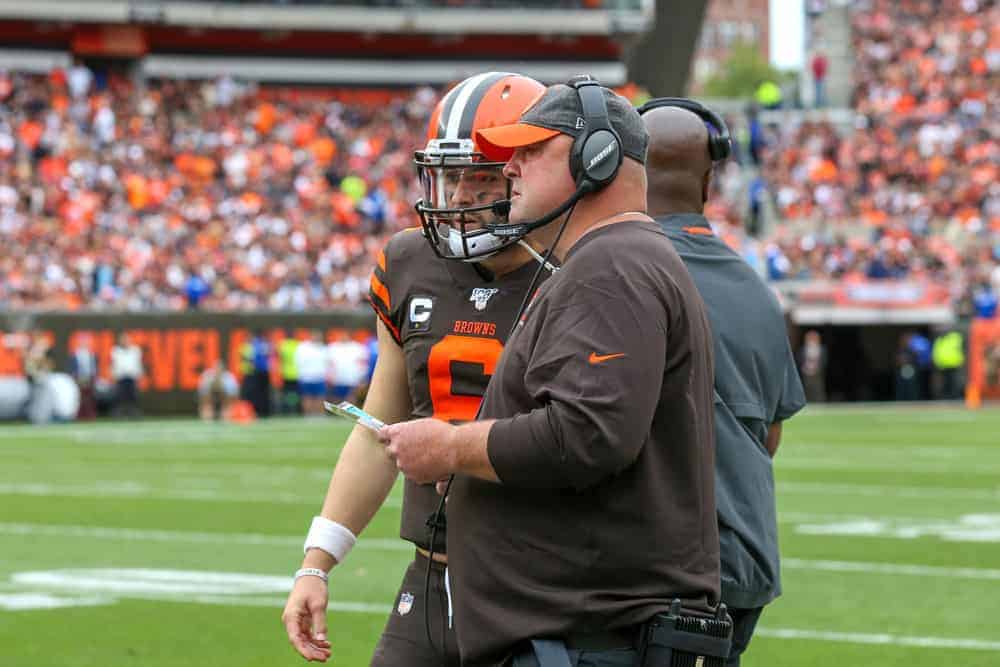 After the physical on-field altercation between Mason Rudolph and Myles Garrett two weeks ago, many suspect the Cleveland Browns and Pittsburgh Steelers' rivalry is back in full swing.
To the media, Mike Tomlin admitted that the Steelers' last game against the Browns felt more like some of their previous matchups against the Cincinnati Bengals and Baltimore Ravens.
He neglected to call it a rivalry, but he didn't insist it wasn't a rivalry either.
Freddie Kitchens, on the other hand, is not so quick to praise the Browns' most recent victory over the Steelers as rivalry-worthy.
He said, "It takes two to have a rivalry, so we've gotta do our part. That's probably not going to sit well with some people, but to me, you've gotta win your share to make it a rivalry."
The Browns are looking to sweep the Steelers in 2019, but since Ben Roethlisberger joined Pittsburgh, the Steelers are 25-3-1 against the Browns, including a perfect 15-0 at home.
The Browns are traveling east this weekend in the Steel City, and Kitchens is uninterested in forcing the rivalry narrative.
When asked what the Browns have done to make the Cleveland and Pittsburgh rivalry relevant again, he said, "I don't think I've done anything … I don't think our team has done anything. I think our team is focused on this week, and I think that's what they feel. We haven't done anything. What have we done? We haven't done anything."
The Browns' Week 11 win over the Steelers isn't enough for Kitchens.
He wants the Browns to be competitive against the Steelers for the next few years. If that doesn't happen, the rivalry will never be reborn.
The Browns definitely have a lot of emotions headed into this week's game, but Kitchens wants his team to remain calm and take the season one week at a time.
When asked about how Cleveland can win this Sunday, he said, "Composure's always the key, especially when you play divisional games. We hold divisional games at a high standard around here because they mean just a little bit more from the standpoint of how your season's affected. Emotion is always a part of the game. As I've said before, it's the ability to keep your emotion in check and play with composure and passion instead of emotion."
Kitchens might not call the Browns and Steelers' rivalry relevant for a few more years, but the first step is definitely knocking the Steelers out of the playoff picture this Sunday.
If the Browns pick up the victory, they'll be one step closer to securing that Wild Card spot after a horrendous start to the season.