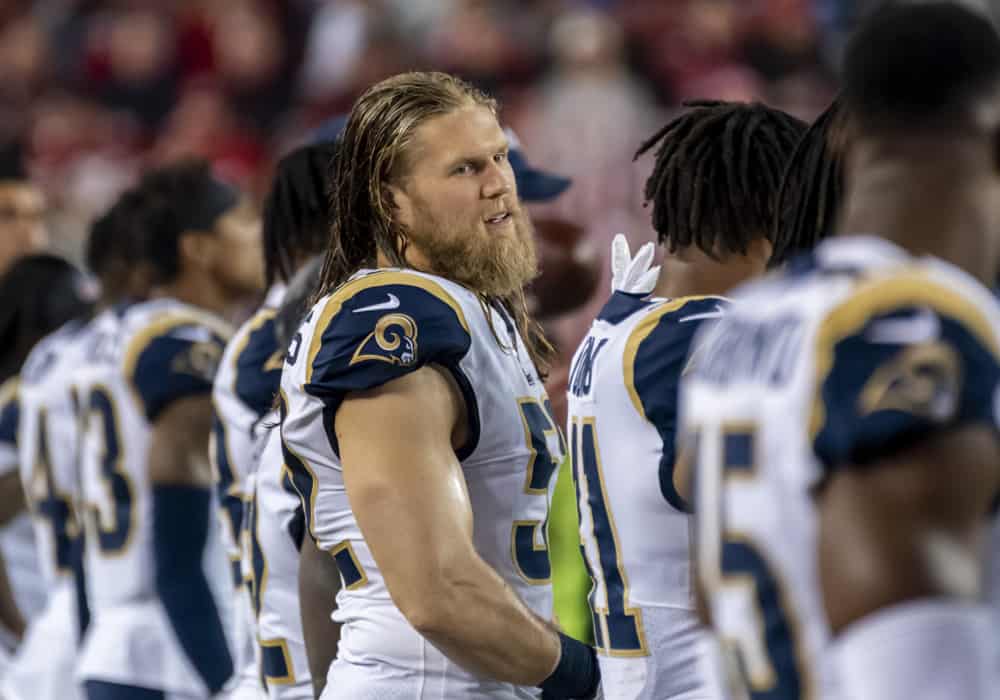 Earlier in May, Cleveland Browns first-year general manager Andrew Berry said on Cleveland's 92.3 The Fan that the organization may make some more roster moves.
A player who could be in Cleveland's sights is linebacker Clay Matthews III.
In March, the Rams released him to relieve salary cap room for the team.
The Browns would not only be bringing in a linebacker to fill their void at the position, but they would also be bringing in the son of Browns great Clay Matthews Jr.
Browns Ring of Honor honoree Matthews Jr., who was a 2020 Pro Football Hall of Fame semifinalist, just missed out on being a finalist.
Matthews III, a six-time Pro Bowler, can join his father and create a Matthews lineage in Cleveland.
He has the opportunity to make an impact on his father's football franchise in the twilight of his career:
The #Browns could potentially bring in Linebacker, Clay Matthews III.

1. Situational Rusher. LB Depth
2. Legacy
3. Leadership in the Locker Room
4. Veteran presence in the LB group. (Avg age among LBs is 24.2 yrs)

Would you like to see Clay Matthews III as a Brown this year? pic.twitter.com/cq9pIykcqP

— The Hottest Take Sports Podcast (@Hottest_TakePod) May 4, 2020
Matthews's Decade Playing with the Green Bay Packers
The No. 26 overall selection by the Packers in the 2009 draft played four years at USC.
After finishing his senior year of college with nine sacks and 57 combined tackles, he had a tremendous knack for getting to the quarterback early in his NFL career.
Matthews, a 2009 All-Rookie Team selection, was a large part of the Super Bowl-winning Packers in just his second season.
He forced a fumble and had three tackles in the 31-25 Super Bowl XLV victory over the Pittsburgh Steelers, as Green Bay won its first championship in 14 years.
Matthews was a consummate leader throughout his 10 years with the Packers.
In his first four years, Matthews had at least 21 quarterback hits.
He also had double-digit sacks in four of his first six NFL seasons.
Then in 2013, Matthews signed a five-year, $65 million contract extension.
Later in Matthews's career, his play started tailing off during his last few years in Green Bay.
It began with hamstring and shoulder injuries that sidelined him for four contests in 2016.
He played fewer than 50 percent of the team's snaps that season.
Matthews bounced back in 2017 with 7.5 sacks and 21 quarterback hits, but the following season was his final one with Green Bay.
In 2018, the Packers finished with a 6-9-1 record, and the Packers fired Mike McCarthy after 12 games that season.
Matthews's contract with Green Bay ended in 2018, and he then signed a two-year, $9.25 contract with the Rams.
His One Year with the Los Angeles Rams
Matthews did not even make it one full year in Los Angeles: he signed on March 21, 2019, and he was cut on March 19, 2020.
Matthews missed 10 tackles in 2019 after missing seven the previous season.
Los Angeles was coming off a Super Bowl LIII loss, but unfortunately did not make the postseason in 2019.
Matthews was still an asset for the team, as he had eight sacks in 13 games with the 9-7 Rams.
If the Rams did not have salary cap issues, they may have decided to hold onto him.
Although Matthews is ranked 40th in Pro Football Focus's remaining free-agent list, the Browns should still pursue him.
He does look good in Browns colors.
Here is Matthews in his father's Browns jersey after the Rams defeated the Browns on September 22, 2019, the day that his father entered the Browns Ring of Honor:
#Rams LB Clay Matthews III wearing his father's #Browns jersey during postgame on the night he went into the team's Ring of Honor pic.twitter.com/FbSRGFxnHK

— Keith Britton (@KeithBritton86) September 23, 2019