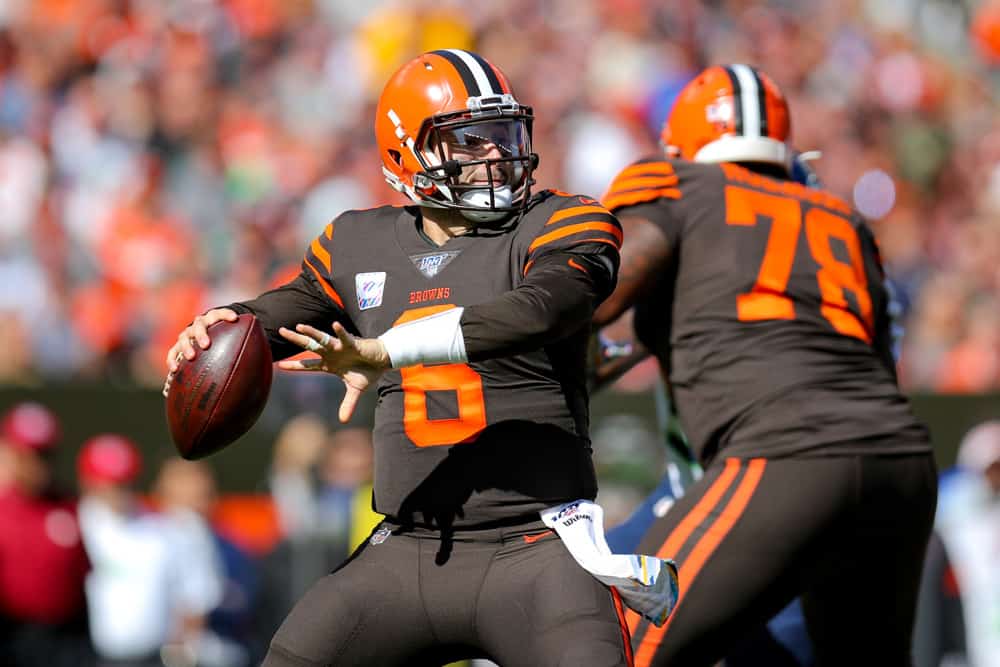 If the Cleveland Browns weren't already committed to Baker Mayfield, yesterday's free-agent frenzy confirmed just that.
When the Cleveland Browns signed tight end Austin Hooper, the franchise created the best arsenal of offensive weapons the team has ever had.
Plain and simple, the Browns are committed to quarterback Baker Mayfield.
The #Browns, by the way, are 100% committed to Baker Mayfield and won't pursue #Patriots FA Tom Brady https://t.co/kuojMFLJjh

— Mary Kay Cabot (@MaryKayCabot) March 17, 2020
A Dangerous On Paper Lineup
The Browns already had a steady lineup on paper.
Odell Beckham Jr. and Jarvis Landry both finished over 1,000 yards receiving.
Running back Nick Chubb was the second-leading rusher and ran for the second-most yards in franchise history.
With Hooper in the mix, this could be the best Browns offense to ever take the field.
Only two tight ends have ever surpassed 1,000 yards since Ozzie Newsome since 1984.
Kellen Winslow finished with 1,106 yards in 2011, and Gary Barnidge had 1,043 in 2015.
Hooper finished with a career-high 787 yards in 2019, but he is a consistent receiving threat that could join that club.
Either way, Mayfield could produce three 1,000-yard receivers on the team.
The Browns' offense is STACKED with talent 😳

🏈 Austin Hooper
🏈 Odell Beckham
🏈 Jarvis Landry
🏈 Baker Mayfield
🏈 Nick Chubb pic.twitter.com/Bp0bnHTud3

— ESPN (@espn) March 16, 2020
Baker Loves Tight Ends
When Mayfield teamed up with Baltimore Ravens tight end Mark Andrews at Oklahoma, he loved throwing to his tight end across the middle.
Andrews finished his last campaign with Mayfield with 62 receptions for 958 yards and eight touchdowns.
Knowing this, signing the dependable Hooper to pair along with David Njoku is going to give Mayfield two red-zone threats.
When Njoku was healthy in 2018, he finished with 56 receptions for 639 yards and four touchdowns.
Now, Mayfield has two deadly weapons.
The 2011 Patriots
We aren't saying Baker Mayfield is Tom Brady, but having Hooper and Njoku brings back memories.
The 2011 Patriots finished the regular season 13-3 and had a dangerous tight end tandem.
During that season, Rob Gronkowski and Aaron Hernandez paired with Deion Branch, Wes Welker, and Chad Johnson as a dangerous receiving group.
Gronkowski finished 2011 with 90 receptions for 1,327 yards, while Hernandez had 79 receptions for 910 yards.
Both tight ends combined for 24 of Brady's 39 touchdown passes.
Get excited Mayfield.
A New Level O-Line
Of course, we can't forget about the signing of Jack Conklin, who was a First-Team All-Pro in 2016 at the age of 22.
After an injury limited Conklin in 2018, Conklin started all 16 games in 2019.
Conklin posted a 92.3% individual pass-block win rate, which makes him perfect for Mayfield to sling the ball downfield.
Not to mention, the line already helped produce a career-season for Chubb, so this could be even better.
Said this last offseason too, but hard not to like how this #Browns offense is coming together:

QB: Baker Mayfield
RB: Nick Chubb, Kareem Hunt
WR: Odell Beckham, Jarvis Landry
TE: Austin Hooper, David Njoku
OT: Jack Conklin, #10 pick?
OG: Joel Bitonio, Wyatt Teller
C: JC Tretter

— Clint Lamb (@ClintRLamb) March 17, 2020
If you need a comparison, think 2016 Oakland Raiders here.
The Raiders finished 13-3 and were on pace to make a Super Bowl run before Derek Carr went down with an injury at the end of the regular season.
In that season, the Raiders posted the best offensive line in football.
Amari Cooper and Michael Crabtree had more than 1,000 yards receiving.
Plus, the combination of Latavious Murray, DeAndre Washington, and Jalen Richard combined for 1,746 rushing.
Final Thoughts
This is it, Baker.
You have an offensive-minded head coach in Kevin Stefanski.
A new offensive coordinator in Alex Van Pelt that has groomed many quarterbacks.
You have all the weapons in the world, and we didn't even really talk about Kareem Hunt.
The Browns are all in on you.
If you can't win with this lineup, then the XFL might be your next stop.