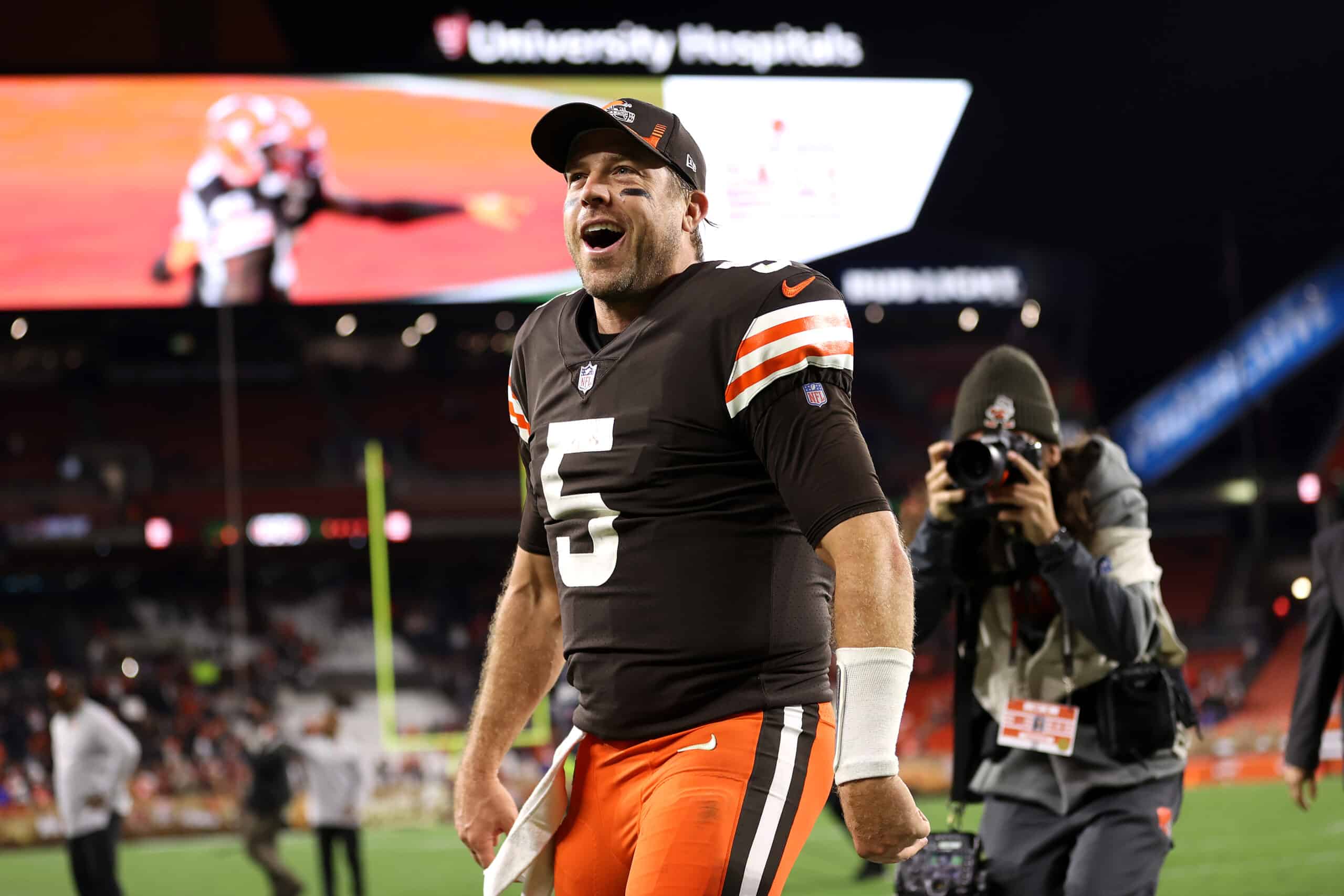 D'Ernest Johnson was the big story out of the Cleveland Browns' 17-14 win against the Denver Broncos.
But somebody had to hand the ball to him or hit him on an outlet pass.
And Case Keenum did it without a mistake on a blustery evening on the lake.
Of course, it wasn't all about Johnson as Keenum completed passes to 10 different receivers on the night.
Case Keenum: "I feel very ready. I've been ready. You don't have to get ready if you stay ready…" #Browns

— Jake Trotter (@Jake_Trotter) October 20, 2021
Fullback Johnny Stanton's lone catch went for a short touchdown in front of his parents in the second row.
And while Johnson was gashing the Broncos' defense all night, he didn't have the game's most important run.
Keenum handled that, with a 5-yard scramble to convert a 4th down and make Stanton's catch possible.
It was a victorious effort, but here is how we grade Case Keenum's performance against the Broncos.
Leadership and Composure: B 
Injuries thrust Keenum and Johnson into starting roles, and the hits didn't stop coming.
Cleveland lost players in pregame warmups and during the game, leading to some unusual personnel combinations.
There were a couple of formation calls and a pair of false starts.
But Keenum did not have to waste a timeout, nor did he get called for any delays due to confusion.
#Browns QB Case Keenum: "I felt calm and poised. It was a great first drive. Kevin put together a great first 15 (plays). The offensive line. We ran the ball real well. I thought we did enough to win the game. Great job all around."

— 92.3 The Fan (@923TheFan) October 22, 2021
There was never a moment when Keenum seemed flustered or aggravated despite playing under some pressure.
Denver only had one sack and 5 quarterback hits, but Keenum narrowly escaped several others.
He showed a knack for when to step up, scoot aside, throw a ball away, or take a chance on a covered receiver.
There were no interceptions or fumbles and he calmly converted 10 out of 16 third- or fourth-down attempts.
Passing Ability: B-minus
Keenum completed a Mayfield-like 64% of his passes, going 21 of 33 for 199 yards and a touchdown.
There were few attempts to throw the ball deep in the 30-mile-an-hour winds.
And he almost got picked off on one of them that fell short to Odell Beckham Jr.
But he also had a perfect touch pass, hitting David Njoku in stride with 2 defenders on his shoulders.
Case Keenum hits Johnny Stanton for the 1 yard td. #Browns lead 17-7

(via @NFL)pic.twitter.com/ZFaL0xaO4X

— Bally Sports Cleveland (@BallySportsCLE) October 22, 2021
On third downs, he stepped up his game, putting a little extra on throws in the 10-20 yard range.
Even some of his incompletions looked impressive, throwing the ball where only his receiver had any chance.
While under pressure, he lofted a pass in front of Rashard Higgins who had a defender on his back.
It looked risky until you realize it was perfectly placed to fall incomplete without a great effort from Higgins.
Ball Security: C-minus
Keenum only put the ball on the ground once, but it could have cost the Browns dearly.
After securing a 4th down conversion, Keenum appeared to extend his arm toward the goal line.
The ball fell into the end zone where a teammate recovered it.
Earlier on the same play, Keenum ran with the ball in one hand and his arms extended for balance.
"You don't have to get ready if you stay ready" 👀@casekeenum with an all-time Mic Drop to end his interview 🔥😂 @Browns pic.twitter.com/B3p8BA2Xup

— NFL GameDay (@NFLGameDay) October 22, 2021
It was one of those moments where armchair coaches yell "Tuck it in!" as loud as they can.
Keenum eluded the grasps of defenders several times, and every time, he exposed the ball recklessly.
He got away with it this week, but the Steelers' defense will take note when they watch the game film.
And Keenum has to be ready for a lot of swatting and punching at his hands from his next opponent.
Overall Score: C 
Case Keenum showed why veteran backups are worth paying a little extra for in the NFL.
In his 61st career start, Keenum was not going to be easily flustered by the circumstances.
He made good decisions and displayed a command of the offense in front of his young teammates.
But he understood his limits and how 2 years since his last game might have put some rust in his joints.
#Browns QB Case Keenum was 10-13 129 yards and a TD when using the play action pass tonight. pic.twitter.com/7F7V9QiHSR

— MoreForYouCleveland (@MoreForYou_CLE) October 22, 2021
So he did not try to be the star with risky passes or unwarranted scrambles.
He put the team in a position to win and let his debuting running back do the bulk of the work.
It was exactly what he gets paid to do, be ready and give the team a chance.
Things might come easier in the weeks ahead, but this effort earns a solid C for being right where we expected.