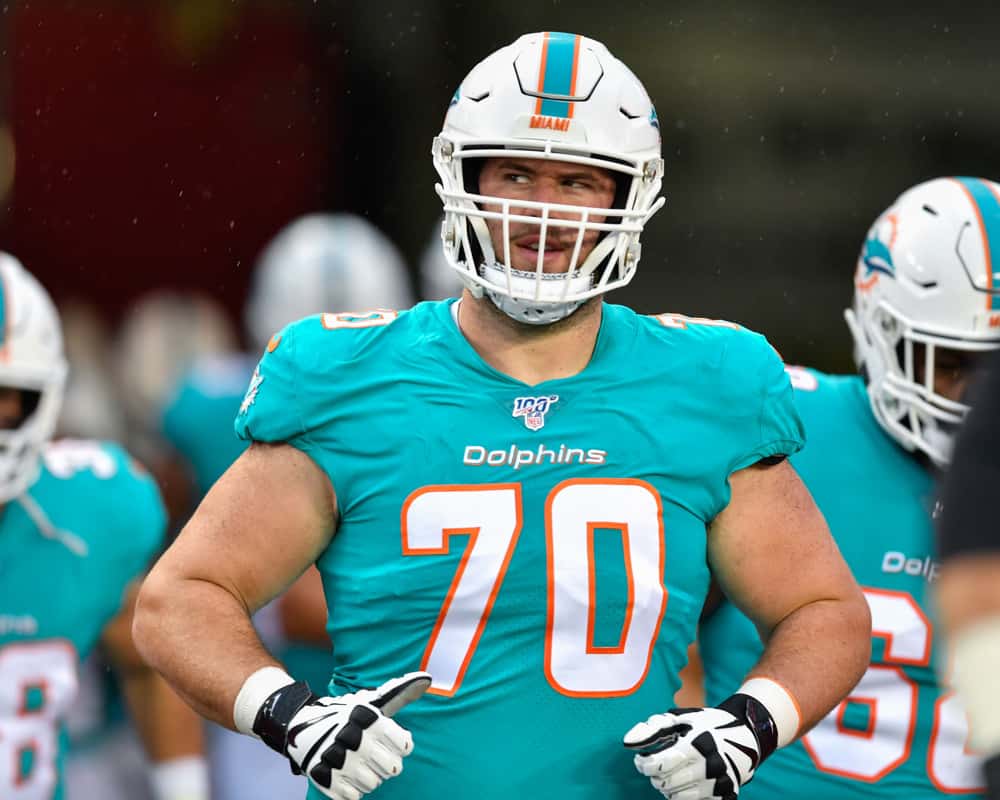 A point of weakness for the Cleveland Browns became an area of dominance in 2020.
Each week last season the Cleveland offensive line got better and better.
By the end of the year, the unit was recognized as one of the best in the NFL.
Already, the group has been lauded as the premier O-line in professional football going in 2021.
If the accolades hold true, the Browns may reach the Super Bowl this year for the first time in franchise history.
Even more exciting for the franchise, the line may have some very capable back-ups.
Should the inevitable happen, and injuries always happen in professional sports, the Browns have people ready to step up.
This was no more apparent than in Cleveland's Wild Card game against Pittsburgh this past January.
With guard Joel Bitonio out of the game after testing positive for Covid, Dunn was forced into the starting lineup.
He did not disappoint.
#Browns Michael Dunn, Kendall Lamm, and Blake Hance combined for 68 pass-blocking snaps against the league's top pass-rush.

They allowed a combined two pressures and zero sacks. pic.twitter.com/m44EMyaL8a

— PFF CLE Browns (@PFF_Browns) January 11, 2021
In his first career start as a pro (in the playoffs no less) Dunn played like a wily veteran.
Remarkably, throughout the Browns 48-37 victory, Dunn did not allow a single pressure in pass protection.
Let that sink in.
Dunn had never started a game in the NFL and his first is a postseason win with a team that hadn't won a playoff game since 1994.
With that kind of depth, one would hope that the Browns hang on to him and develop his skill set further.
If that's the case, it's fair to ask ourselves just how good can Dunn be for Cleveland in 2021?
Who is Michael Dunn?
For the uninitiated, Dunn is with his fourth NFL team since 2017.
He played on the offensive line for the University of Maryland and went undrafted after his eligibility expired.
Dunn's nomad existence began with a try-out for the Rams in the summer of 2017.
He was with the team until final roster cuts before the '17 season.
Dunn re-signed with LA in early 2018 but was released again.
A little over a month later, Jacksonville took a flier and signed Dunn.
He was released by the Jags during final roster cuts.
Dunn was then signed to the team's practice squad, released, then signed again.
What a road for our guy Michael Dunn:

2017: Undrafted.
2018: Cut by two NFL teams.
2019: Signs in the AAF and XFL.
2020: Cut by the Browns in camp.
2021: Starts in the Playoffs and does work.

Perseverance. pic.twitter.com/oi5L6rugDQ

— Maryland Football (@TerpsFootball) January 11, 2021
In January of 2019, he signed with the Alliance of American Football's Birmingham Iron.
After only eight games, the league folded and Dunn signed with the Dolphins.
Four months later, Dunn was again released during final roster cuts.
The second iteration of the XFL was slated to begin play last year.
Dunn was drafted by the Seattle Dragons during the sixth round of the XFL Draft.
Before even a down was played, the league suspended operations and Dunn was out of a job.
In August of 2020, Dunn was picked up by the Browns.
Fitting given his history, Dunn was released by the team during final roster cuts.
However, he was signed to Cleveland's practice squad the next day.
Dunn was finally promoted to the active roster for Weeks 10, 11, 12 and 15.
His perseverance paid off when he started the Wild Card game against the Steelers and played outstanding football.
Don't Underestimate Good Teaching
Most Browns fans are aware that their offensive line is coached by Bill Callahan.
Every where he's been as a college or professional coach, Callahan's O-lines have been solid.
Under his tutelage, the lines for the Jets, Cowboys, Washington Football Team and now the Browns have frequently produced All-Pros.
When he was hired as Cleveland's head football coach, Kevin Stefanski brought in Callahan almost immediately.
That was one of the best under-the-radar moves he made before even coaching a game.
Stefanski knows that one of the most important aspects of the game of football is good teaching.
Callahan's track record speaks for itself.
"That's what I enjoy coaching the most. To see that improvement. To see guys have success."

Get to know our new offensive line coach Bill Callahan » https://t.co/7rABixH2Hj pic.twitter.com/sn6u0Oc3pd

— Cleveland Browns (@Browns) January 31, 2020
If you play for him, he will teach you the right way to play ball.
Dunn is a work in progress, but he is 6'5″ and around 310 pounds.
Each of the Browns starters on the offensive line are similar in height and weight.
They have heft, but they are quick and agile.
Callahan can whip any lineman into shape and show them proper techniques, reads and responsibilities.
Dunn is also young, just 26, and still learning the nuances of the game.
Think of what he can accomplish with another year under Callahan.
In addition to Callahan, Dunn's peers along the line may be young themselves, but they know their positions well.
Practicing each day with the likes of Jack Conklin, Bitonio, Wyatt Teller, J.C. Tretter and youngster Jedrick Wills would set anyone up for success.
Essentially, Dunn showed what he can do at just the right time.
Cleveland's first postseason run in almost two decades was in the balance and he answered the call.
It was a perfect audition for Dunn and he passed with flying colors.
If he sticks with the Browns this year it is virtually guaranteed that he will get better.
Right now, he is a cheap option for the club ($675,000) so it doesn't cost them much to keep him around.
Dunn's ceiling can only get higher.