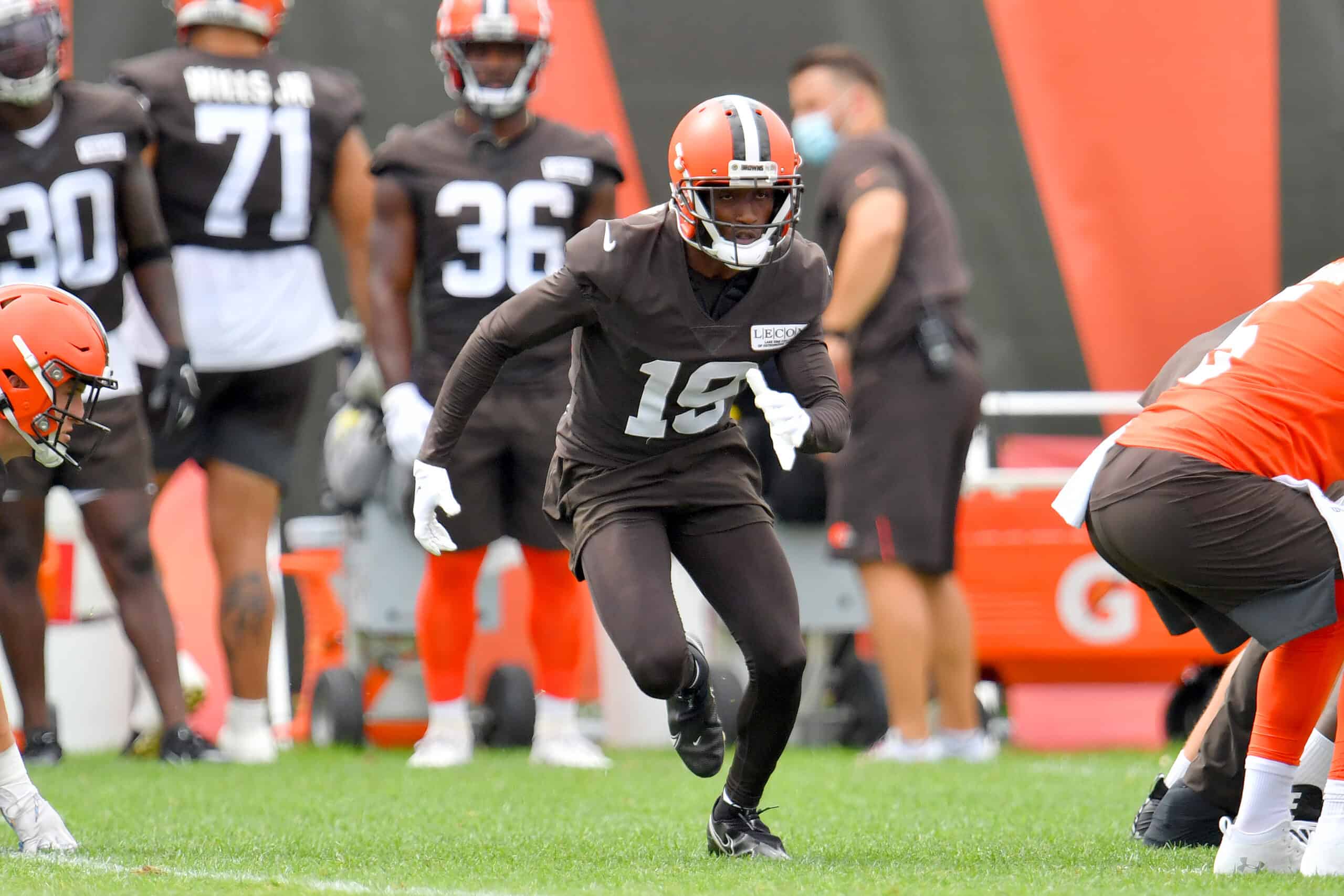 The Cleveland Browns have a large pool of talented players on the 90 man roster.
In training camp, the challenge will be to cut the roster down to 53.
Like OBJ, JoJo Natson, 27, suffered a season ending torn ACL with the Browns in 2020.
Natson's happened in Week 3 so his stats for last season are miniscule.
There has been barely any discussion about the 2017 UDFA Natson in the offseason.
The Browns did sign him to another one year contract for $1.1 million.
Will JoJo Natson be on the Browns 53 man roster in 2021 in either a wide receiver or return specialist capacity?
The answer is no, and there is one main reason for it.
His name is Anthony Schwartz.
Anthony Schwartz
The Browns drafted rookie Anthony Schwartz in the third round (91st overall) in the 2021 NFL Draft.
Schwartz from Auburn is a track star and a speed demon on the football field.
Browns rookie WR Anthony Schwartz and WR Johnnie Dixon are getting work in during Rookie Minicamp. #Browns pic.twitter.com/YGPFn9rwBE

— clevelanddotcom (@clevelanddotcom) May 14, 2021
Following the selection of Schwartz, GM Andrew Berry said:
"Anthony is very, very smart and a quick study. The theme of Day 2 of the draft is speed. Anthony has world-class Olympic speed. He has all the things we desire to help us stretch the field. His best football is ahead of him."
There has been much discussion about how many ways the Browns can utilize Schwartz.
Trick plays, designed plays to stretch the field, and of course punt and kick return situations are all possibilities for Schwartz.
While it is good news for the Browns to have Schwartz, it is bad news for JoJo Natson.
Natson's Injury History
The other issue holding Natson back is his persistent injury history.
He suffered a season-ending hamstring injury with the Rams in December 2019 less than a year before the ACL injury in September 2020.
His career has been thwarted by injury setbacks which also makes him a likely candidate to be cut by the Browns.
We will soon get answers to these and other roster questions; Browns training camp opens on July 27.