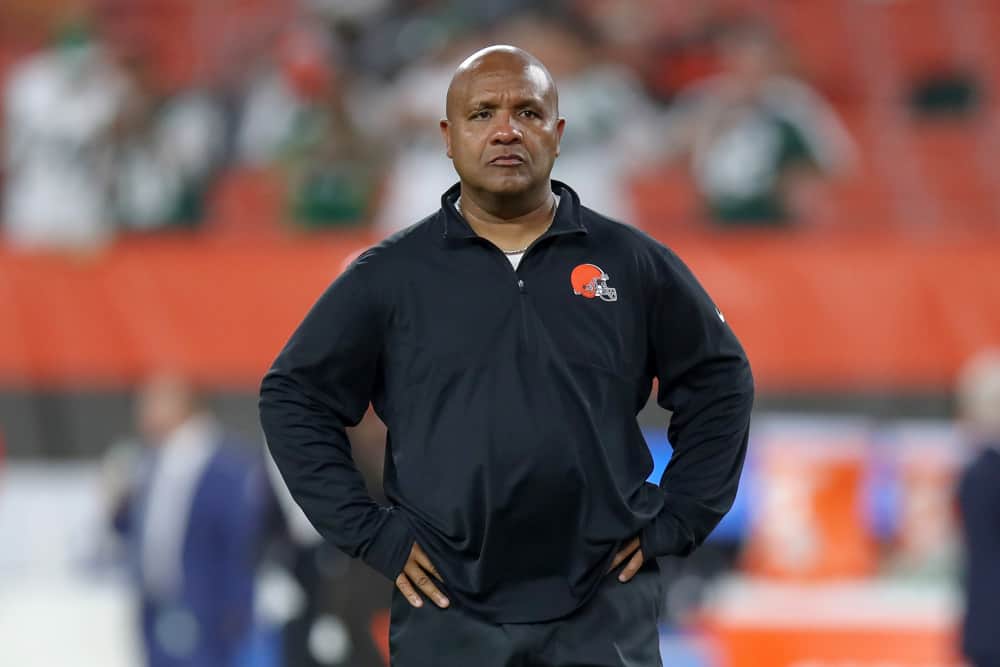 Turns out going 3-36-1 with a team as their head coach, including a winless season, doesn't go over to well with that fan base.
That seems like the kind of things that people will try and hold over your head for a long, long time.
Don't tell Hue Jackson that though.
Jackson spent two and a half years with the Cleveland Browns from 2016 to 2018.
Things, well, did not go according to plan.
But we all know this by now.
The 0-16 parade, 1-31 in two seasons, never winning a road game, everyone in Cleveland went through it.
Hue was doing some coaching again this past week in the NFLPA Collegiate Bowl.
Hue Jackson's American team taking the field for today's walkthrough. #NFLPABowl pic.twitter.com/68gCjiEPKD

— Ron Clements (@Ron_Clements) January 17, 2020
He had some words about why he should be known for more than what he was with the Browns per profootballtalk.nbcsports.com.
"My coaching record over 32 years speaks for itself," Jackson said, via Joe Reedy of the Associated Press. "I don't think 2½ years at Cleveland should tarnish my whole career but at the same time people have to know that you are out there and are willing and able to work."
He does have a long history of coaching, it's impossible to deny him that.
He started off with his alma mater Pacific back in 1987 as a graduate assistant.
Jackson worked his way up through the collegiate ranks before landing a job as the running back coach for the Washington Redskins in 2001.
His other head coaching job outside of Cleveland was with the Oakland Raiders in 2011.
His Raiders started 7-4 but ultimately missed the playoffs finishing 8-8 on the season.
That brings is head coaching record to a pedestrian 11-44-1.
How bad is that?
Well, that's the second-worst head coaching record by win-loss percentage of all-time per Pro Football Reference.
You would have to go back to the late 1930's with Bert Bell and the Eagles who went 10-46-2 during his time there.
Bell is now in the Hall of Fame as an owner.
It seems unlikely Jackson ever sees himself in Canton.
Is it all on Hue for the Browns failures during his tenure?
Probably not.
Expectations were already high when Jackson was brought in as Jon Doss reminded us last week.
Let us remember, Hue Jackson was seen as a home run hire. People around NEO went wild for Freddie Kitchens (and so did Vegas). We really have no idea whether Stefanski is the guy to turn the #Browns around…but should HOPE he is.

— Jon Doss (@JonDoss) January 12, 2020
Plus, Deshone Kizer started at quarterback for almost an entire season.
Cody Kessler, Robert Griffin III, Josh McCown, Kevin Hogan, and Tyrod Taylor were the other starters during his time.
True, Baker Mayfield did start for a few games before Hue was shown the exit doors in Berea.
But would many coaches win with the previous bunch of names listed?
Additionally, it's not like the Browns have taken off as a franchise since Jackson was fired.
They finished 8-8 under Gregg Williams in 2018 and went 6-10 with Freddie Kitchens last year.
Now, yet another name in charge is Kevin Stefanski with all sorts of question marks around him.
Plain and simple, the Browns have never really set coaches up for success.
That includes Hue Jackson.
Regardless, deciding to ride with Tyrod Taylor over Baker Mayfield until Taylor was hurt against the Jets will make fans upset.
His appearances and quotes on "Hard Knocks" were not exactly spectacular.
The way Hue Jackson interacted with his coaches during this Hard Knocks clip was all you needed to know about his tenure and ability to be successful. #Browns pic.twitter.com/PlLL8maLIl

— Jeff D Oscars Szn (@JeffDLowe) October 30, 2018
And at the end of the day, 3-36-1 will doom just about any head coach in the NFL.
Jackson's time as a coordinator in the league has been much better, no question about it.
His offense in Cincinnati was always solid and he helped elevate Joe Flacco when he entered the league in Baltimore.
He even won PFWA NFL Assistant Coach of the Year in 2015 during his second stint with the Bengals.
As we've seen before though, some guys are just destined to be an assistant or coordinator.
Hue Jackson seems to fit that category like a glove.