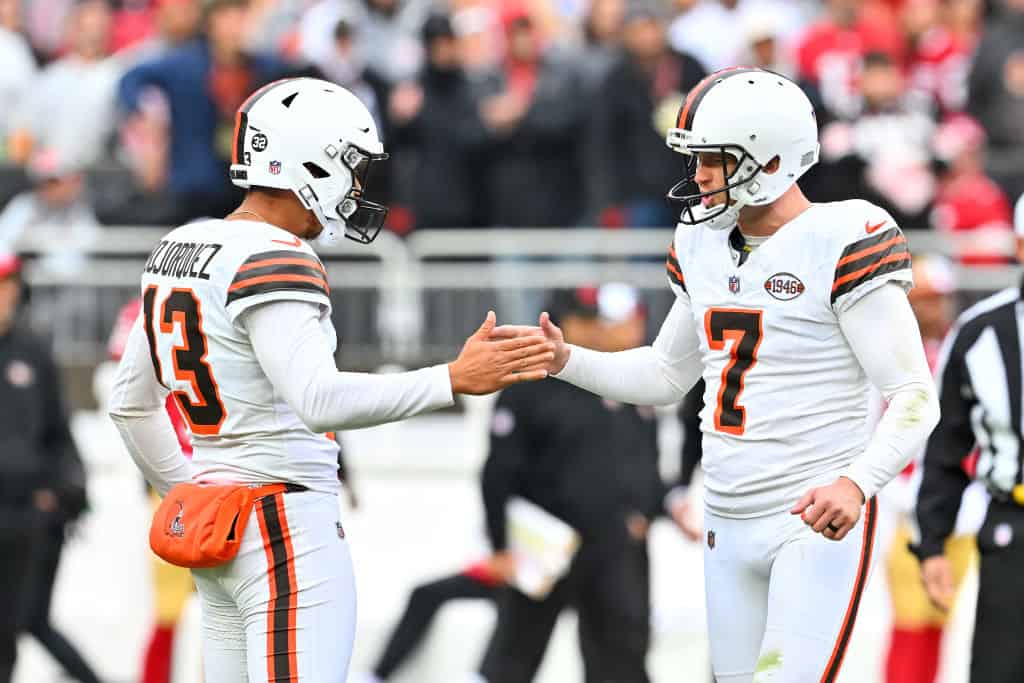 For the past several years, the Cleveland Browns have cycled through kickers looking for someone who would show any consistency.
In 2022, LSU's Cade York was selected in the draft in the hopes that he would be the second coming of Phil Dawson.
That didn't pan out and he was axed in the preseason this year.
Cleveland then traded for former Los Angeles Chargers kicker Dustin Hopkins.
The transaction barely made a blip on the national radar but it turned out to be just what the doctor ordered for the Browns.
During Sunday's victory over the Indianapolis Colts, Hopkins connected on multiple 50+-yard field goals.
After making two 54-yard field goals during Cleveland's win over Indianapolis today, Browns' K Dustin Hopkins is now the first NFL kicker ever to convert a 50+-yard field goal in five consecutive games during a single season.

— Adam Schefter (@AdamSchefter) October 22, 2023
That made Hopkins the first kicker in NFL history to make a 50+-yard field goal in five straight games during a season, per Adam Schefter.
Furthermore, Hopkins is 7 for 7 on field goals of 50+ yards this season, according to Pro Football Focus.
Dustin Hopkins is 7/7 on 50+ yard field goals this season 🎯 pic.twitter.com/eCQ1rllXnC

— PFF CLE Browns (@PFF_Browns) October 23, 2023
He first connected from long distance in Week 2 versus Pittsburgh and kept the party going against Tennessee, Baltimore, San Francisco, and Indy.
On Sunday, Hopkins made a 58-yard attempt that was his longest of the season and was part of his 4 for 4 afternoon.
Last week, Hopkins was named AFC Special Teams Player of the Week after making four of five attempts and scoring 13 points in Cleveland's upset of San Francisco.
In addition to successfully making 16 of his 18 attempts so far this year, Hopkins has made all eight of his extra-point attempts.
Should he keep up his current pace, Hopkins will not only help Cleveland win close games but he just might get selected for his first career Pro Bowl.