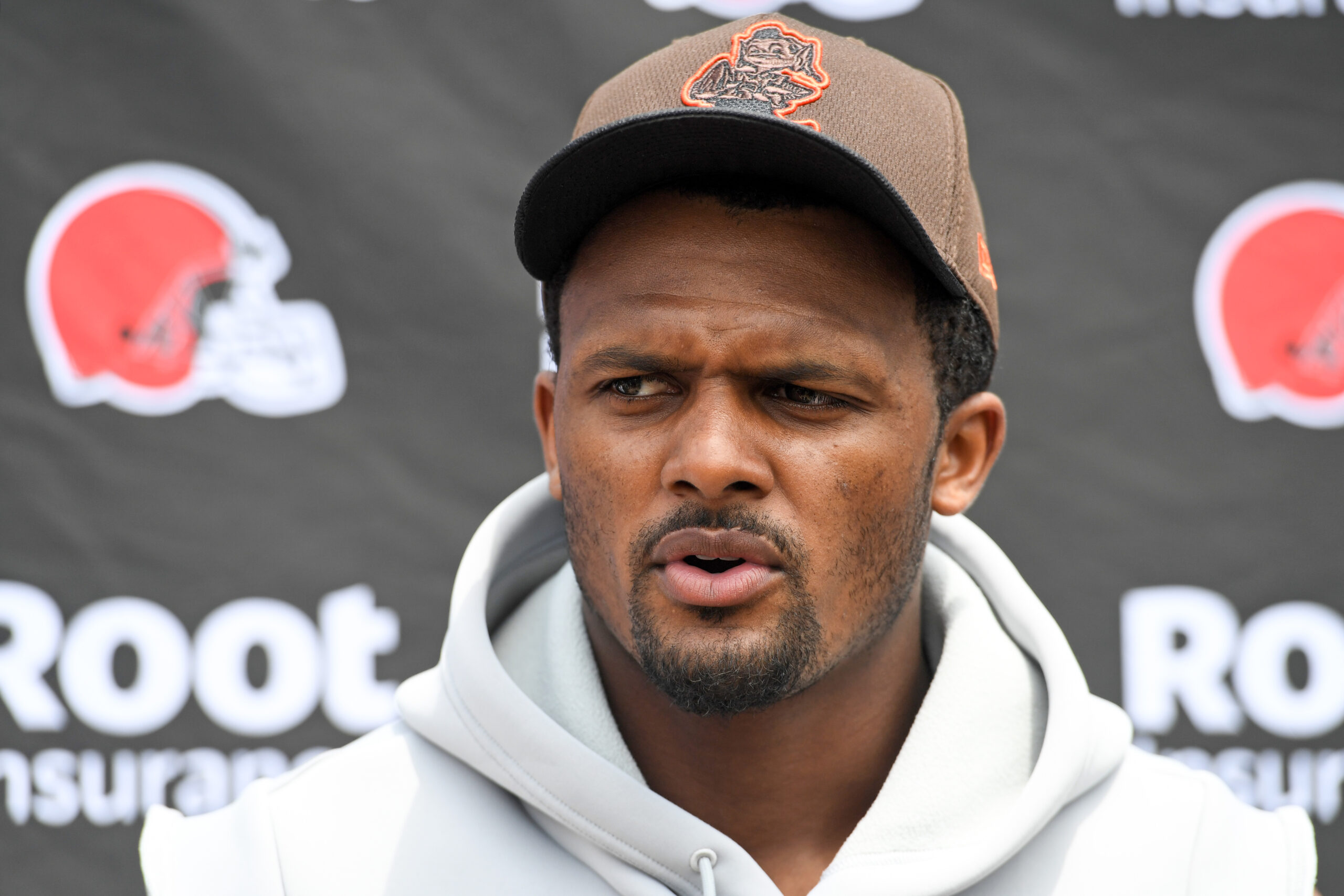 How serious is this shoulder injury for Deshaun Watson?
Cleveland Browns fans received an update on their starting quarterback from NFL insider Tom Pelissero on Tuesday.
In this social media post, Pelissero claims his sources tell him Watson is dealing with a rotator cuff contusion.
#Browns QB Deshaun Watson remains day-to-day with what sources say is a rotator cuff contusion.

After a surprise scratch in Week 4, Watson spent the bye resting and rehabbing. He didn't practice Monday, but did some throwing. Status TBD for Sunday's game vs. the #49ers. pic.twitter.com/tREXg6r83U

— Tom Pelissero (@TomPelissero) October 10, 2023
What does this mean for Cleveland's quarterback ahead of Week 6?
Slowly but Surely
This injury sidelined Watson for the Ravens game and kept him out of practice on Monday this week.
Despite not practicing, he did throw a little bit during Monday's session.
According to head coach Kevin Stefanski, Watson is "working hard" through the recovery process.
He also claims Deshaun is throwing the ball better than before the Baltimore game, per this post from Chronicle-Telegram beat reporter Scott Petrak.
#Browns coach Kevin Stefanski: Deshaun's working very hard through this process.
Has been able to throw better than did before Ravens game. Is getting better.

— Scott Petrak ct (@ScottPetrak) October 9, 2023
That doesn't give us much indication in terms of whether Stefanski plans on Watson playing this Sunday or not.
Should Watson Even Play?
Playing the San Francisco 49ers is Watson's reward if he's able to go this week.
The 49ers are undefeated and physically rolling teams right now.
Some question whether Watson should play, even if he is able to go.
With winnable games and the bulk of the schedule left ahead, why risk further injury in a game that's looking like a loss anyways?
One would like to think Deshaun is competitive enough to give it a go if he thinks he can.
However, logic may point this decision in the other direction.
While you never want to just punt games in the NFL, Sunday will be tough for Cleveland.
If Watson plays and suffers further damage to that shoulder, the season quickly could be in peril.
Unless things change for the better for Watson in a hurry this week, don't be surprised to see PJ Walker starting for Cleveland on Sunday.