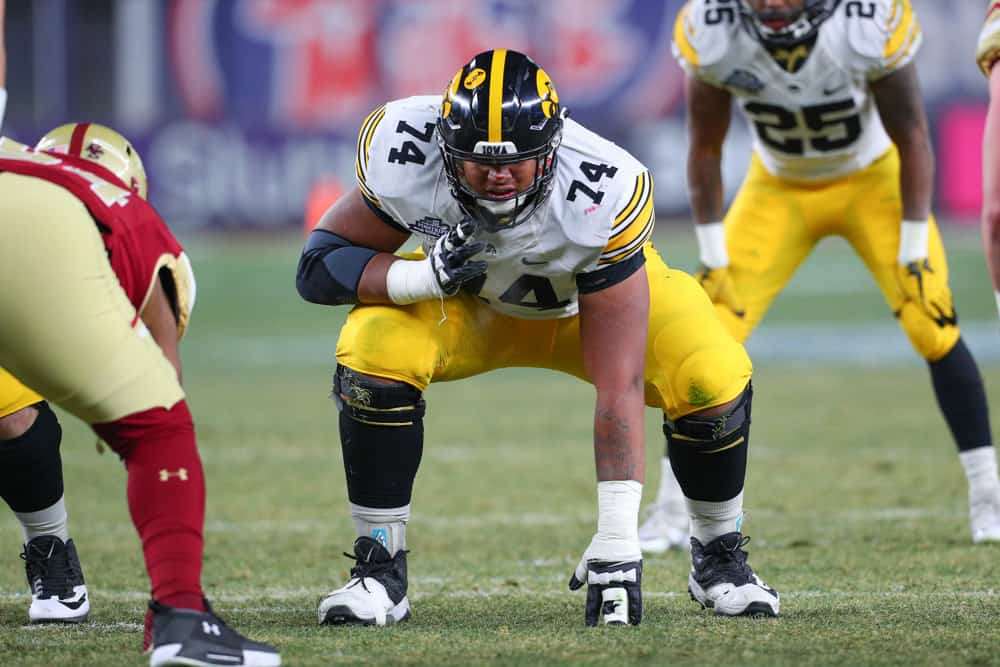 Some are skeptical about the Cleveland Browns taking Tristan Wirfs at No. 10 overall.
The Iowa product has all the intangibles of making a great offensive lineman in the NFL.
Wirfs is 6-foot-5, 320 pounds, and showed off impressive athleticism at the NFL Combine.
Wirfs' broad jump was 36.5 inches and his vertical jump was 10 feet, 1 inch.
His vertical jump was higher than 20 wide receivers that weighed less than Wirfs.
His 40-yard dash time was also impressive, clocking in at 4.86 seconds.
Y'all wanted Tristan Wirfs Film Study, well here you go!

Man is a bowling ball in the run game.

Link here: https://t.co/P4tHZXvYMi pic.twitter.com/sLroKyivKd

— RealBucsTalk (@RealBucsTalk) March 26, 2020
Wirfs started 10 games at right tackle, but also three games at left tackle, which makes him a "risky" pick in some eyes.
However, his now-former coach at the University of Iowa doesn't see the risk.
Kirk Ferentz Is Not Worried
Wirfs' expertise comes on the right side, but he has versatility for playing the left tackle position.
Ferentz believes that just because he primarily played right tackle in college, it should not be held against him.
"I would play him at left tackle if I was still in the NFL," Ferentz told Ohio.com's Steve Doerschuk. "Maybe that's why I'm not, but that's where I'd play him. Tackles are such a valuable commodity … at any level."
Having A Little Luck
The Browns signed right tackle Jack Conklin via free agency, which means that Wirfs will not see the light of day there.
However, Ferentz mentioned that Conklin was formally a left tackle at Michigan State that went on to have a productive career in the NFL.
To Ferentz, having two good tackles is "lucky."
"You need a little bit of really good luck to have two good tackles," Ferentz said. "If you come across that luck, it can make a big difference for your team."
Ferentz has coached at Iowa for 22 years and remembers when Conklin was at MSU.
Coming out of high school, Ferentz compared both players to have similar qualities.
"We played against Jack in the (2015) Big Ten championship game," Ferentz said. "He's a tremendous player. He was a walk-on at Michigan State, wasn't he? (Conklin was a walk-on.) Tristan wasn't recruited very heavily, either."
Wirfs Could Be Gone
In Ferentz's mind, the Browns will be lucky if the Wirfs falls to No. 10.
On most draft boards, Wirfs is rated as the first or second prospect at the offensive line position.
Ferentz called Wirfs' NFL combine performance as "freakish" and that he did things "that made you just shake your head."
"He's a tremendous young person who has very rare ability," said Ferentz. "He improved each year, and he was a Combine phenom, which was no surprise to us.
Final Thoughts
We all know this is a college coach building up his former athlete's draft profile.
However, Wirfs is big, athletic, fast, and can play multiple positions.
His stats at the NFL Combine led all offensive lineman.
Wirfs is not going to fall to the second round, so the Browns will need to decide if he is truly going to be their starting tackle for 2020.