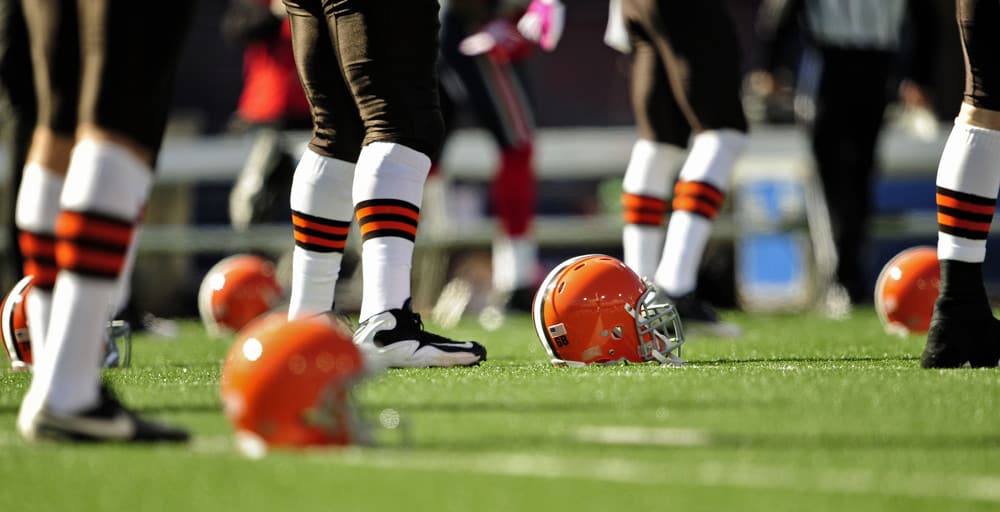 The Cleveland Browns had a host of injuries during the 2021 NFL season.
That is unfortunately not unusual as other teams dealt with similar issues.
What is different is the fact that Browns players may have played or returned to play quicker than they should have.
While no one knows what goes on between the medical staff and a professional athlete, it appears that the Browns medical staff's procedures in 2021 should be audited.
Jarvis Landry's latest admission about coming back before he was fully recovered sheds new light on what appeared to be a recurring theme for the Browns this season.
Jarvis Landry admitting he came back way too early this season speaks to what seemed to be a larger issue with the way the Browns handled injuries this season. Can think of at least three other examples of players who seemed to have similar experiences.

— Ben Axelrod (@BenAxelrod) February 22, 2022
Landry was not the only player in this situation.
Wills, Landry, Baker, etc. Couple that with John Johnson saying that the team could have a better relationship w/training staff. #Browns mismanaged injuries all year. Period. https://t.co/9Aq3pOmCwy

— Gio – 216 (@gcastelli216) February 22, 2022
Jedrick Wills, Baker Mayfield, and Donovan Peoples-Jones also seemed to be in a regular cycle of dealing with an injury, healing, playing, and reaggravating the injury.
What Does It Mean?
Andrew Berry is a smart guy.
Presumably, every facet of the team is reviewed and evaluated in the offseason so he probably has the medical staff on his list for this process.
Following a review, changes could be necessary to both the medical and the strength and conditioning protocols.
John Johnson III already provided a recommendation to add yoga for overall strength and conditioning.
It is likely he had yoga available in Los Angeles when he was with the Rams.
John Johnson III says he would love a yoga instructor in the building for the Browns, along with other things in regards to training: "I think our relationship with the training staff could be a whole lot better…" #Browns

— Hayden Grove (@H_Grove) January 10, 2022
The Browns Are Not The Only Team With This Issue
The Baltimore Ravens lost their running backs one after another in the preseason to ACL injuries.
All 3 of the starting Ravens running backs tear their ACL before week 1? #RavensFlock https://t.co/yUTB58SMvm

— B-mac™️ (@BmacGOAT) September 9, 2021
As a result, it was not surprising to hear that Coach John Harbaugh was going to take a long, hard look at the Ravens' strength and conditioning practices this offseason.
Following Injury-Plagued Season, Harbaugh Pledges Full Review Of Ravens' Strength And Conditioning Practices https://t.co/moETJUMX8a pic.twitter.com/palXGKH4Zy

— WJZ | CBS Baltimore (@wjz) February 1, 2022
Buffalo Bills Stayed Healthy
The medical and strength and conditioning teams of an NFL team should be working together to come up with the best methods to prevent player injuries and to have a method of treatment that promotes a safe and complete recovery should a player get hurt.
Teams are not always plagued by injuries.
Consider the Buffalo Bills whose injury report had only one player in mid-January.
Can we get the @BuffaloBills Strength and Conditioning team to lead the pandemic response? COVID wouldn't have a chance. #BillsMafia pic.twitter.com/4zkTct4e2t

— GVine (@GaryVinette) January 19, 2022
The Bills don't let their players do squats during the season.
https://t.co/gRrZUn87Mh Apologize if already shared and discussed. Clearly people are asking the Bills Strength and Conditioning staff…..they are a hot Commodity

— Robert Pierce (@Nylion15) February 18, 2022
Squats are part of the offseason regimen.
Is there a direct correlation between the lack of squats and minimal injuries?
There seems to be, but it involves further review.
Conclusion
Injuries are an inevitable part of the game; however, teams seem to minimize and manage them better than the Browns did in 2021.
Those same teams tend to get to the playoffs because they are healthier.
If the Browns have problems in these areas, this is the time to make changes and get better.
For the Browns to take the next step and be a playoff and Super Bowl contender, the strength and conditioning and medical parts of the organization need to do better to protect the players' health.