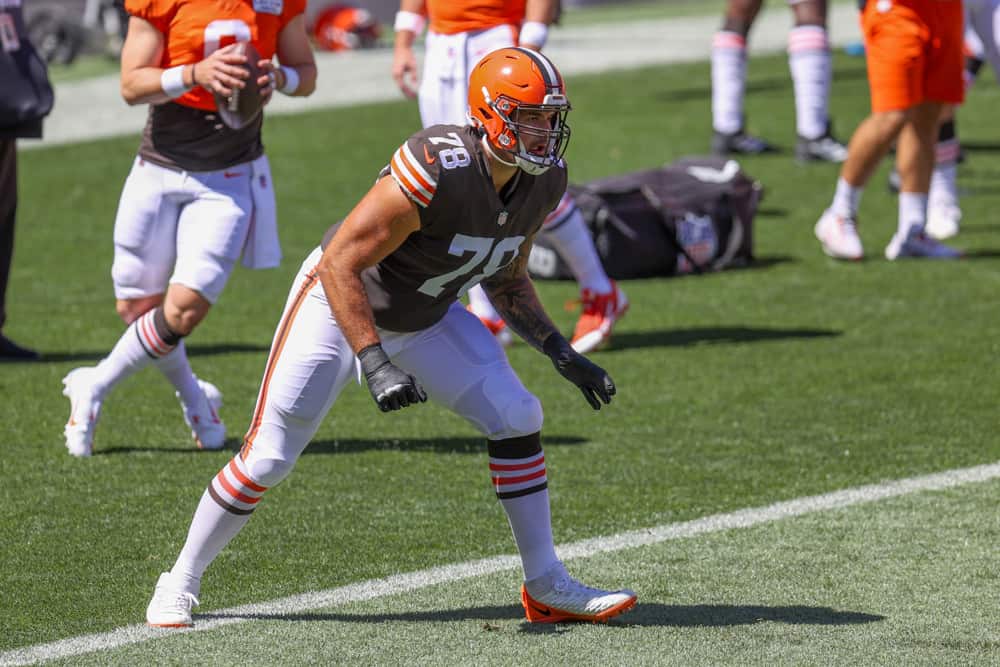 Cleveland Browns right tackle Jack Conklin got good news before their Sunday night Wild Card matchup.
The Pro Bowler is cleared to take the field tonight against the Pittsburgh Steelers.
All signs pointing to Jack Conklin playing tonight, per @AKinkhabwala #Browns pic.twitter.com/jPA5FPAJ3E

— MoreForYouCleveland (@MoreForYou_CLE) January 10, 2021
Conklin was previously listed as questionable after missing the team's Friday practice with an undisclosed illness.
Out of an abundance of caution, the Browns elected to be careful with Conklin.
Some precautions the team took included having him travel on his own to Pittsburgh to avoid any outbreak.
#Browns RT Jack Conklin (illness) is making the trip to Pittsburgh, traveling solo, source says

— Mary Kay Cabot (@MaryKayCabot) January 9, 2021
However, Conklin's testing ultimately came back negative and he is feeling well enough to take the field.
Importance of Conklin
This season, the Browns have relied heavily on their offensive line's skill.
A major piece of that has been Conklin.
#Browns Tackle, Jack Conklin, is crucial for this team.

Conklin ranks 1st among Right Tackles with an Overall Grade of 84.3, per @PFF.

He has allowed a Pressure Rate under 3.0%, (2.9%) and is the only RT in the #NFL to do so.

Jack earned his 2nd nod as a First-Team All-Pro. 🌟 pic.twitter.com/xA7vybOWtn

— The Hottest Take Sports Podcast (@Hottest_TakePod) January 10, 2021
In 2020, he played 999 offensive snaps, good for 26th in the NFL.
Over this time, he was only flagged twice and gave up just two sacks.
He finished the season as the highest-graded right tackle (84.3) in the league according to Pro Football Focus.
Conklin was also the only right tackle to allow a pressure rate below 3.0% on at least 250 pass-blocking snaps.
While he may not be the highest graded player on the Browns' line, he is a critical part to the team's success.
For them to have hope of beating the Steelers, it will be important for them to be at full strength.
This doesn't just stop at Conklin.
Browns COVID Struggles
Over the final two weeks of the season, the Browns had major COVID issues.
Browns have placed 17 players on their COVID-19 Reserve list over the last two weeks; ten of those players still remain on the list, including Joel Bitonio and Khadarel Hodge, who were added today. pic.twitter.com/dJ3UzuriV7

— Adam Schefter (@AdamSchefter) January 5, 2021
This forced the team to play very shorthanded against the New York Jets in Week 16.
The Browns did not have any of their starting wide receivers available for that game which they ended up losing.
After their Week 17 victory over the Steelers, the team had another COVID outbreak once again.
Browns COVID outbreak continues: HC Kevin Stefanski, two other coaches and two players have COVID issues, sources tell ESPN. Browns are closing their facility.

— Adam Schefter (@AdamSchefter) January 5, 2021
While many of the players who were sick have now recovered, there are still a handful who will be out Sunday.
These players are left guard Joel Bitonio, wide receiver KhaDarel Hodge, cornerback Kevin Johnson and cornerback Denzel Ward.
The virus also spread among the coaching staff as head coach Kevin Stefanski and offensive line coach Bill Callahan will be among a group of coaches who are out.
For the Browns, it seems as though they are living a "Groundhog Day" type of scenario.
They have just been unable to escape COVID over these last two weeks.
There are also deeper consequences of having the virus, as its impact has been clear on linebacker Myles Garrett.
This piles onto the uphill battle the organization faces in the matchup against the Steelers.
Wild Card Game
The Browns face off against the Steelers in their first playoff game in 18 years tonight at 8:15.
This comes just a week after the two teams faced off in Week 17.
During that matchup, the Browns walked away with a tight 24-22 win.
However, this was with the Steelers resting some of their key players including QB Ben Roethlisberger.
Because of this and the missing players and coaches, it may take a perfect game for the Browns to win.
QB Baker Mayfield will need to step up and help lead an offensive attack.
Defensively, if the team can stop the Steelers' aerial attack, they will have a good chance of winning.
However, this will all be determined during their matchup later tonight.
Either way, the health of Conklin is a good start for the Browns tonight.