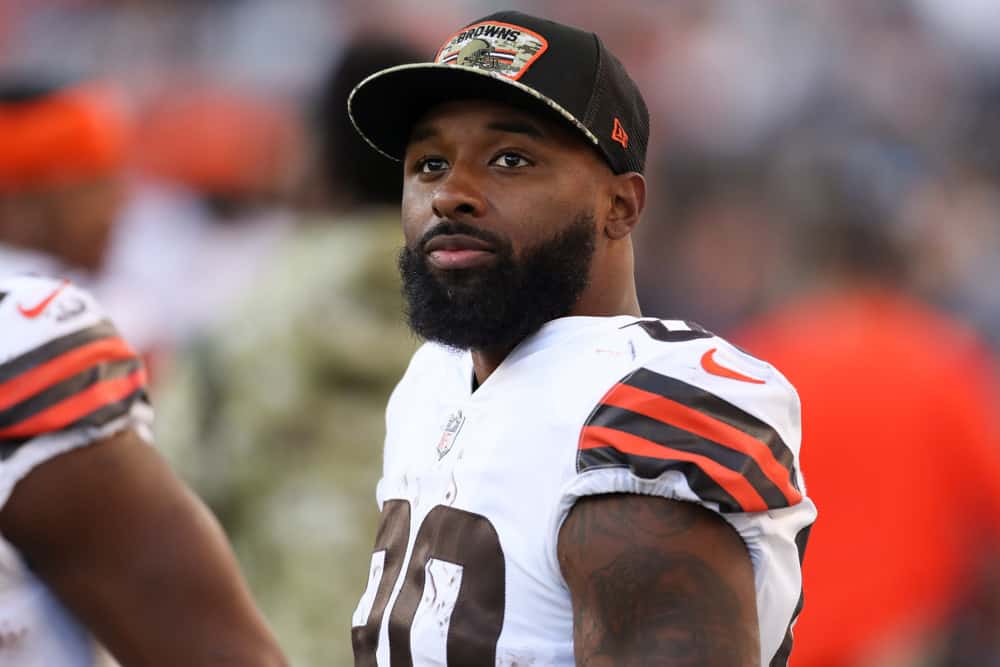 Jarvis Landry probably hoped he had one more season before he needed to worry about a new contract.
But as happens with many long-term deals, the Cleveland Browns felt the final season was a bit too rich for them.
Cleveland offered to renegotiate the terms of Landry's oversized price tag.
Sources: Free agent Jarvis Landry has terminated his representation agreement with Damarius Bilbo of Klutch Sports.

— Darren Heitner (@DarrenHeitner) March 24, 2022
But Landry was reportedly more interested in security than the dollars.
Andrew Berry did not want to add years to the 5-year deal Landry signed in 2018.
The team gave their popular wide receiver permission to seek a trade as negotiations continued.
But ultimately, the Browns released Landry, saving $15 million on the salary cap.
#Browns will meet with Klutch Sports (The agency that represents Jarvis Landry) next week to discuss the future of Landry and the team.

— Vince Winters  (@VinceWintersRep) February 22, 2022
It was the first time in his career that Landry was a true free agent.
And apparently, he expected things to work out better than they have so far.
At least, we assume that is why Landry fired his agent, Damarius Bilbo of Klutch Sports.
What Can It Mean?  
Social media greeted the news with speculation about a Browns reunion with Landry.
There were already rumors of such a possibility before the agent's firing.
And Browns' safety, John Johnson III, posted that Landry's friend, Odell Beckham is practically a sure thing.
Cleveland's recent signing of Deshaun Watson makes them a more popular locale for wide receivers.
Although in the case of Landry and Beckham, Baker Mayfield's absence might be more of a draw.
Several #Browns players have reached out to Jarvis Landry about returning to the team.

— NFL Rumors  (@nflrums) March 24, 2022
But Landry's decision probably has more to do with the latest wide receiver move.
Kansas City gave Tyreek Hill permission to seek a trade and in mere hours, he had a new team.
And that team happened to be the Miami Dolphins, Jarvis Landry's first home.
Hill's agent solicited a reworked contract for his client and multiple draft picks were on their way to Kansas City.
If Landry was already upset at the sheer volume of wide receiver transactions, that could have put him over the top.
What It Means To The Browns 
This has been a wild and wacky season, and it is only a couple of weeks old.
Among the craziest notions is Landry and Beckham returning to Cleveland to win a Super Bowl.
But even if the players are open to such a reunion, there is no word from the teams to such thoughts.
Landry might be waxing nostalgic about whatever offer the Browns made back in February.
And Cleveland only has 5 wide receivers on their active roster right now.
The Cleveland Browns would like Jarvis Landry to return.
Per @MaryKayCabot pic.twitter.com/Lhau0XXGiA

— NFL Rumors  (@nflrums) March 20, 2022
Amari Cooper joins Donovan Peoples-Jones, along with the developing Anthony Schwartz and Ja'Marcus Bradley.
Berry also signed Jakeem Grant, who is as explosive at wide receiver as he is in the return game.
Cleveland has room for Landry in the slot but at a greatly reduced price.
And Landry was reportedly ready to sign with the Falcons if Deshaun Watson landed there.
But it seems just as likely Landry hopes his next agent finds a better deal than what the Browns offer.