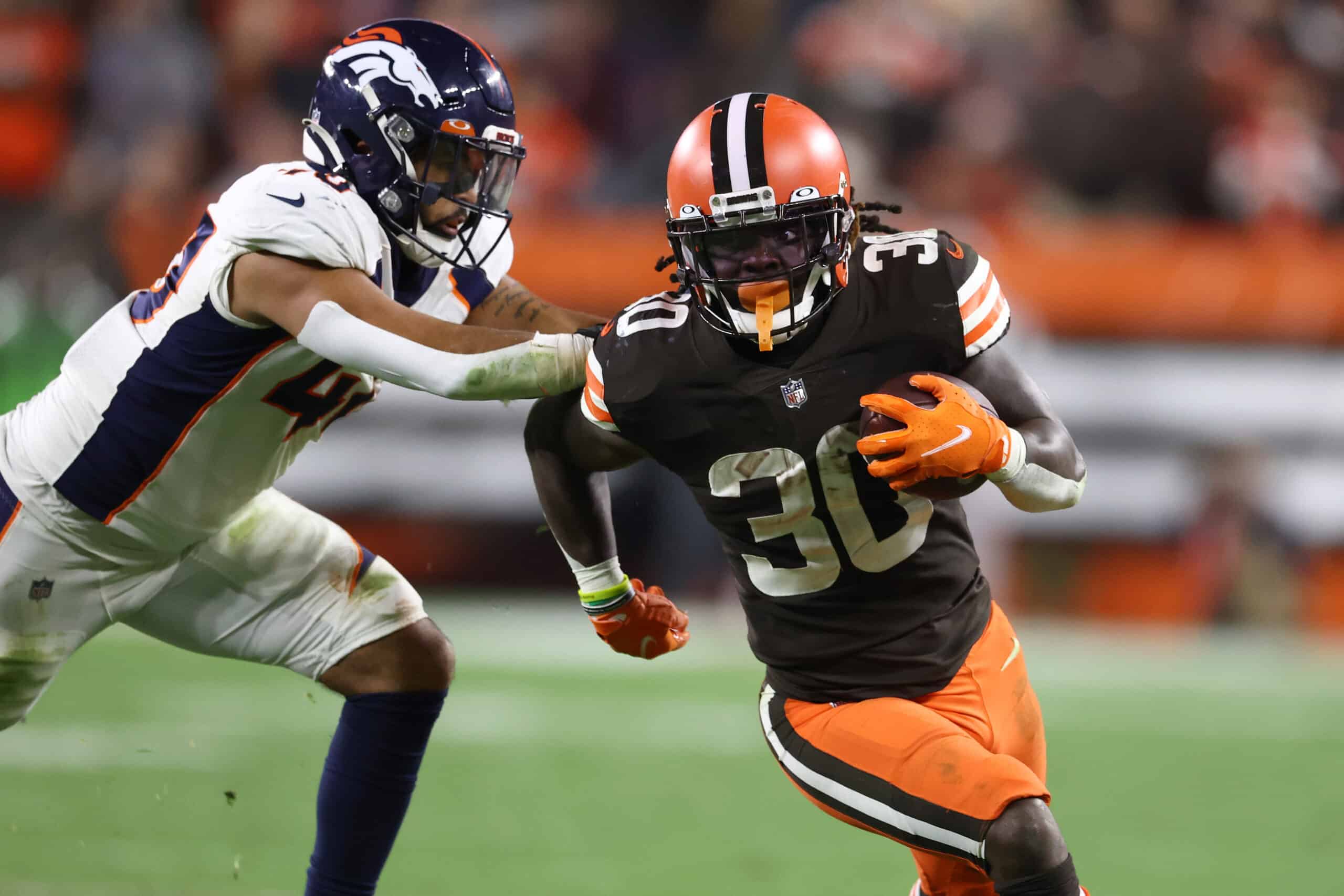 Cleveland Browns wide receiver Jarvis Landry is not surprised running back D'Ernest Johnson is making the most of his opportunity.
On Thursday, Landry spoke to media members about Johnson's breakout performance in the Week 7 win against the Denver Broncos.
"He's a guy that, naturally, you don't get a lot of opportunities because we kind of have two really great backs," Landry said of Johnson. "Two backs that would be starting on another team that rotates here.

"So, to have him always have the mindset of just staying ready is something that I've seen him have throughout this whole entire time that he's been here."
In Johnson's first career NFL start, Johnson had 22 carries for 146 yards and a touchdown.
He also had two catches on two targets for 22 yards.
Johnson's performance helped him earn the FedEx Ground Player of the Week for Week 7.
Johnson filled in for Nick Chubb and Kareem Hunt, who both missed the Week 7 game due to their respective calf injuries.
"It's good everybody's noticed the hard work that I put in and stuff, but I still got a lot more work to do," Johnson said.
Landry also pointed to Johnson's 95-yard performance on Oct. 4, 2020, in a 49-38 win against the Dallas Cowboys.
"He only played a half of football, so for him to get his first start and his story, his journey is something that is inspiring to a lot of people that watch this game, and it makes you love this game," Landry said.
Johnson went undrafted in 2018 out of the University of South Florida.
The New Orleans Saints invited Johnson to their rookie camp, but he did not get signed.
Johnson spent time on a fishing boat in Key West, Florida, before getting an opportunity to Orlando Apollos in the Alliance of American Football in 2019.
"I (sent a direct message to) every AAF team, and I didn't get a reply at all," Johnson said. "I just took my shot just hoping that they'd reply back, but they didn't, so I just kept working, just keep grinding and eventually somebody answered."
Johnson found a spot with the Browns in 2019 after the AAF folded.
The knock on Johnson coming out of college was he didn't run a fast enough 40-yard dash, clocking it in 4.8 seconds at his USF Pro Day.
"I know I'm a lot faster than a 4.8," Johnson said. "Llamas run a 4.8."
In 2018, D'Ernest Johnson messaged every AAF team requesting a tryout. D'Ernest last night in his first NFL career start:

– 22 carries
– 146 rushing yards
– 22 receiving yards
– 1 TD

(via @courtkramer39) pic.twitter.com/i65v7YCIfo

— B/R Gridiron (@brgridiron) October 22, 2021
After Chubb returned to practice on Monday, he is expected to start in Week 8 against the Pittsburgh Steelers.
It means Johnson will likely move to the backup role with Hunt on injured reserve since mid-October.
Johnson said he plans to continue stepping up when his number is called.
"(Whether) that was on special teams or protection," Johnson said. "That was the biggest thing. Coming in, I wasn't scared to pick up any blitzes and the team (saw) that and all the coaches (saw) that and they kept me here.

"I just did all the little things right."
Since the Browns placed Hunt on injured reserve, he is required to sit out at least three games.
Hunt already sat against the Broncos, and he will not play Sunday against the Steelers or on Nov. 7 against the Cincinnati Bengals.
The earliest Hunt could return is on Nov. 14 against the New England Patriots.