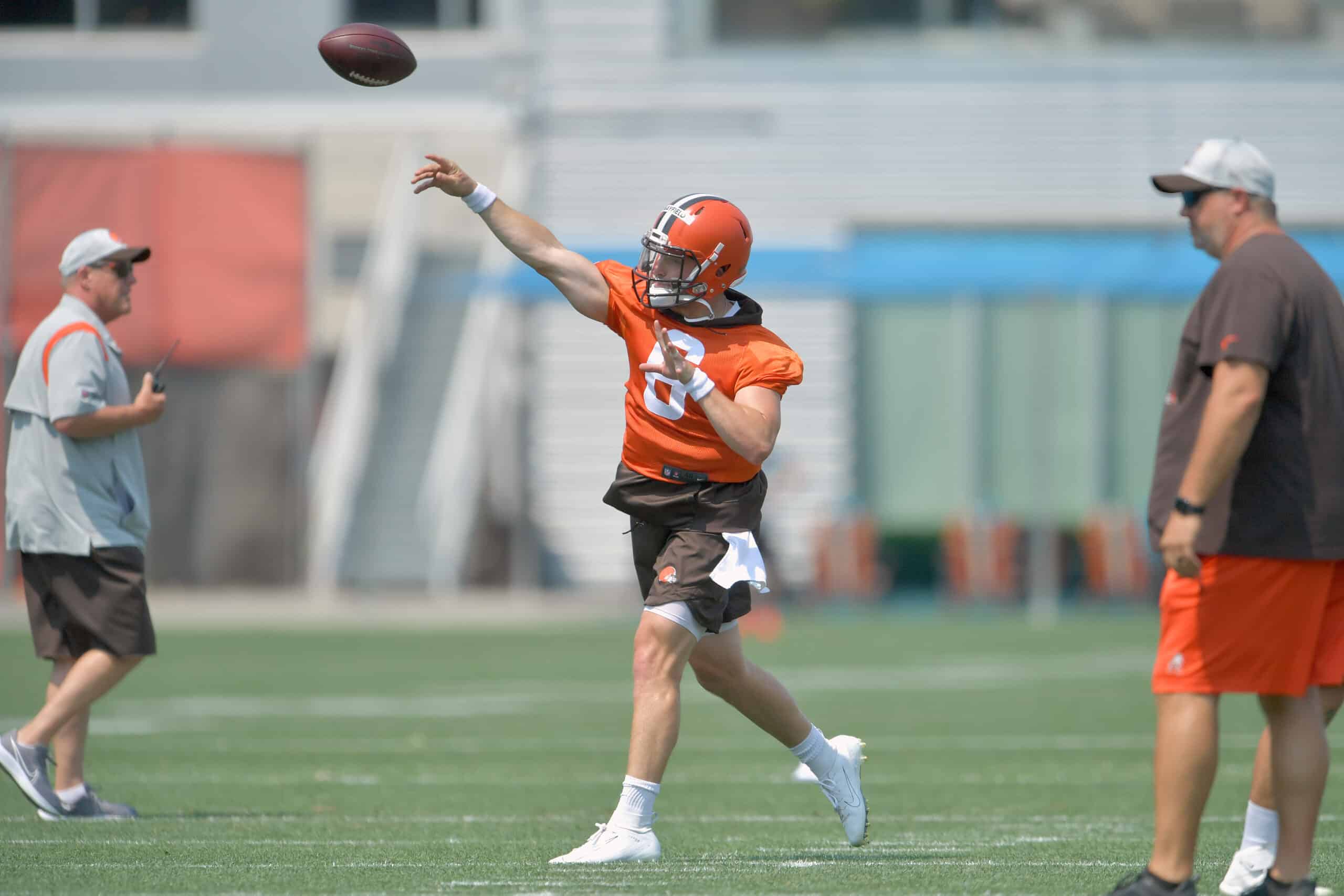 With Sunday's game against Pittsburgh creeping closer for the Cleveland Browns, the health of quarterback Baker Mayfield continues to be a followed development.
With a torn labrum in his left shoulder that may require offseason surgery, Mayfield finds himself in a dilemma.
Signs this week point toward him trying to play Sunday, although medically he has not been officially cleared.
Of course, the fiery Mayfield hates the idea of missing more time.
Mayfield determined to play. "I'm not about missing practice or playing time."#Browns pic.twitter.com/yqGy93elkX

— Tom Withers (@twithersAP) October 27, 2021
That's made this week of practice interesting.
Mayfield returned to practice yesterday and has looked sharp in a number of clips around social media.
#Browns Baker Mayfield throwing during today's open portion of practice. pic.twitter.com/6In2eqZHZ1

— Camryn Justice (@camijustice) October 28, 2021
Baker Mayfield had zip on his passes and took his regular turn Wednesday in the portion of #Browns practice open to reporters. pic.twitter.com/tkCIyK6cs8

— Jeff Schudel (@jsproinsider) October 27, 2021
Baker Mayfield's arm looks as good as ever in practice. A lot of zip. Was only player wearing shoulder pads today, trying to get used to what is likely a new harness under those pads. #Browns

— Hayden Grove (@H_Grove) October 28, 2021
Will it be enough to convince the team, and the fans, that he's ready for Pittsburgh on Sunday?
We're Talkin' About Practice
It's a great sign to see Mayfield zipping passes around the practice field and making sharp throws.
It sure beats him looking sore and lost out there this week.
What's important to keep in mind, however, is that this doesn't necessarily translate to Sunday.
Baker won't be taking any hits or contact this week, that's for sure.
The quarterback typically doesn't anyways, but caution is likely at an all-time high with Mayfield this week.
The Steelers, boasting two solid pass rushers in Cameron Heyward and TJ Watt, will not be so reluctant to get physical on Sunday.
That's been the discussion all week basically.
Baker can trot out there and make better throws than Case Keenum, sure.
But what happens if he takes a huge blindside hit?
What happens if he just happens to fall on his shoulder the wrong way and cost himself the season?
Living in your fears won't get you far as a professional football coach, but neither will poor decisions.
Even with Baker looking good in practice this week, that shouldn't overshadow the severity of his injury.
The fall like the one he took against Arizona is far from an unorthodox play and could very easily happen again.
Baker Mayfield falls awkwardly on his already injured shoulder. Brutal.#Browns pic.twitter.com/h9paKzgQD0

— Drew Davenport (@DrewFBGAuctions) October 17, 2021
Leading by Toughness
There is something to be said for the toughness on display from Mayfield here.
Being "too tough" and neglecting your health is a detriment.
However, Mayfield's resiliency has certainly earned him some additional respect from his teammates.
Wide receiver Jarvis Landry, another guy to be found in the toughness department, showed his quarterback some love this week.
#Browns Jarvis Landry on Baker Mayfield fighting through shoulder injury. pic.twitter.com/SpVvWwTiHT

— Scott Petrak ct (@ScottPetrak) October 28, 2021
It's a rivalry game against the Steelers at a pivotal point in the season.
There's no surprise as to why Baker wants to give it a go on Sunday.
Again, him looking good at practice thus far this week sure beats him looking bad.
If he does get the nod for Sunday's contest, the offensive line needs to make it a mission to keep him upright.
If they do, and Baker delivers throws in the game as he has in practice, Cleveland will be in good shape.