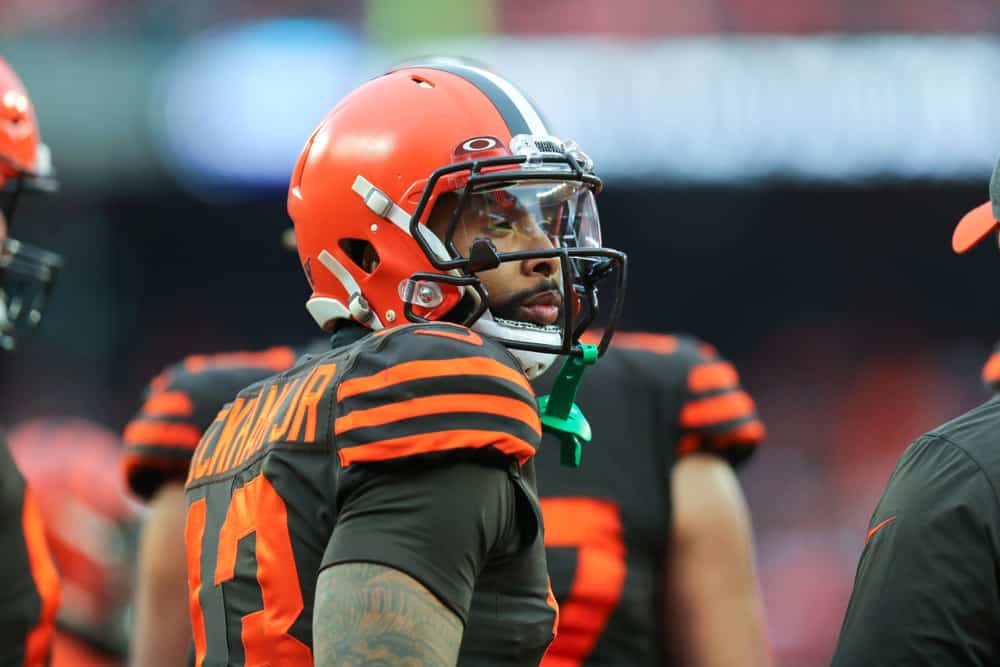 The Cleveland Browns have money and talent, but what if the franchise could make one last power move?
There's also the unexpected comments by James Harrison.
Enjoy this week's edition of Browns Nation mailbag.
The Browns are showing interest in Jadeveon Clowney, but Everson Griffen is still out there. Clowney has never had a full season because of injuries. Why aren't we hearing more about Griffen? Tim S, Dallas, TX
If I had to take a guess, I would think that teams are worried about his mental health despite a bounce back 2019 season.
Before we get ahead of ourselves, it was Griffen that voided the remaining three years he had left on his contract.
At age 32, Griffen has recorded 57 sacks over the last six seasons, including eight sacks last year with the Minnesota Vikings.
Griffen is by far the second-best pass-rusher left on the market.
Cowboys need help at edge rusher. Some free agents remaining (2019 stats):

Jadeveon Clowney, 27: 3 sacks, 13 QB hits
Everson Griffen, 32: 8 sacks, 24 QB hits
Markus Golden, 29: 10 sacks, 27 QB hits
Michael Bennett, 34: 6.5 sacks, 15 QB hits
Ziggy Ansah, 30: 2.5 sacks, 8 QB hits

— Jon Machota (@jonmachota) March 19, 2020
He is clearly betting on himself, so he can command a higher salary than the $13.9 million cap hit he would have taken if he was on the Vikings.
Obviously, that has not happened yet, and I believe it has to do with the fact with what happened in 2018.
According to multiple reports at the time, Griffen had many verbal outbursts in practice.
This led to the Vikings ordering Griffen to undergo a mental health evaluation.
According to the Minnesota Star-Tribune, Griffen was "growing increasingly paranoid and feared someone was trying to kill him in the weeks and days."
This came after he had an encounter with police at a hotel in Minnesota.
Griffen claimed, "an individual was threatening to shoot someone if he wasn't allowed in his room."
Since that time, Griffen has addressed those incidents and claims it has something to do with why he has not received much interest this offseason.
"Nobody knew that I was living in a sober house."

As he awaits a fresh start in free agency, Everson Griffen opens up for the first time about treatment, his mental-health diagnosis and why "2019 was just a glimpse of what I still have left in the tank."https://t.co/Kv96q1T1zt

— Tom Pelissero (@TomPelissero) April 10, 2020
I think the Browns are still in on Clowney and would like to sign him to a one or two year deal.
Also, with personalities like OBJ, Jarvis Landry, and Baker Mayfield already, they could view Griffen as a risk.
Is it fair to assume that of someone with a mental illness?
Probably not, but the Browns want to push all the right buttons after missing the playoffs for 17-straight years.
The Browns had a lot of hype last year and I think it ended up being bad for them. I actually think they have better talent this year and less hype which can end up being a good thing. Thoughts? Mike N, Fostoria, OH
I don't know where the less hype is coming from because I personally see more hype.
The Browns have a head coach that has a quarterback mentality.
OBJ and Landry are both going to be fully healthy.
We're not going to get into all of the offseason moves, but signing Austin Hooper to the largest contract for a tight end certainly gained publicity.
I tend to view the season like this.
Every true winner learns from their mistakes.
The Browns went into 2019 with playoff aspirations and failed tremendously.
I think for the first time there is a true culture change in the building.
The moves the Browns made signify the team wants to compete.
The Browns organization should fully recognize that fans view this season as the year to break the playoff drought.
However, then again, you could be right since only 25% of first-year head coaches ever make the playoffs.
What are the odds next #Browns head coach makes the playoffs in 2020? https://t.co/Eo2c4jfnOt

— Scott Patsko (@ScottPatsko) January 10, 2020
James Harrison is trying to backtrack on his comments about Tomlin. But, why would he even bring it up to begin with? I think the league should investigate. Kyle A, Columbus, OH
What on Earth is James Harrison thinking?
I would give anything to see Tomlin's reaction after getting the alert that Harrison said this.
In Harrison's mind, he was defending the hit, but he might have let too much slip afterward.
Another dirty hit by james Harrison. This time on Mohammed Massaquoi pic.twitter.com/utGx7GFD0C

— Cleveland fan in pittsburgh (@216fanin412) October 6, 2019
When Harrison brought up Tomlin handing him an envelope, that smelled just like another Bountygate scandal.
If the league wanted to investigate, they could, but I am going to have to side with New Orleans Saints head coach Sean Payton.
As you might recall, Payton was suspended for a year due to the Bountygate scandal.
I think he says it best.
"I would be shocked," Payton told Jason La Canfora of 105.7 The Fan in Baltimore, via Luke Johnson of the New Orleans Advocate. "That'll be something that's tucked away under the rug at Park Avenue. They'll look into it briefly. Listen, don't get me started on that. I lost $6 million in salary, and honestly, it was something that I'll never truly get over because I know how it was handled and how it was run and the reasons behind it. That's just the truth."
In the end, I don't believe Harrison had any reason to be malicious here.
History shows Harrison is pretty good about opening up his mouth and saying something he shouldn't.
This is just another example of why he should never work in public relations.
Everyone's talking about Mayfield being under the most pressure this year, but what about OBJ? I think he's gone after this year if he doesn't have a good year. He might not be the right fit. Jerry R, Strongsville, Oh
From a legacy standpoint, the 2020 season will be the biggest season of OBJ's career.
At age 27, OBJ is treading water on being remembered as a "great regular season wide receiver."
In six seasons, OBJ had five seasons with at least 1,000 yards receiving, but just one playoff appearance.
In 2016, the Packers defeated the New York Giants 38-13, and OBJ had just four receptions for 28 yards on 11 targets.
His personality hasn't helped him either.
Personally, I believe when fans talk about OBJ, they think more about his antics than his play on the field.
.@obj is losing his mind faster than the @giants are losing sight of the playoffs. 🤣

(🎥: @NFLonFOX)pic.twitter.com/WfWbGzS6jY

— theScore (@theScore) October 12, 2018
With that being said, it would have to take a lot to trade OBJ.
I never believed the rumors that he was on the block because OBJ cannot become a free agent until 2024 when he turns 31.
He is scheduled to make about $15 million in each of the next four seasons.
In a world where Amari Cooper will make $20 million a year for similar stats, OBJ is not a bad bargain.
The Browns see themselves as playoff contenders over these next two to three seasons based on their offseason moves.
As long as he keeps putting up seasons with over 1,000 yards receiving, he is here to stay no matter what happens.