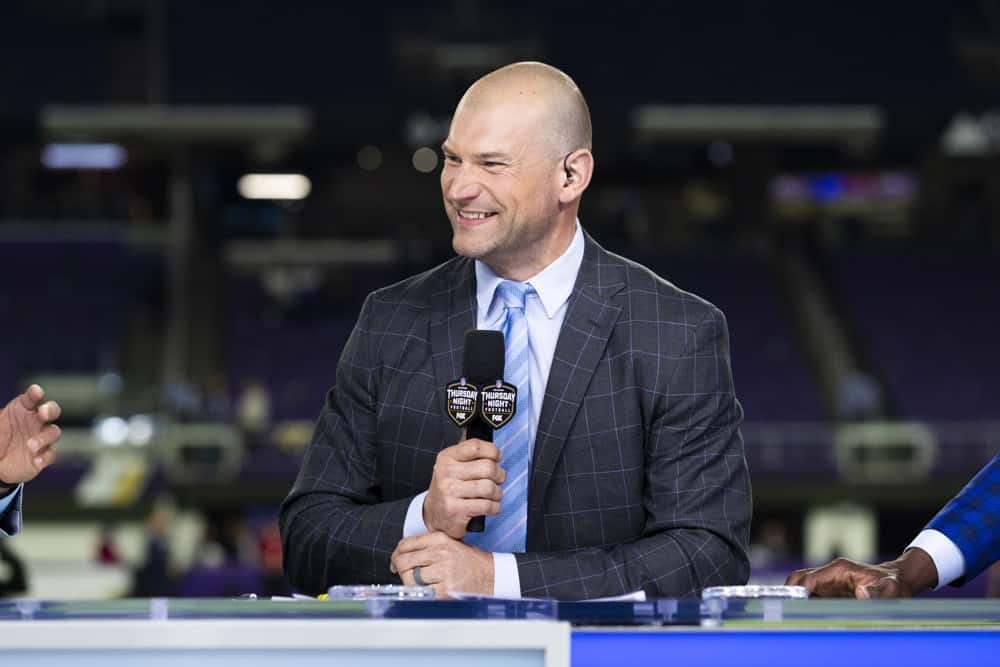 Former Cleveland Browns tackle Joe Thomas has always been one to give credit where credit is due.
Thomas was the latest feature in a NFL.com series that has former players that are currently analysts in the media put together a list of the five greatest teammates they ever played with.
Unfortunately for Joe, his Browns' teams never saw much success, and the success they did manage to get was always short-lived.
Still, that doesn't mean he didn't have some amazing teammates throughout his playing career in northeast Ohio.
Let's take a look at who Thomas featured on his list of top-five teammates of all time.

5. Phil Dawson, Kicker
Ah yes, Phil Dawson.
If there was ever a kicker who developed a cult-like fan base within a city, it was him.
To this day, Browns fans clamor on about Dawson and how he could still send a couple through the uprights if he still played.
Not surprisingly, his teammates seem to have high regard for him as well, and Thomas is no exception.
The two played together from 2007-2012 and experienced plenty of ups and downs during that time.
Dawson, undrafted out of college, went on to play 20 seasons in the NFL and was seventh in regular-season games played (305) by the time he hung up the cleats.
Boasting a career field goal percentage of 83.8, while kicking mostly in the not-so-friendly climate of northeast Ohio, is certainly something to praise as well.
Kickers probably aren't a popular pick for this exercise, but I have to include Dawson.

It's one thing to be a great kicker when you're playing in warm weather or in a dome, but what separated him was his ability to nail a kick no matter the conditions: rain, snow, sleet, wind. You name it. And with poor weather sometimes comes a beat-up field, but he found a way to be effective. That's a testament to his process, ability to overcome variables and work to build muscle memory to execute kick after kick.
4. Josh Cribbs, Wide Receiver and Special Teams Returner
Larry Doby gets lost in baseball history.
He was vital in the integration of African-Americans into professional baseball.
But, when you think of one name who stands as the face of that movement, it's Jackie Robinson.
For NFL return-men, Devin Hester is Robinson and Cribbs is Doby.
Hester will always be "the guy" who really revolutionized the role of a kick and/or punt returner.
Cribbs, while not quite at the same exact level as Hester, did some special things in his own right in Cleveland per NFL.com.
Unlike many other returners, he didn't just burn you with speed. He was gritty, tough and played with a reckless abandon, whether he had the ball or not, breaking tackles with the ball in his hands and making tackles when roles were flipped.
God, I miss seeing Josh Cribbs return kickoffs like this. Dude was SO good. #Browns pic.twitter.com/2NeCxrTIYd

— Michael | Browns Access (@MichaelWelsh9) March 24, 2020
3. Mitchell Schwartz, Right Tackle
No surprise to see the current Kansas City Chief on this list.
Thomas and Schwartz helped anchor the Browns offensive front from 2012-2015.
Thomas claims that Schwartz was one of the smartest guys he played with on top of being one of the most consistent.
"The first thing that comes to mind when I think of Schwartz is just how smart he is. He has an exceptional memory and an incredible ability to analyze the biomechanics of a certain technique used by him or his opponent. He was super analytical and obsessed with having perfect technique in every facet of what he does, whether in meeting rooms, walk-throughs, practices or games."
2. Myles Garrett, Defensive End
Garrett making an appearance on this list should tell you just how good he really is.
Thomas and Garrett shared a locker room in 2017 only, however, it's clear Myles flashed enough signs of greatness to catch Thomas's attention.
There are so many words to describe the former No. 1 overall pick's play: powerful, fast, quick, explosive. I could go on and on. At 6-foot-4, 272 pounds, he doesn't simply rely on his toughness and strength to make plays. Instead, he combines his natural talent with an incredible IQ and analytical approach to get max results.
Thomas also says he doesn't believe the incident that led to Garrett's suspension last season will impact his ability to be a quality leader within the Browns' locker room.

1. Alex Mack, Center
No shock here either. Mack and Thomas shared duties on the offensive line from 2009-2015.
In addition to racking up six Pro Bowl appearances, Mack impressed Thomas by his combination of power and speed.
Great players often find they have a lot in common with their fellow stars, from work ethic to natural ability, and Mack absolutely fits in that group. The six-time Pro Bowl selectee takes a detailed, analytical approach and gives his best effort every time he takes the field. Mack is a big and powerful center with the flexibility and mobility to create leverage over his opponents, which allows him to regularly win matchups against even the best interior defensive linemen.

However, Mack's greatest quality is his ability to quickly make adjustments. If someone gets the best of him, he understands what is or isn't working so that it doesn't happen again.