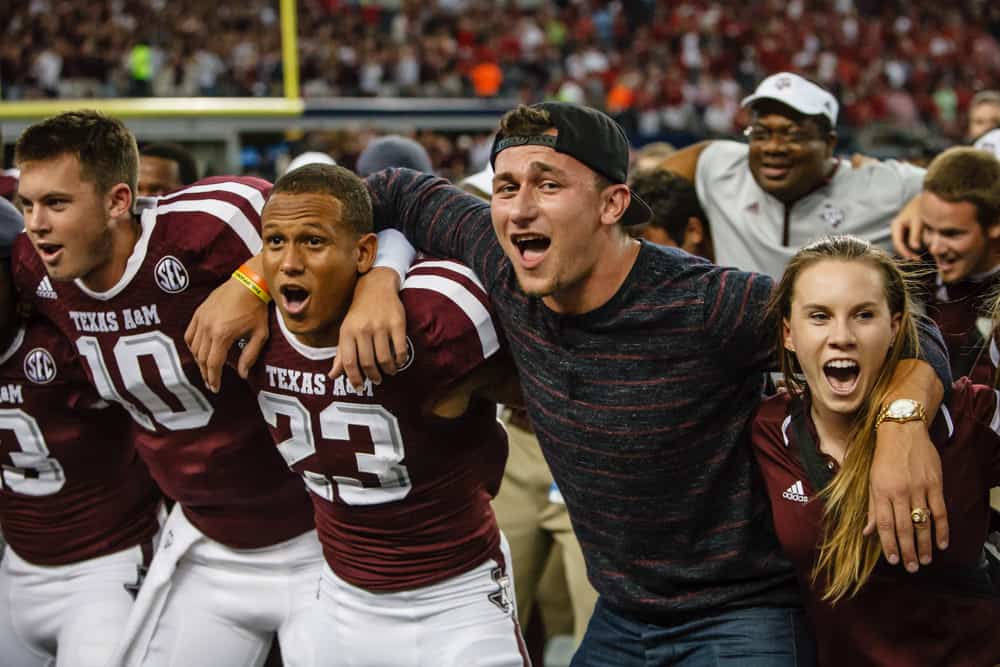 This week's release of the Netflix documentary Johnny Football about former Cleveland Browns quarterback Johnny Manziel has been eye-opening.
Some of the most alarming admissions in the doc, part of Netflix's "Untold" series, laid bare Manziel's apathy toward professional football.
After the Browns took Manziel with the 22nd overall pick in the 2014 draft, his lack of preparation quickly led to his downfall.
During a recent segment of the Dan Patrick Show, former Cleveland tackle Joe Thomas (who played with the quarterback) revealed when he first knew Manziel wouldn't pan out.
"Well, shortly after we drafted him he, like, vanished in the spring," said Thomas. "We were in the middle of OTAs and the coaches couldn't find him. He had come to Cleveland, he was there for, like, a day and he was at practice and then he just disappeared. I think he was just on a bender somewhere in Cleveland partying and he couldn't find his way back to the facility. So, it was at that moment I thought, 'We may have some problems with this young rookie here.' If he can't even find his way during OTAs when he's a rookie and should be trying to put his best foot forward [that's a problem]."
Thomas explained to Patrick how frustrating it was to put in the work while Manziel was not contributing.
"It's not a lot of fun, especially when you're an old guy and you're still showing up for mini-camps and OTAs and all the optional stuff in the off-season," said Thomas. "And here's this first-rounder who's supposed to be doing everything he possibly can to earn the trust and respect of his teammates and he's missing and we can't find him. So, that was really frustrating."
The 2023 Hall of Fame inductee mentioned that he wanted to give Manziel the benefit of the doubt, especially after his stellar college career.
However, Thomas was candid about the quarterback's chances of NFL success even if he didn't have off-the-field issues.
"He was short, he wasn't incredibly fast or quick. It's not like he was a short quarterback who ran a 4.4 [40-yard dash] and was just lightning quick where you thought he could make up for it," explained Thomas. "He had a ton of physical limitations that the NFL game was going to expose."
Some of the limitations Thomas listed were Manziel's long wind-up before throwing a football, his lack of size to absorb hits from defenders, his inability to play within the confines of an NFL offense, and his lack of athletic ability.
Thomas ended his remarks by saying he was worried in 2014 about how Manziel would fare.
"Man, how is this guy ever going to be able to figure it out, and on top of that, he doesn't really seem all that committed to being a quarterback."
Manziel started only six games total in 2014 and 2015 before his myriad personal issues led to Cleveland releasing him in early 2016.