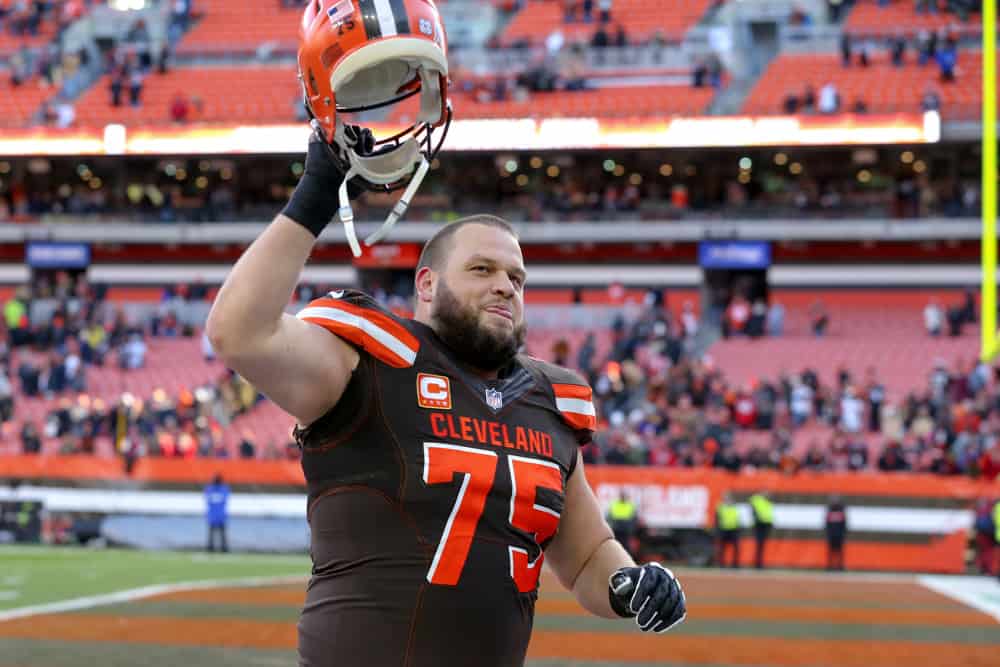 Attention is not something offensive linemen look for.
If their name never gets mentioned during a game, they are probably not doing well.
Cleveland's Joel Bitonio found himself the center of discussion for way too long after a sequence of events against the New England Patriots in week 8.
It started when Bitonio found himself lifted off the ground in a pile, feet flailing.
Those feet managed to kick the ball out of Nick Chubb's hands.
Donta Hightower picked it up and scored a defensive touchdown for New England.
When Bitonio took the field again, he was supposed to block Lawrence Guy on a timing-reliant shuffle pass to Jarvis Landry.
But Guy lined up much farther outside than Bitonio expected.
By the time Bitonio made contact with Guy, Guy made contact with Landry and the ball was in Guy's hands.
They listed this as an interception. This is absurd. A very, very, very tough 1st quarter for Joel Bitonio. This, I guess, was a pitch intended for Jarvis Landry. Instead, hello Lawrence Guy, one-man wrecking crew. #Patriots pic.twitter.com/fT1dBChRlu

— Boston Sports News (@BostonSprtsNews) October 27, 2019
Cleveland's left guard followed that up with a holding penalty on a screen pass just a few plays later.
Bitonio got an arm into Deatrich Wise while trying to let the defender go on a screen.
Wise was barely slowed by the move, but the call against Bitonio wiped out a 12-yard play.
Two turnovers, a defensive touchdown, and a big gain wiped out by one player in the course of five snaps would prompt some coaches to consider a replacement.
But Freddie Kitchens never considered pulling Bitonio.
Bitonio Always Finishes
That sequence defined Bitonio not because of how bad it was.
It defined the Browns' Pro Bowl lineman because of how he bounced back.
Bitonio finished the game without any more miscues.
Bitonio always finishes.
Over the last three seasons, Bitonio played every snap of every Browns game.
When asked what happened against New England, Bitonio was honest and analytical.
"I think I had probably three of the weirdest plays I've been involved in, in like a five-snap sequence.

"The foot was a one-in-a-million play. Maybe I could have played through the defender a bit more

"The shovel pass, maybe if I shot out a bit quicker, we would have had a better run there."
Bitonio doesn't think he held Wise, but he understood why the ref called the penalty.
As weird as they were, Bitonio processed the plays, learned a little, and moved on.
It's best to have a short memory when it comes to mistakes.
The sixth-year veteran took the series of events in stride and finished another strong game in another strong season.
Pro Bowl Bound
Bitonio was recently voted the first alternate at guard for the 2019 Pro Bowl.
If one of the three starters is in the Super Bowl or can't play, Cleveland's left guard will join Nick Chubb and Jarvis Landry in the game.
And why not?
His 2019 season is almost a carbon-copy of last year's Pro Bowl effort.
In the first 15 games of this season, Bitonio allowed only 16 total quarterback pressures.
Pro Football Focus determined he got "beat" on only three other snaps all year.
That is out of 566 total snaps.
Against Baltimore's Pro Bowl-laden defense, Bitonio allowed no quarterback pressures in a near-perfect game.
In making our Team of the Week, #Browns Joel Bitonio had a pressure-free day on his 40 snaps in pass protection while playing mistake-free in the run game, where he got the best of one of the game's best run defenders in DT Brandon Williams.https://t.co/cYbigu9vXv

— PFF CLE Browns (@PFF_Browns) December 25, 2019
On a team cited for lack of discipline based on penalties taken, Bitonio has been flagged only three times.
Two false starts go along with the holding-that-wasn't a penalty in the Patriots' game.
Bitonio only had three penalties in 2018, after a penalty-free 2017.
His performance this season earned him the seventh-best guard score from PFF.
He has the 16th best score among all offensive linemen.
Bitonio has emerged as a Leader
Following the Browns Thursday night melee disaster that seen Myles Garrett suspended for the season, Bitonio gave a speech in the locker room.
#Browns left guard Joel Bitonio said he gave speech in locker room after the game, trying to bring teammates together and move in the right direction, that was the main purpose of it

— Nate Ulrich (@ByNateUlrich) November 15, 2019
As the teams longest-tenured player, he felt compelled to offer a voice of reason:
"It was a very emotional time, and there was emotional things being said," Bitonio said Friday during a conference call. "You go through a situation like that where calmer heads needed to prevail, and you just want to make sure that everybody is on the same page and we're all working for the same goal.

"I don't know exact details of what exactly I said, but something along those lines where we're just trying to bring everybody together and moving in the right direction. At the end of the day, we're all one team, we're all one family and we're all working on one goal, and that's to be a good football team. That was the main purpose of it. I just want to keep moving in that direction."
Browns linebacker Joe Schobert also commented on Bitonio's speech
"Joel Bitonio said it after the game, 'You have to make sure that this stuff brings you closer together as a team. You cannot let it splinter,' " Schobert said. "I think everybody got the message and everybody is believing the same stuff.
A Gem Among the 2014 Draft Disaster
Joel Bitonio was drafted in the second round (35th overall) of the 2014 NFL Draft.

It was the year Johnny Manziel was drafted by the Browns, who also took cornerback Justin Gilbert in the first round.
Running back Terrance West and another corner Pierre Desir were also among the Browns six picks over four rounds.
All of them were Ex-Browns by 2016 and out of the NFL by 2017.
Bitonio and linebacker Christian Kirksey are the only survivors of former GM Ray Farmer's draft.
In 2015, Bitonio lined up between Pro Bowler Joe Thomas and Alex Mack.
John Greco and current Chiefs' tackle Mitchell Schwartz completed the offensive line.
Schwartz is currently the highest PFF-rated right tackle in the NFL.
As recently as last season, center JC Tretter formed a formidable interior line with Bitonio and Kevin Zeitler.
Zeitler is the eighth-best guard according to PFF's rankings but plays for the Giants after an offseason trade for Odell Beckham Jr.
Bitonio is now the Browns' anchor in a rebuilding unit.
Sliding Bitonio out to left tackle was one of the gambles Cleveland considered in their quest to replace the retired Thomas.
Bitonio is a better guard and helps the Browns maintain a top-third offensive line ranking.
Rams Inquired About Bitonio At The Trade Deadline
Bitonio's name came up before the trade deadline, but it was not the Browns' throwing it out there.
The Los Angeles Rams offered cornerback Marcus Peters straight up for Bitonio.
Sources: Rams' offer for Browns' Joel Bitonio sparked a flurry of trades last week.https://t.co/jwwYZo6BEF

— Adam Schefter (@AdamSchefter) October 20, 2019
Who knows what would have happened if GM John Dorsey hadn't already traded away Zeitler?
What if the Browns had a glaring need at cornerback?
The perennial Pro Bowler Peters was drafted by Dorsey for the Chiefs years ago.
Like many GMs, Dorsey is known for discounting inherited players in favor of accumulating "his guys."
How much of a compliment is it then, that Dorsey turned the Rams down flat with their offer?
Not only that, but Dorsey wound up shipping a fellow offensive lineman Austin Corbett to the Rams instead.
Joel Bitonio is the best offensive lineman the Browns have.
But some argued Zeitler was the best last season and Dorsey got an offer he couldn't refuse for the right tackle.
After six seasons of solid guard play for the Browns, fans should not expect a changing of the left guard.
Unfortunately, with football being the business it is, we can never be certain.
But at least for now, fans can revel in the thought of having a third Pro Bowl-worthy player in an otherwise disappointing season.