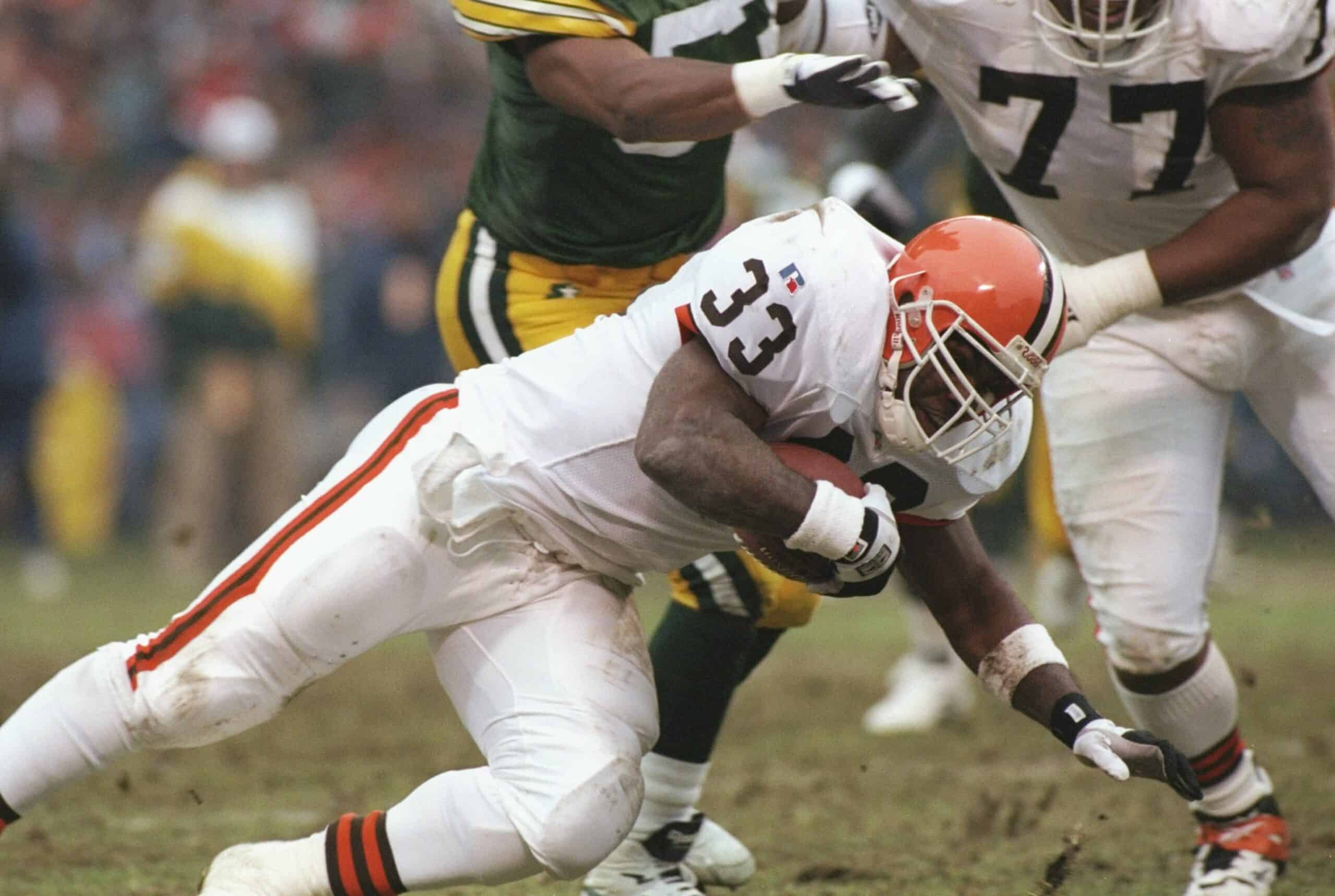 In the first five decades of their existence, the Cleveland Browns were a good football team.
Except for two losing stretches in the early 60s and mid-to-late 70s, the Browns were consistently in the playoffs.
Any player drafted or signed by the organization knew they were joining one of the league's best.
So, imagine arriving in Cleveland just as the franchise was about to embark on its long streak of futility.
That's what happened to Leroy Hoard.  After an impressive career at the University of Michigan, Hoard was drafted by the Browns in 1990.
That season coincided with the beginning of a stretch where Cleveland made the postseason only three times in nearly three decades.
Hoard made the most of his time, however.
In ten seasons as a pro, he was a consistent offensive threat as a runner and receiver.
Hoard could also be called on for a bit of humor to lighten the mood.
This is the story of Leroy Hoard.
Leroy Hoard – Browns. pic.twitter.com/6BRVxnX6p1

— Martini Belmont (@MartiniBelmont) February 10, 2016
Early Life and College
Leroy Hoard was born on May 15, 1968 in New Orleans.
He attended and played football at St. Augustine High School in New Orleans.
Hoard made enough highlights during his prep career that numerous large colleges showed interest.
He eventually chose to play for coach Bo Schembechler and The University of Michigan.
"I left Louisiana because I wanted to get away from home, even if I didn't play a lick of football in college, and I didn't think I would play," Hoard said in a 1989 interview. "I wanted to travel, I wanted to see snow, I wanted to go to the Rose Bowl. There were a lot of things I wanted to do.  Out of all the schools I looked at, this was the only school that gave me academics, travel and a chance to go to California. I chose Michigan and I have no regrets."
When he arrived in Ann Arbor, Hoard spent the 1987 season stuck behind Jerrod Bunch and Jamie Morris as a fullback (though he did start one game).
His stats were modest that first year as he carried the ball 22 times for 122 yards and two scores.
As a freshman, Hoard also found himself on the receiving end of many Schembechler tirades.
"The freshmen used to scrimmage on Monday, and with Jarrod Bunch hurt, I was the only fullback," Hoard said. "Well, I fumbled, and the coach said, 'I'll be glad when Bunch gets back.'  When you're a freshman, things coaches say tend to get to you a lot more, because when you're older you realize they say things only to motivate you and you shouldn't take it personally."

"Bo taught me that when you do something wrong, you have to accept the consequences," Hoard added. "Regardless of how great a game it is, school and the other things are more important."

https://twitter.com/JarrodBunch/status/662386125428756480
In 1988, the Wolverines had a banner year, finishing 9-2-1, winning the Big Ten conference championship, and defeating USC in the Rose Bowl.
Hoard started six games at fullback and one at tailback.
With an increase in starts, Hoard's stats improved as well.
He ended '88 with 130 attempts, 752 yards, 11 rushing touchdowns, and 14 receptions for 97 yards.
In the Rose Bowl game, Hoard was named MVP after rushing 19 times for 142 yards and two fourth-quarter touchdowns.
Bo Schembechler and Leroy Hoard led Michigan to victory 22-14 in the 1989 Rose Bowl over USC!#TBT #GoBlue pic.twitter.com/lzp1RWjLhQ

— Ben Kwasnik (@bkwas42) April 21, 2016
1989 was even better for Hoard.
That year, he rushed 162 times for 832 yards and six touchdowns and added 16 catches for 102 yards and six more scores.
Meanwhile, the Wolverines went 10-2, won the Big Ten again, but lost to USC in the Rose Bowl.
During his second Rose Bowl, Hoard rushed for 108 yards.
Before the game, the entire nation knew that Schembechler was retiring after the contest.
Hoard and his coach were interviewed about their relationship during their final season together.
"They said he's a mean guy, the toughest coach there is," Hoard said. "But he had a sweet voice. Then, when I got to Michigan, I was one of the first guys he yelled at, and it has been going on for four years.  He's the kind of person that if he confronts you, he lets you defend yourself–for a couple of seconds.  You can get a couple of words in, and I've been known to sneak in more than my share. But when I think about it now, it's no use. Just be quiet."

"He's hard to tackle and is a fine, fine runner," Schembechler said. "He gets a big play every game, too. But he has to play better without the ball, as a blocker, receiver and faker."
Then, Hoard added one more parting jab at his coach, all in good fun.
"My mom came up for the Ohio State game and asked me why I had so many keys," Hoard said. "I said, 'This one is for my car and this one is for my apartment. This is for the mailbox and this is for Bo's doghouse.' Now I guess I'll have to give the key back."
Hoard was expected to continue his college career in 1990.  Instead, he decided to forgo his senior year and enter the NFL draft.
In three years, he rushed for a total of 1,706 yards, scored 19 rushing touchdowns, and had 30 total catches for 199 yards and 17 more scores.
Numerous draft writers believed Hoard would have been a first-round pick after his senior season.
However, Hoard himself was skeptical.
"That's a longshot," Hoard said of an NFL career. "I didn't think I could play college football, but I made it this far. If my career were to end right now, I'd be satisfied."
Cleveland Selects Hoard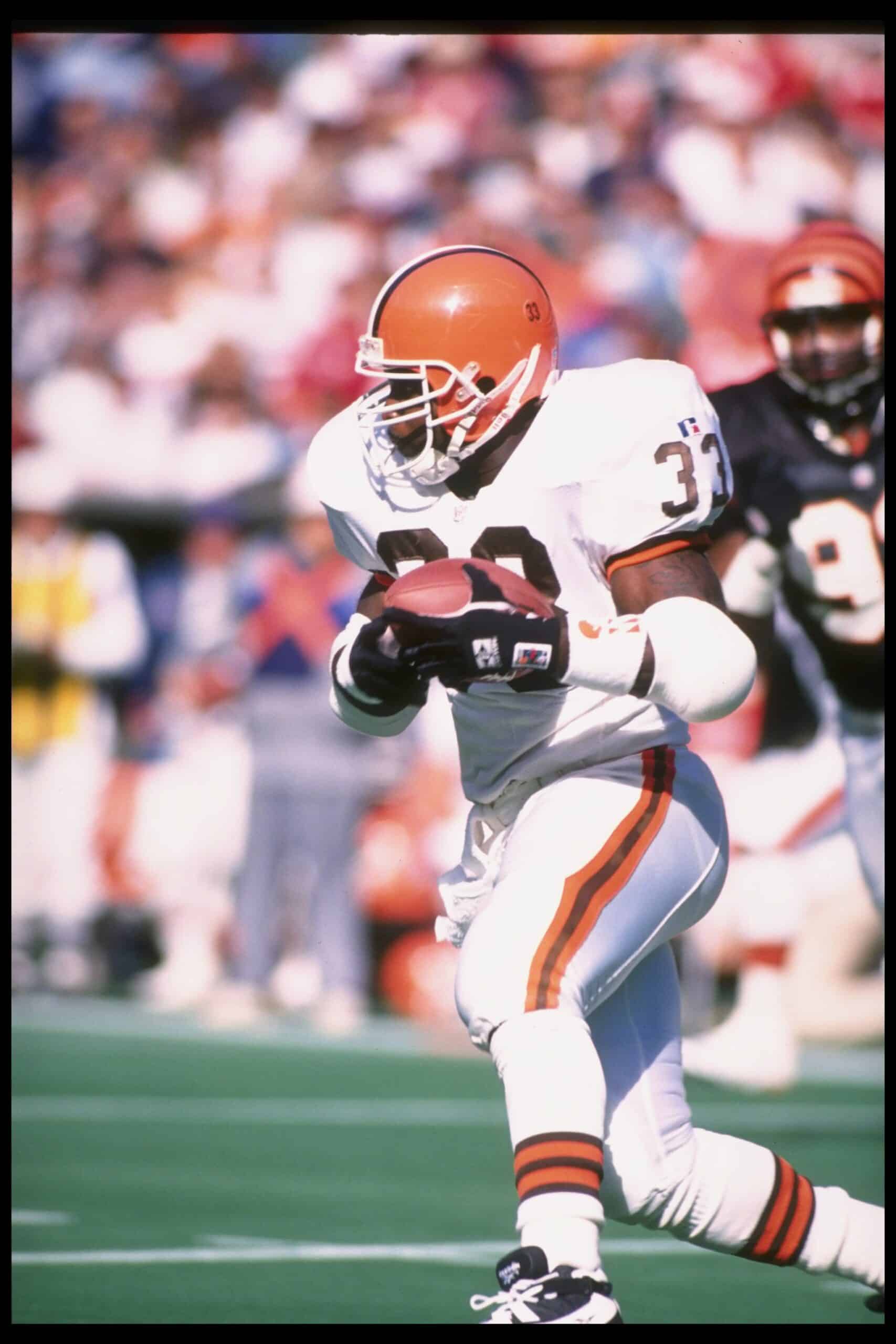 By the time the '90 draft rolled around, Hoard wasn't too stressed about when he would be selected.
He knew he would get drafted at some point, but outwardly, he didn't show any concern.
"As far as sitting around and waiting to get drafted, no. Not me. I wasn't doing it," Hoard said in a 2020 Club 46 interview. "I'm not going to make myself miserable. I can't do anything about it now."
He didn't have to wait too long.
With the 45th overall pick in the second round, Cleveland selected Hoard.
Right away, the young back from Michigan started five games during his rookie 1990 season.
Hoard learned quickly, though, that he would have to study his opponent or risk being chewed up.
"Right before you get past them (defenders), they do that lunge, and reach out with the arm," Hoard said. "So I learned how to read defense, be a little more patient inside and try to use my skill that way. Instead of trying to use speed, I used burst. It worked."

https://twitter.com/mjretchless24/status/940604929898663937
Where many thought the Browns would pick up where they left off in 1989 (AFC Championship loss to the Broncos), the team took a giant step backward.
Second-year coach Bud Carson was on a short leash and was dismissed after a 2-7 start.
Interim coach Jim Shofner did not fare much better and added a 1-6 record to close the year.
Hoard collected 149 yards on 58 rushing attempts and three touchdowns.
He also added 10 receptions for 73 more yards.
1991-1993
Before the 1991 season began, Cleveland hired Giants defensive coordinator Bill Belichick.
The tough-nosed Belichick set about instilling discipline where he thought it was lacking.
Right away, the Browns record improved to 6-10.
Hoard rushed 37 times for 154 total yards and two scores.
Speaking of monsters…Leroy Hoard would like a word. #Browns pic.twitter.com/eZ561OqAOY

— Vintage Browns (@VintageBrowns) October 19, 2020
However, his catch total went up significantly from the year before.
Hoard's receptions went from 10 in 1990 to 48 for 567 yards and nine touchdowns.
The increase came after an observation quarterback Bernie Kosar shared with Hoard early in the year.
"I ain't running," Kosar told Hoard after one particular play early in his career when he tussled with a defender for the entirety of the play. "If you got to block for me that long, let him go."
That small tip opened huge doors for Hoard.
His pass-catching ability also provided an escape route for Kosar.
"I caught so many passes that everybody thought these plays were, 'Oh, man, Bernie and Leroy,'" Hoard said. "And all I remember is that thing that he told me: 'Hey, don't block for me for five seconds. I'm not running.'"

"Everybody thought it was like, 'Man, they're really getting him into the offense,'" Hoard said. "No they weren't. They were broken plays. For the most part, that's how they started."
For the third straight year in 1992, Hoard's rushing total increased.
That season, he ran 54 times for 236 yards and added 26 catches for 310 yards and one touchdown.
The Browns record increased by one win, finishing the year at 7-9.
The team stagnated in 1993, repeating their 7-9 record from the year before.
At that point, the organization was mired in their fourth straight losing season.
The last time Cleveland experienced a playoff-less streak that long were the lean years of 1973-1979.
Hoard himself went scoreless in '93, but still added 227 rushing and 351 passing yards.
Hoard and the Browns get on Track in '94
After three losing seasons to begin his career as a head coach, Belichick finally broke through in 1994.
That year, the Browns opened with a 6-1 start.
In Week 10, Belichick and Cleveland faced off against Belichick's former boss, Bill Parcells and the Patriots.
The Browns secondary picked off Pats quarterback Drew Bledsoe four times.
Cleveland quarterback Mark Rypien tossed a one-yard score to Hoard.
Belichick's charges defeated Parcells and New England 13-6.
Leroy Hoard #33 @BigMouthLeroy and more in the legendary #Browns playoff win over the Patriots. pic.twitter.com/Xu4zzwX6Wl

— Vintage Browns (@VintageBrowns) April 11, 2021
The Browns finished the season 11-5 and hosted the Patriots in the Wild Card Round.
Hoard scored on a ten-yard rushing touchdown in the third quarter.
He was the game's leading rusher with 66 yards and Cleveland beat the Pats again to advance 20-13.
The following week, the Browns were trounced by division rival Pittsburgh 29-9.
For the year, Hoard would post the most rushing yards in his career with 890 and add 445 more yards in receptions with nine total scores.
He would be named to his only Pro Bowl after the season.
"If you want some, you have to get some," Hoard said years later." So I fought, clawed and scratched. My whole thought was this: 'If you get me on the field, I'm going to do something.'"
Hoard is Released, Plays with Three Teams in '96
Just when they were riding high off their '94 season, the Browns crashed back to Earth in 1995.
That year, the franchise fell to 5-11.
Hoard felt it too as he had 650 total yards and zero touchdowns.
By the end of the year, the city of Cleveland, along with the team, knew that owner Art Modell would be moving the organization to Baltimore once the season concluded.
After the team relocated, Belichick was fired and Modell hired Ted Marchibroda.
Hoard played in the first two games of the 1996 season as a Raven and carried the ball 15 times for 61 yards.
Not long after Week 2, Hoard was surprisingly released.
"Baltimore was a great city, and I enjoyed the time I spent there," said Hoard in 1998. "We were just getting used to the place. I remember one night Carwell Gardner [former Ravens fullback] and I went out and people thought we still played in the CFL. It was unlike Cleveland where everyone knew you.  I was always told that the grass wasn't always greener on the other side of the fence. Art [owner Art Modell] moved his team to Baltimore and we had to follow our paychecks. But the coaches there never asked me to do anything and they didn't tell me nothing. I always thought I could play but didn't get a chance. They never said anything to me why I was cut."
Marchibroda later told the media that Hoard was released for financial reasons and replaced by Bam Morris.
Only a week later, the Carolina Panthers signed Hoard to replace their injured starter Tim Biakabutuka.
He saw only three games in Carolina as a backup and netted 11 yards before he was released again.
Hoard was ready to settle down for the rest of the year before the Minnesota Vikings came calling.
"I had three apartments under lease," said Hoard in 1998. "I went home to get a job just to break even. I just wanted to relax, but on the following Monday I got a call from my agent. Minnesota needed another back. I was just going to wait until next season, but my agent advised me that I might not get back if I didn't play the rest of the season."

https://twitter.com/VikeFans/status/1119360248203173888
Hoard was signed to help fill the void of injured Vikings star Robert Smith.
During his first game in purple and gold, Hoard had 108 yards rushing.
His totals that season with Minnesota would include 105 rushing attempts for 420 yards and three scores and 10 receptions for 129 yards.
Hoard and the Vikings would appear in the playoffs but were crushed by Dallas 40-15.
1997 and 1998
Minnesota liked Hoard's play in '96 enough that they signed him to a two-year, $1.6 million deal in March of 1997.
In '97, he ran the ball 80 times for 235 yards and four scores and caught 11 passes for 84 more yards.
The Vikes went 9-7 and clipped the Giants in the Wild Card Round 23-22.
From his short-yardage back position, Hoard scored early in the third quarter of the game from four yards out to put Minnesota within 19-10 of New York.
The team eventually overcame the Giants in the fourth quarter.
The following week, San Francisco overwhelmed the Vikings 38-22, knocking them out of the postseason.
Before the 1998 season began, the Vikings were blessed with good fortune when Marshall receiver Randy Moss landed in their laps during the '98 NFL Draft.
With Moss on board, and added to an already potent offense, the Vikings went 15-1 and set a then NFL record with 556 total points during the regular season.
In the Divisional Round against Arizona, Hoard had a huge day.
On runs of one and six yards, as well as a 16-yard reception, Hoard scored a Vikings playoff record three touchdowns.
Minnesota easily took care of the Cardinals 41-21.
Most under-appreciated team: Leroy Hoard. We loved him. @BigMouthLeroy pic.twitter.com/EMIJ0oVzqV

— VikeFans (@VikeFans) May 13, 2021
The following week, it looked like the powerful Vikings would be headed to the Super Bowl.
In their NFC Championship matchup against Atlanta, Minnesota kicker Gary Anderson lined up for a 38-yard field goal attempt with just over two minutes remaining in the game.
If Anderson converted, the Vikings would go up by ten and effectively win the game.
However, Anderson's kick sailed left.
It was the first kick he missed in two years.
The Falcons came back and tied the score at the end of regulation and shocked the world when they won the game in overtime.
The loss stunned the Vikings and their fans, who expected the team to make it to their first title game since 1976.
That season, Hoard contributed 479 rushing yards, 198 receiving yards and 10 total touchdowns.
1999 and Retirement 
In 1999, the Vikings got off to a slow start but we're beginning to bounce back by Halloween.
That day, Minnesota was at Denver and looking to win and even their record at 4-4.
The game was tight and, at one point, the Broncos had the Vikings in a rough 3rd and 37 situation.
For most football aficionados, the game plan in this particular position calls for a pass.
However, Minnesota decided to try something different.
"They sent me in the game because I think Robert Smith was hurt" recalled Hoard during a radio interview in 2019. "They sent me in there, and so, I break through, I'm like hey now, five, ten yards, I'm breaking free! Then my worst case scenario, I broke free," Hoard said with a chuckle. "My little fat legs were going as fast as they possibly could, I am exhausted, I think somebody grazed my shoulder pad, and I fell down. When it was all done, I had fifty-something yards, all I remember is when I get to the sidelines (wide receiver) Cris Carter said 'Hey! You should've pitched it to me!' But I could not wait for somebody to tackle me," spoke Hoard of his career-long run. "I started thinking, what do you think was harder? Me getting 53 yards on a 3rd and 37? or us getting to 3rd and 37?"
Former Broncos Trevor Pryce then joined the radio show to offer his take of the play.
"When they gave Leroy the ball, we're like okay, little jelly roll is gonna get the ball and fall forward for four yards, they're gonna punt from their end zone, our offense is gonna be set up," recalled Pryce. "Our offense had gotten up off the bench, their (coaches) like 'alright okay, defense is back up!' and I was like what. just. happened?" said Pryce.

"I couldn't have been too much of a jelly roll, nobody wasn't catching me!" Hoard retorted. "The only reason why they caught me is because my body was not designed to run that far, when I got to forty yards, I'm telling you it was fear."

"Here's the thing, nobody blocked for him, the offensive line just sat there," replied Pryce. "(Left Tackle) Todd Steussie and (Offensive Guard) Randall McDaniel just kind of stood there but to everybody's shock, Leroy is running down the field. There is nobody around him for 25 yards."

"I was more impressed that there was nobody that could catch me!" Hoard said.

https://twitter.com/asiddiqui15/status/1194712465315188738
After 53 yards, Hoard was finally dragged down.
However, the play was the impetus for the Vikings eventual 23-20 victory.
The win kicked off a four-game winning streak as Minnesota finished the year at 10-6.
Hoard had 555 yards rushing and ten scores for the season along with 17 catches for 166 yards.
The Vikings defeated Dallas 27-10 in the Wild Card Round then lost to the "Greatest Show on Turf" Rams 49-37 in the Divisional Round (Hoard scored a touchdown in the second quarter).
Despite the fact that Hoard gained the second-most rushing yards of his career in 1999, he retired after the season.
In ten years, he gained 3,964 total rushing yards, 36 rushing scores, and 238 total receptions for 2,430 yards and 15 touchdown receptions.
Legacy and Health Trouble in Retirement
Hoard is remembered best in Cleveland and Minnesota for his short-yardage prowess.
In fact, regarding his skill set, he is best known for a quip he made to head coach Dennis Green during a strategy session while with the Vikings.
"Coach, if you need one yard, I'll get you three yards. If you need five yards, I'll get you three yards."

https://twitter.com/mattmoneysmith/status/908526467620802560
Hoard's good humor was dampened after retiring when health problems began to plague him.
Surgeries to his knee and shoulder, along with post-concussion syndrome, wreaked havoc on Hoard's life.
He struggled for years until a breakthrough in 2006.
"I remember it was, like, a Monday," Hoard said. "I was lying in bed, and I didn't go to work. I took migraine medicine, which makes you a little loopy. And then I hadn't slept in a couple of days, and I took some Ambien and I got up on a Thursday.  I was terrified. I mean, I was literally terrified. I had no idea what happened. It was scary. I turned on the TV, and it was (on the news that former Philadelphia Eagles defensive back) Andre Waters committed suicide. I was literally that close. And I was like, 'Holy smoke. What in the world?' And I was basically, like, I didn't know where I'm headed."

"Like all big backs like that, no position takes more of a pounding than running back," said Brian Billick, Hoard's offensive coordinator during his first three seasons in Minnesota before Billick left to become Baltimore's coach. "That was his style of play. He would just kind of pound away."

"I would turn on the TV and they would be talking about a story about a former NFL player who committed suicide, or I would turn on the TV and hear about something tragic happening to somebody that I probably looked forward to the next day. And every time I saw those things, I always thought to myself, 'Do I really have it that bad?' " Hoard said.
Thankfully, with the help of former Minnesota teammate Robert Smith, Hoard has gotten his life back on track, despite the constant pain he feels from his playing days.
Currently, he is part of a radio show on WAXY 790 AM in South Florida with Brendan Tobin.
He is married with children and his family has aided him through his dark periods.
PODCAST: Former #Browns RB- Leroy Hoard @BigMouthLeroy joined the Kenny & JT show today on @1480whbc talkin @Browns win over Pitt, playing for Belichick & Saban, thoughts on Stefanski, on Nick Chubb/Kareem Hunt, facing #CHIEFSKINGDOM, his prediction- https://t.co/bGvIgqPpyW pic.twitter.com/9nhGcIVLAU

— Kenny "The Roadman" Roda🎙🎧📻🏈⚾️🏀🏒⚽️ (@TheKennyRoda) January 15, 2021
"He goes day to day with a lot of pain," said Ray Peterson, his attorney. "Unfortunately, although he's looking for the magic solution to take care of it, what a lot of these guys have difficulty understanding is that there isn't a cure. What they've suffered in their playing days is going to be with them the rest of their lives, and there isn't a magic bullet that will take away the pain.  I think probably the best thing for him is his family, and they've been very supportive in helping him through the disability level he has."

"It's not always easy, but I guarantee you there are people that are worse off than I am," said Hoard.