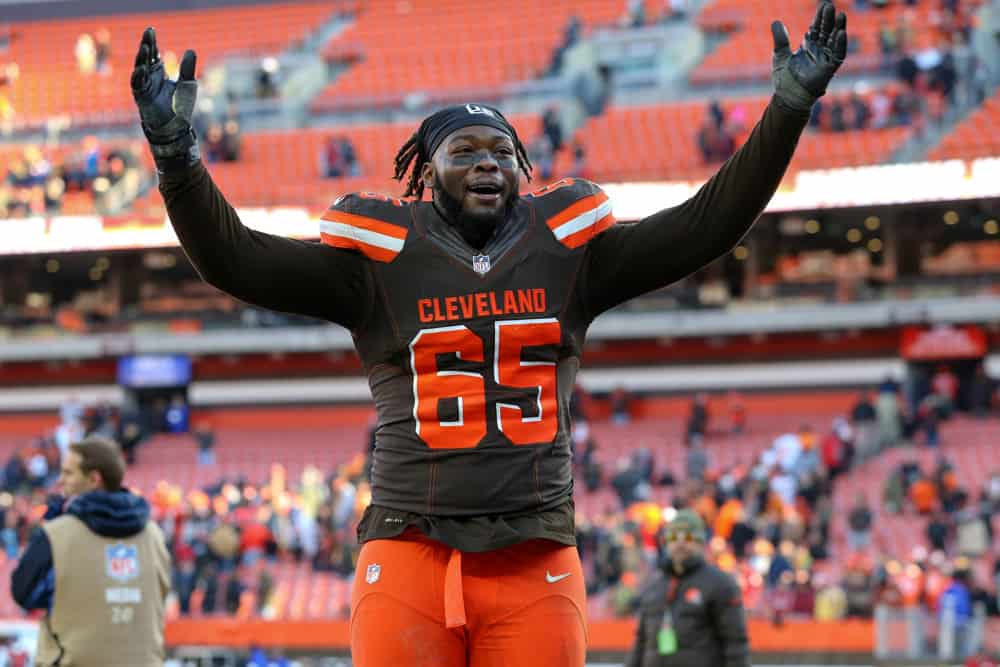 Browns Nation will be live this Saturday at the 2020 Reese's Senior Bowl covering the game with reports and insights.
Several potential future Browns compete this Saturday in front of plenty of NFL coaches, scouts, and media.
While we speculate on some of the top players to fill needs for the Browns next season, we look back on four current Cleveland Browns that competed in the Senior Bowl in their last season of college eligibility.
Each one of these players benefitted from their Senior Bowl performance to elevate their draft status.
1. Christian Kirksey, 2014 Senior Bowl
Christian Kirksey had an illustrious college football career as a linebacker for the Iowa Hawkeyes from 2010 to 2013.
Kirksey started every game at linebacker for the Hawkeyes for three seasons, finishing his tenure at Iowa with 315 career tackles.
Selected to the all-Big 10 team as an honorable mention his senior year, he was certainly considered to be one of Iowa's top NFL draft prospects in the 2014 NFL draft.
Kirksey accepted an invitation to play in the 2014 Senior Bowl for the North team.
Leading up to the game, Kirksey had an impressive week of practice, and his athleticism caught the eye of many NFL scouts and coaches.
Although the North team lost 20-10 that year, Kirksey finished the game with six tackles, including 1.5 tackles for loss.
Post at @BR_NFL: 10 prospects that stood out at Senior Bowl. QB Jimmy Garoppolo, DE Dee Ford, LB Christian Kirksey…http://t.co/xh8FZtP6VD

— Matt Bowen (@MattBowen41) January 23, 2014

Kirksey was projected as a late 3rd round prospect but consequently drafted early in the 3rd round (71st overall) by the Browns.
His preparation and play at the Senior Bowl event helped his status in the draft that season, as the Browns wanted a physical inside linebacker to boost their run-stopping production.
Kirksey has been a fixture on the Browns' roster ever since, tallying 484 combined tackles, 30 tackles for loss, and 11.5 sacks in his Cleveland career.
In 2018, Kirksey was the Browns' nominee for the Walter Payton Man of the Year Award for his work with Cleveland children in need.
2. Joe Schobert, 2016 Senior Bowl
Coming out of high school, Joe Schobert did not have any Division I scholarship offers to play football.
He planned to attend North Dakota as a walk-on before his amazing performance in the Wisconsin Football Coaches Association all-star game.
As a result of his play, the University of Wisconsin offered Schobert preferred walk-on status after the game.
Schobert went on to earn All-Big 10 first team and linebacker of the year honors by his senior year at Wisconsin.
Similar to his senior year of high school, Schobert accepted a college all-star game invitation to show he could play at the next level.
#Badgers OLB Joe Schobert accepts an invite to the 2016 Reese's Senior Bowl: https://t.co/dOzgli0YkR pic.twitter.com/PiLz7dQsTb

— Bucky's 5th Quarter (@B5Q) November 24, 2015
Schobert played for the North team in the 2016 Senior Bowl after adding 10 pounds of weight at the end of his senior year.
The extra weight did not slow him down, as he returned a blocked field goal for 73 yards in the North's 16-27 loss in the Senior Bowl.
Leading up to the game, Schobert had an excellent week of practice and the scouts and media took notice.
The Browns were impressed with Schobert's work ethic and drafted him in the 4th round that year.
Schobert emerged in Gregg Williams' 4-3 defense in 2017, starting all 16 games.
He ended the year tied for first place in the NFL for combined tackles.
In 2019, Schobert recorded four interceptions and was a leader on an injury-maligned defense.
Schobert is an unrestricted free agent this offseason, and it is uncertain if the Browns will move to resign him.
But his Senior Bowl performance catalyzed his draft interest and brought him to Cleveland for an impressive NFL career so far.
3. Larry Ogunjobi, 2017 Senior Bowl
Larry Ogunjobi might be a poster child for the positive draft impact from a Senior Bowl performance.
Ogunjobi played college football at the University of North Carolina at Charlotte where he had 217 tackles and 13 sacks in his career.
He was a first-team All-Conference USA team as a senior, and accepted an invitation to play in the 2017 Senior Bowl.
#49ers lineman Larry Ogunjobi earns Senior Bowl slot @Charlotte49erFB #CUSAFBK @Conference_USAhttps://t.co/K4dWaxDi8Q pic.twitter.com/RdjrcCZtWf

— The Charlotte Observer (@theobserver) November 26, 2016
Coincidentally, the Cleveland Browns were one of the Senior Bowl coaching staffs in 2017.
As a defensive lineman for the North squad, Ogunjobi made a huge impact on the head coach of the South squad, Hue Jackson.
He impressed the Browns with his effort and hard work in Mobile during Senior Bowl week.
Leading up to the game, Ogunjobi was projected to be a fifth or sixth-round draft pick.
Cleveland drafted Ogunjobi in the third round of the 2017 draft, making him the first NFL player ever to come from UNC-Charlotte.
Ogunjobi had a solid rookie season in 2017, and drew praise from DC Gregg Williams during the 2018 season for his Nose Tackle play.
With injuries and suspensions on the 2019 Cleveland defense, Ogunjobi held his own with consistent play this season.
Ultimately, Ogunjobi's participation and performance in the Senior Bowl landed him in Cleveland.
Ogunjobi is now an integral and valuable part of the Browns' defense.
4. Sheldrick Redwine, 2019 Senior Bowl
Sheldrick Redwine's Senior Bowl experience likely helped him solidify a position in the NFL.
The Miami Hurricanes recruited Redwine as a CB out of high school.
The Hurricanes moved him to safety, where he developed into an outstanding defensive player and an All-ACC performer his senior year.
After his move from corner to safety, Sheldrick Redwine anchored a very good Miami defense with his athleticism, tackling ability and cover skills. Someone's NFL team is getting a very versatile defensive back! 💪#ItsAllAboutTheU (@CanesFootball, @_23NeverLeft) pic.twitter.com/J2N2b4xgYU

— ACC Digital Network (@theACCDN) April 23, 2019
Redwine accepted an invite to the 2019 Senior Bowl, but was moved to CB for the game by the 49ers coaching staff.
Redwine's performance in the game drew mixed reviews.
Some reports raved about his speed and athleticism, while others called out his struggles in man coverage.
However, the Browns saw something that they liked from Redwine in the game.
The Browns drafted Redwine in the 4th round to play safety alongside Damarious Randall and Morgan Burnett this past season.
Redwine improved over the 2019 season, and the Browns are hopeful for even more production from him in 2020.
His Senior Bowl performance emphasized the comfort level that he plays in as a safety instead of a cornerback.