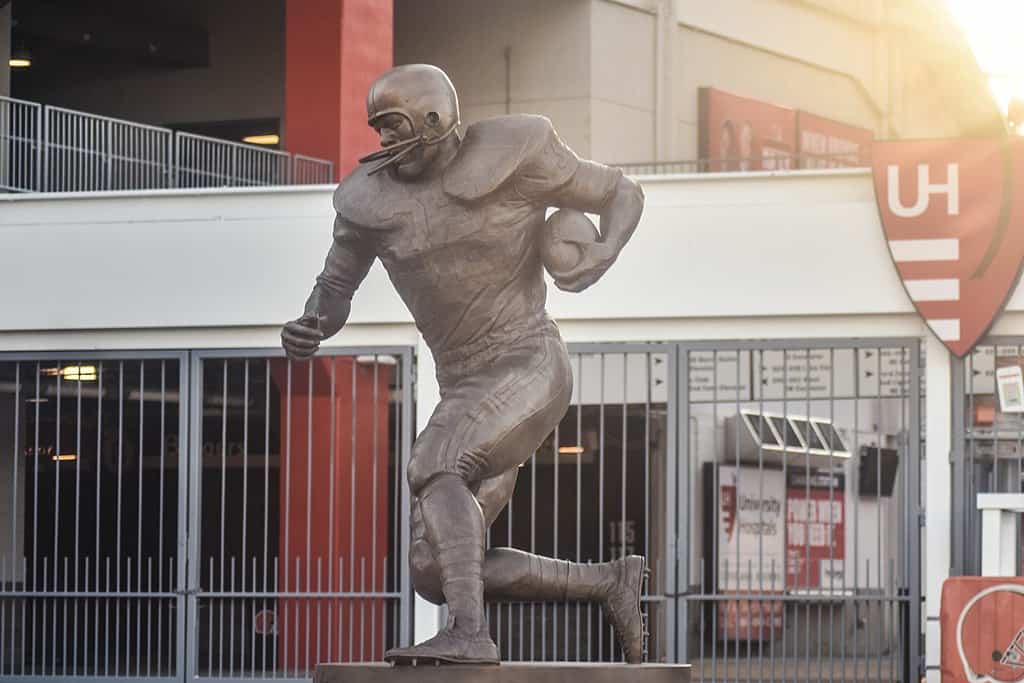 During the first 20 years of their existence, the Cleveland Browns were a model franchise.
Immediately after forming, the team won four straight All-America Football Conference Championships.
After merging with the NFL, the team played in nine championship games from 1950-1965, winning four.
Some of the athletes that played during those glory years have been immortalized in the Browns "Ring of Honor", the Pro Football Hall of Fame, or both.
A very select few have had their numbers retired by the franchise.
The names are a who's-who of AAFC and NFL greats as well as a couple who showed NFL promise, only to have their lives tragically cut short.
The following is the complete list of Cleveland Browns who have had their playing numbers retired.

Otto Graham, Number 14, 1946-1955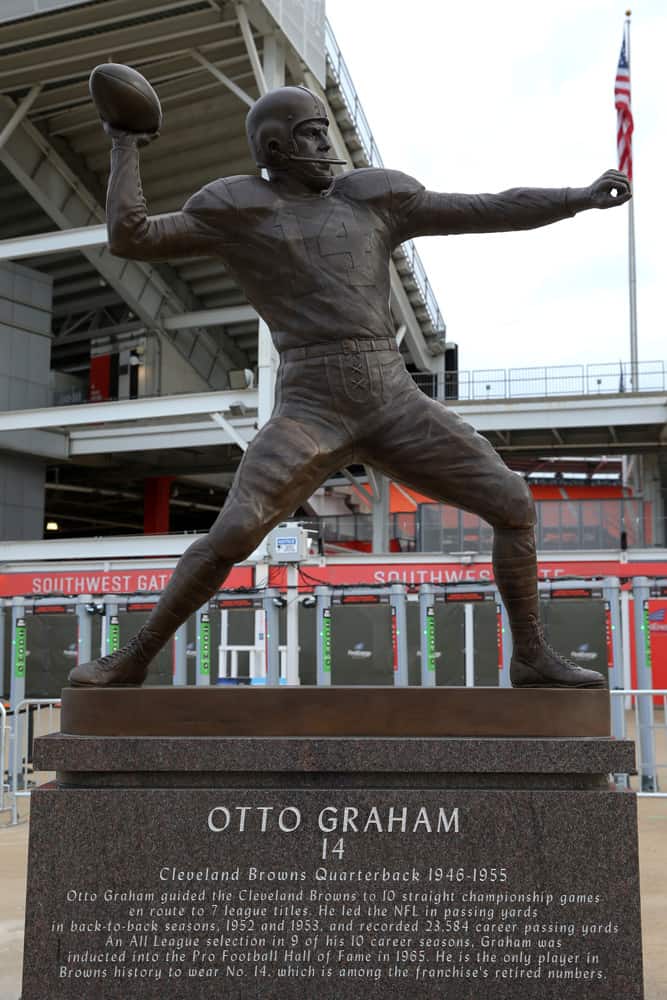 After an eventful college career at Northwestern University, Browns founder and head coach, Paul Brown, selected Graham with the fourth overall pick of the 1944 draft.
He joined the team in 1946 once his military service with the Navy ended.
Graham initially began his first season with Cleveland as a backup, but quickly became a starter.
The Browns franchise was a wrecking ball in the All-America Football Conference.
With a dominant offense and defense, the team reeled off four straight AAFC titles from 1946-1949,
Otto Graham 🐐
Vintage #Browns pic.twitter.com/l7ZFy78bfZ

— Vintage Browns (@VintageBrowns) November 9, 2019

Graham had the choice of either handing off or throwing the ball to future Hall of Famers Marion Motley, Mac Speedie, and Dante Lavelli.
When the Browns joined the NFL in 1950, the team kept rolling.
Graham led the franchise to NFL Championship titles in 1950, 1954, and 1955.
After the 1955 Championship game, Graham was named the game's MVP.
Amazingly, he was also named MVP of the 1951 and 1953 NFL Championship games even though the Browns lost both games.
During his playing career, Graham won a total of seven championships and was: Voted to the Pro Bowl five times, a four-time First-Team All-Pro, voted to the NFL's 1950's All-Decade Team, and voted to the 75th and 100th Year Anniversary teams.
Otto Graham is one of 10 QBs selected to the #NFL100 All-Time Team!

🏈 3x NFL Champion
🏈 7x First-Team All-Pro (T-Most by QB in NFL history)
🏈 5x Pro Bowler
🏈 9 yards/attempt (most in NFL history) pic.twitter.com/UiCGs3tGsm

— NFL (@NFL) December 28, 2019
After retiring, Graham coached the Coast Guard Bears from 1959-1965, and 1974-1975, and the Washington Redskins from 1966-1968.
He was also the athletic director for the Coast Guard until 1984.
For his athletic accomplishments, Graham was elected into the Pro Football Hall of Fame in 1965.
Graham passed away on December 17, 2003 in Sarasota, Florida.

Jim Brown, Number 32, 1957-1965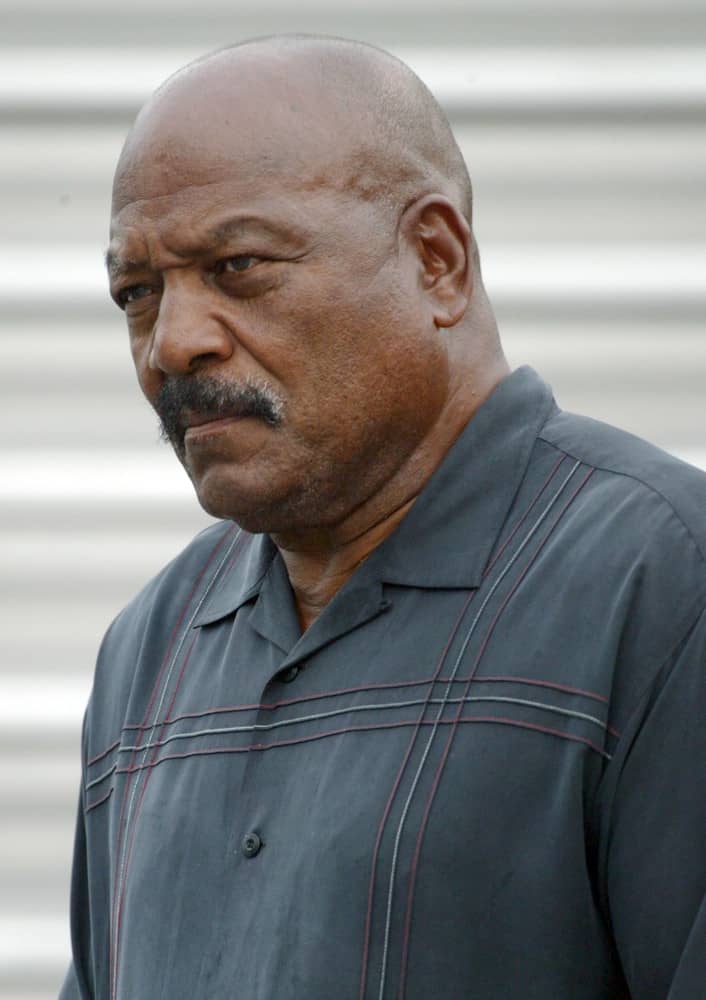 Brown was a four-sport super star at Syracuse University before being drafted with the sixth overall pick in the 1957 NFL Draft.
His dominance was on display early in his pro career.
In just his ninth NFL game, Brown rushed for 237 yards against the LA Rams.
That mark set a league single-game record and rookie record at the time.
He was voted the NFL's Rookie of the Year after the season.
Some tough choices were made, but this is my Cleveland Browns Mount Rushmore.

Otto Graham
Jim Brown
Joe Thomas
Clay Matthews #Browns pic.twitter.com/HTRO1KmBUv

— Michael (@big_mike9169) May 24, 2020
In just his second year, Brown broke the NFL's single-season rushing record with 1,527 yards.
With his speed, agility, and quickness, Brown was elusive on the field.
He put fear into opponents with his bruising running style, often refusing to step out-of-bounds to avoid a hit.
Jim Brown. pic.twitter.com/wovpjHTlbS

— John Frascella (@LegendSports7) July 26, 2020
After experiencing playoff defeat his first few years in the league, Brown finally tasted the spoils of a championship in 1964.
He was the MVP of the 1965 NFL Championship game, though the team lost the contest to the Packers.
In a controversial move, Brown retired after the '65 season to pursue an acting career.
He was 29 at the time.
Although Brown played only nine seasons, he left a legacy of greatness.
He was: Voted to the Pro Bowl after each of his seasons, an eight-time First-Team All-Pro, three time NFL MVP, Rookie of the Year, eight time rushing yards leader, voted to the NFL's 1960s All-Decade Team, and the NFL's 50, 75, and 100 Year
Anniversary teams.
Not surprisingly, Brown was elected to the Pro Football Hall of Fame in 1971.
After retiring from the game, Brown was active in Hollywood for decades where he had roles in dozens of television and movie titles.
He was (and continues to be) involved in community activism.
Still going strong in his 80s, Brown resides with his wife in Los Angeles.

Ernie Davis, Number 45, 1962
Ernie Davis was a man that you should never forget. He was the first ever African-American to win the @HeismanTrophy while at Syracuse and broke all of Jim Brown's records. He was traded to the @Browns after being drafted but passed away before playing a game. #45 #TNF #NYJvsCLE pic.twitter.com/xHSwg85c1H

— College Football Hall of Fame (@cfbhall) September 21, 2018

Not long after Jim Brown was drafted by the Browns out of Syracuse in 1957, Ernie Davis joined the Syracuse squad in 1959.
Brown was his hero and Davis' athleticism while at Syracuse reminded many of Brown's own college achievements.
After the 1959 season, the Orangemen won the National Championship, defeating the Texas Longhorns 23-14.
Davis was named the game's MVP.
During the season, a newspaper writer gave Davis the nickname "The Elmira Express" after the town he was from.
The new Ernie Davis mural down here in Elmira, NY. Erine's hometown. 🍊 @CuseFootball @Cuse pic.twitter.com/aGUuR0eoQj

— Brandon (@Go0range44) June 16, 2018
While a junior, Davis was the third leading rusher in the country with 877 yards and set a record with 7.8 yards per carry.
Although Syracuse finished the year 7-2, the team did not qualify for a bowl game.
As a senior, Davis helped the program to an 8-3 record and a berth in the Liberty Bowl versus the Miami Hurricanes.
During the game, Davis rushed 30 times for 140 yards and a touchdown to lead the Orangemen to a 15-14 victory.
Once the season concluded, Davis was awarded the Heisman Trophy, the first African-American to win the prestigious award.
It's such a source of pride knowing I attended and played football at the same university as the great Ernie Davis, the first African American to win the Heisman Trophy. @CuseFootball #BlackHistoryMonth #BlackExcellence pic.twitter.com/WytG1f2KKj

— Dwight Freeney (@dwightfreeney) February 12, 2019
Davis' college career numbers led to him being selected first overall by the Washington Redskins in the 1962 NFL Draft.
However, Davis refused to sign with the team because the 'Skins were owned by George Preston Marshall, an acknowledged racist.
Seeing an opportunity, Cleveland head coach Paul Brown made a deal with Washington and commenced a trade that brought Davis to the Browns.
The move was considered a coup.
The prospect of having Davis and Brown in the same backfield delighted Browns fans and frightened every other NFL team.
Sadly, while preparing to play the Green Bay Packers before the 1962 College All-Star Game, Davis was hospitalized with what was initially thought to be mono.
He was soon diagnosed with leukemia.
After undergoing treatment, the disease went into remission and Davis expressed desire to suit up for the Browns.
However, Coach Brown refused to allow Davis to suit up, waiting instead to make sure the condition was fully under control.
Unfortunately, the leukemia returned.
This time, the treatments did not have the desired effect and Davis succumbed to the disease on May 18, 1963.
Although he did not play a down for Cleveland, the franchise retired his number soon after his passing.

Don Fleming, Number 46, 1960-1962
Closer and closer.

4️⃣6️⃣ more days till kickoff! pic.twitter.com/5bVwHOwj6V

— Cleveland Browns (@Browns) July 25, 2018

Fleming was born and raised in Ohio.
After finding success as a prep player at Shadyside High School in Shadyside, Ohio, Fleming chose to play college ball at The University of Florida.
From 1956-1958, Fleming was an outstanding receiver for the Gators.
During the 1958 season, he was a team captain and was later named a First-Team All-SEC selection.
Fleming performed so well, his college coach called him the best Gators receiver of the 1950s.
After the '58 season, the Chicago Cardinals football team drafted Fleming.
However, the Cardinals were not known for success and Fleming chose to stay in college to play baseball.
Once his NCAA eligibility expired after the 1960 season, Fleming was, again, faced with the prospect of playing for the Cardinals, who still held his rights.
Fleming contacted his former Gators teammate, Bernie Parrish, who was playing for Cleveland.
He asked Parrish to put in a good word for him with Paul Brown and Brown orchestrated a trade with Chicago.
Once he signed with Cleveland, Brown switched Fleming to defensive back, where he teamed with Parrish.
1963 Topps Football #22 Don Fleming Cleveland Browns PSA 8 NM-MT: $157.50 (0 Bids) End Date: Thursday May-3-2018 8:18:19 PDT Bid now | Add to watch list https://t.co/tomN3dvK6b pic.twitter.com/VswfZ6rzxD

— SportsCardKing.com (@SportsCardKing_) May 3, 2018
During three seasons with the team (1960-1962), Fleming more than held his own.
He was responsible for 10 picks and four fumble recoveries during the three year period.
After the 1962 season, The Sporting News named Fleming to their All-NFL team.
While playing for the Browns, Fleming and his wife lived in his hometown of Shadyside and then Winter Park, Florida during the offseason.
While in Florida, Fleming worked for a construction company.
He had majored in building construction in college and prepped for his future by working in the industry when he could.
On June 4, 1963, Fleming and a co-worker were operating a crane at a construction site near Orlando.
The crane brushed against a high tension electrical line and sent 12,000 volts back at Fleming.
The two workers were immediately electrocuted and efforts to revive them failed.
The news of Fleming's death came hours after the Browns had announced that he had signed his contract for the upcoming 1963 season.
Unfortunately, this was the second death in 17 days for Cleveland.
Ernie Davis had passed away from complications due to leukemia in May of that year.
#TBT Cleveland @Browns practice at Don Fleming Field before 1965 NFL Championship Game. https://t.co/vulL2kAKte pic.twitter.com/R3Fq9tkfzT

— Cleveland Public Library (@Cleveland_PL) November 17, 2016
Fleming was later inducted into the University of Florida Athletic Hall of Fame.
The Browns retired both Davis' and Fleming's playing numbers soon after their deaths.

Lou "The Toe" Groza, Number 76, 1946-1959, 1961-1967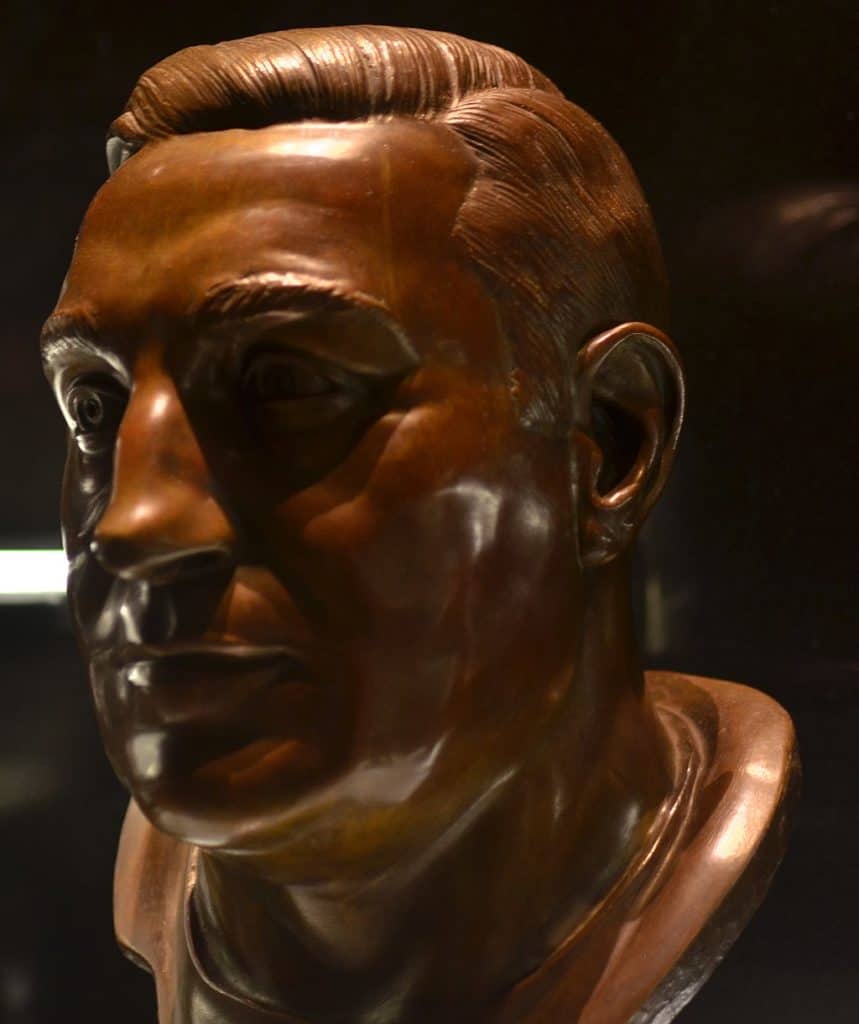 Imagine if you will a person who begins playing pro football after World War II ends and retires at the height of the Vietnam War.
That person just happens to be Lou Groza.
Groza played multiple positions for Cleveland (though primarily as a kicker) for three decades.
His longevity in the pro game has rarely been matched.
Lou Groza and his famous square-toed kicking shoe. The legendary #Cleveland #Browns placekicker and offensive tackle was born in the tough industrial town of Martins Ferry, #Ohio on January 25, 1924. You don't get much more classic old school football than this. #NFL #Midwest pic.twitter.com/kR5QhRV7Tw

— Patrick Kerin (@PatrickKerin1) January 26, 2020
The Martins Ferry, Ohio native was a standout prep star and then matriculated to Ohio State University on an athletic scholarship.
Groza played tackle and kicker as a freshman then left the school to join the Army as WWII was ravaging the planet.
He served in the 96th Infantry Division in Okinawa and was witness to numerous war atrocities.
Legendary #Cleveland Browns tackle and placekicker Lou Groza was born in Martins Ferry, #Ohio on January 25, 1924. He was also a US Army veteran of #WWII who served in the South Pacific. Classic old school for sure. I miss these guys. pic.twitter.com/vzzZtJZWMt

— Patrick Kerin (@PatrickKerin1) January 26, 2019
While stationed in Okinawa, Groza received a package from his Ohio State coach, Paul Brown.
In the package was a contract for Groza to join Brown's new team, the Cleveland Browns, of the AAFC when his time in the Army ended.
Groza signed the contract and was given a $500 monthly stipend and a $7,500 annual salary, all while still serving in the Armed Forces.
When he was discharged, Groza showed up to Browns training camp in Army fatigues and a duffel bag.
As it turns out, he joined a team that was poised for greatness.
From 1946-1949, the Browns dominated the competition in the AAFC.
The team won the league title each year and left little doubt that they were the team to beat.
In 1950, the Browns joined the NFL and continued to put on a display of athletic prowess.
As a member of the franchise, Groza played offensive and defensive tackle, center, and kicker.
His abilities as a kicker led to a sportswriter giving him the moniker "The Toe."
That same toe helped lead the Browns to NFL Championships in 1950, 1954, and 1955.
New post (Lou Groza, Cleveland Browns …) has been published on – https://t.co/BapdNPzkH6 pic.twitter.com/qZD3wFYH1q

— foot ball fan (@footbal10413764) August 15, 2017
Citing back issues, Groza retired following the 1959 season.
However, he returned two years later and continued his dominance as a kicker.
During the next seven years, Groza provided numerous highlights for Cleveland.
Among them was another NFL Championship in 1964.
By the time he retired for good after the 1967 season, Groza had made a name for himself as one of the all-time greats.
During his pro career, Groza won eight total championships.
He also was a: Nine-time Pro Bowler, four-time First-Team All-Pro, NFL MVP (1954), and named to the NFL's 1950s All-Decade Team and 50th Anniversary All-Time team.
Groza was inducted into the Pro Football Hall of Fame in 1974.
In retirement, Groza ran a successful insurance business and was a de facto Browns ambassador.
After having dinner with his wife on November 29, 2000, Groza suffered a heart attack and passed away soon after.
During the 2001 season, the Browns wore Groza's number '76' on their helmets to honor him.