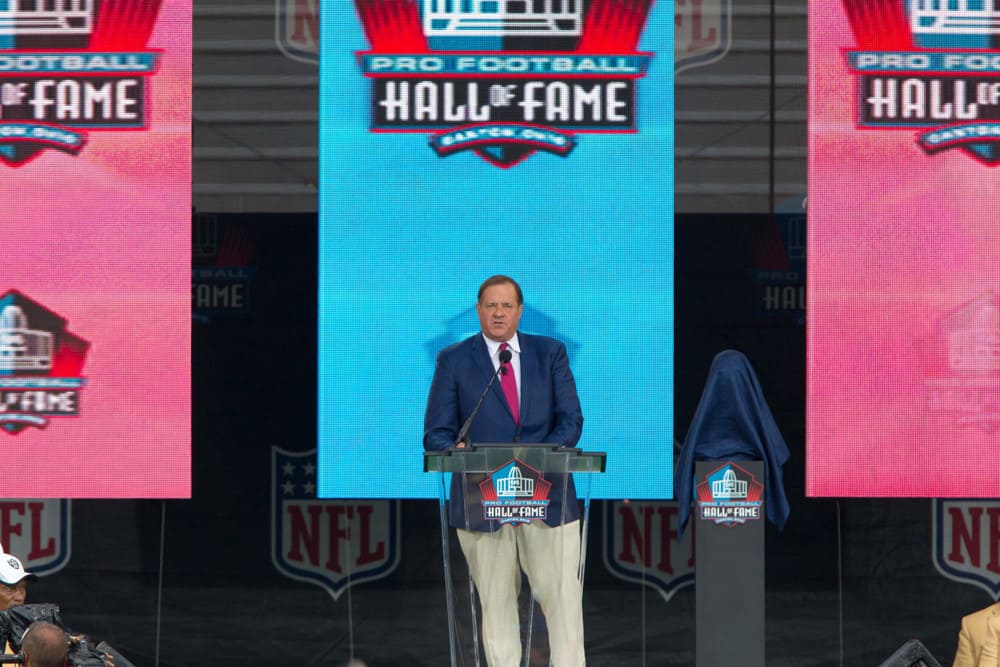 Two of the 15-person centennial class for the Pro Football Hall of Fame have ties to the Cleveland Browns.
It includes longtime Pittsburgh Steelers coach Bill Cowher, who played linebacker for the Browns from 1980-1982 and served as an assistant coach from 1985-1988.
Cowher is set to become the 327th member of the Pro Football Hall of Fame.
On Saturday, the Hall's president, David Baker, told Cowher of his election during CBS' broadcast of "NFL Today."
The newest member of the @ProFootballHOF: Bill Cowher.
Congratulations, @CowherCBS! #PFHOF20 pic.twitter.com/s5f1gXuDfO

— CBS Sports (@CBSSports) January 12, 2020
After Cowher served as the Browns' special teams coach from 1985-1986 and as the defensive backs coach from 1987-1988, he held the Kansas City Chiefs defensive coordinator position from 1989-1991.
Cowher succeeded Hall of Famer Chuck Noll as Steelers head coach in 1992.
In 15 seasons with the Steelers, he compiled 149 regular-season wins, 12 playoff wins, nine seasons with at least 10 wins, 10 playoff appearances and a win in Super Bowl XL.
Joining Cowher in the centennial class is former Browns offensive end Mac Speedie, who will be posthumously inducted.
Speedie played for the Browns from 1946-1952 in the All-America Football Conference and the NFL.
In seven seasons with the Browns, Speedie won five championships (four in the AAFC and one in the NFL) and caught 33 touchdown passes.
Speedie is due to become the Browns' 17th Hall of Fame and first inducted since Gene Hickerson in 2007.
Initially, the Detroit Lions drafted Speedie in 1942, but he didn't begin his pro career until 1946 after serving in World War II.
Speedie made six All-Pro teams, led the league in receptions four times and receiving yards twice.
In 1993, Speedie died at age 73.
With his recent election to the #PFHOF20 class, we celebrate the life and career of Mac Speedie!@Browns pic.twitter.com/RbIjhhM52B

— Pro Football Hall of Fame (@ProFootballHOF) January 15, 2020
#Browns Legend Mac Speedie selected for Pro Football Hall of Fame's Centennial Class

📰 » https://t.co/yQLfBVh44r pic.twitter.com/iMf3WP3LKa

— Cleveland Browns (@Browns) January 15, 2020
Former Browns and Baltimore Ravens owner Art Modell was not selected to the Pro Football Hall of Fame.
Modell was a finalist for selection in 2002, 2013 and 2020.
The late NFL owner purchased the Browns in 1961 and moved the franchise to Baltimore after the 1995 season.
The rest of the centennial class includes:
Jimmy Johnson, Dallas Cowboys coach from 1989-1993 and Miami Dolphins coach from 1996-1999
Steve Sabol, NFL Films administrator/president from 1964-2012
Paul Tagliabue, NFL Commissioner from 1989-2006
George Young, contributor/general manager for the Baltimore Colts from 1968-1974, Miami Dolphins from 1975-1978, New York Giants from 1979-1997 and the NFL from 1998-2001
Harold Carmichael, wide receiver for the Philadelphia Eagles from 1971-1983 and Dallas Cowboys in 1984
Jim Covert, Chicago Bears offensive tackle from 1983-1990
Bobby Dillon, Green Bay Packers safety from 1952-1959
Cliff Harris, Dallas Cowboys safety from 1970-1979
Winston Hill, offensive tackle for the New York Jets from 1963-1976 and Los Angeles Rams in 1977
Alex Karras, Detroit Lions defensive tackle from 1958-1962, 1964-1970
Donnie Shell, Pittsburgh Steelers safety from 1974-1987
Duke Slater, offensive tackle for the Milwaukee Badgers in 1922, Rock Island Independents in 1922-1925 and the Chicago Cardinals from 1926-1931
Ed Sprinkle, defensive end, linebacker and offensive end for the Chicago Bears from 1944-1955
Sabol, Young, Dillon, Hill, Karras, Slater and Speedie will be posthumously inducted.
The induction ceremony is scheduled for Aug. 6-9 in Canton, Ohio.