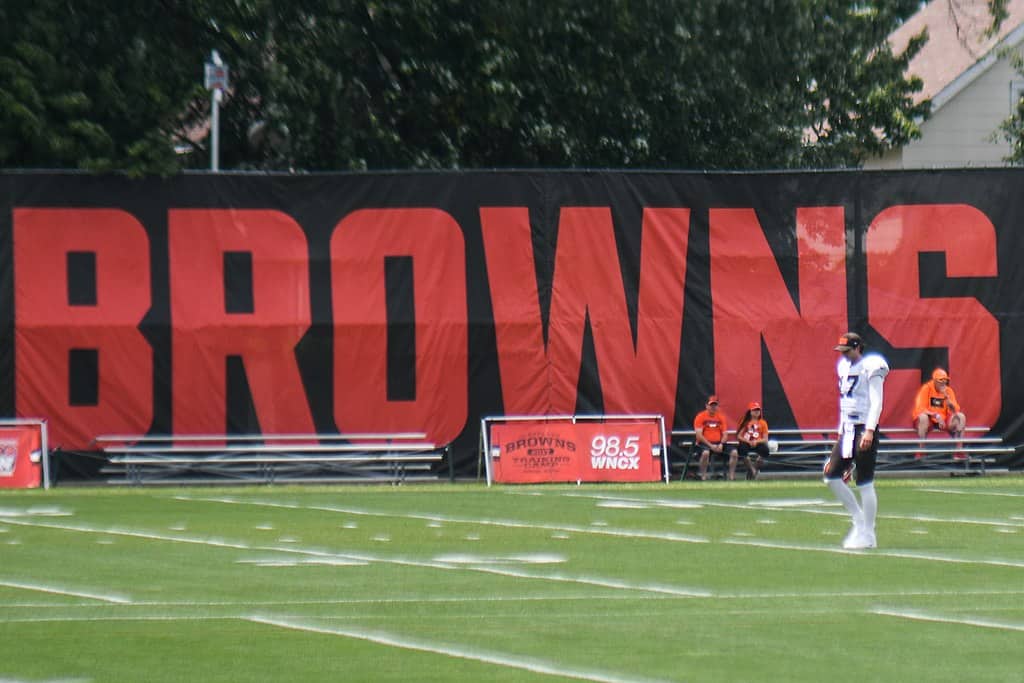 During his press conference, Kevin Stefanski stated that the first two practices were scripted, but Alex Van Pelt called the plays:
#Browns Stefanski says OC Alex Van Pelt has been calling the scripted plays in practice and that he'll announce the season play caller when the time is right pic.twitter.com/ESvARz98Qk

— Mary Kay Cabot (@MaryKayCabot) August 17, 2020

The offseason prior to the 2020 NFL season has been very intriguing.
Unfortunately, most fans' attention has been drawn to Nick Chubb's possible concussion.
Meanwhile, the play-calling responsibilities in Cleveland have been one of many discussion points for Stefanski and his coaching staff.
Fans have continued to wonder who will end up calling the offensive plays for the Browns in 2020.
Here is more on what Stefanski had to say about the possibility of Van Pelt calling the plays for the team:
On if offensive coordinator Alex Van Pelt has called plays during the first two practices:

"Yes."

On if that is an indication Van Pelt will be the play caller during the season:

"We are going to work through that. With practices, they are scripted. It is really just relaying the play that is already scripted. We are working through that and will announce that when it is appropriate."
Stefanski may still be trying to make a decision, but it could be more likely that this is a type of gamesmanship.
It is possible that Stefanski is trying to avoid any opponents from gaining a competitive edge.
Van Pelt does not have any official play-calling experience, so the decision may actually end up being an easy one.
Stefanski called plays for the prolific Minnesota Vikings offense in 2019.
The new Browns head coach should be able to bring strong play-calling to Cleveland.
Stefanski's History of Play-Calling
Earlier in the offseason, we discussed Stefanski's history of play-calling with Minnesota.
I did a deep dive on each offense's pass/run splits to aid #FantasyFootball projections.

+ Which teams will pass more?
+ Neutral situation pass rates
+ Pass rates with a lead
+ Pass rates while trailing
+ Which teams change bc of score

Link: https://t.co/VTcmYtF4Wn

Preview: pic.twitter.com/fQsRlKiUBo

— Hayden Winks (@HaydenWinks) June 8, 2020
Stefanski's playcalling, which changed based on the game situation, led to a top-eight offense in the league.
In addition, the Vikings had the fifth-best takeaway/giveaway ratio in 2019.
In Minnesota, Stefanski had a tremendous two-some at wide receiver in Adam Thielen and Stefon Diggs.
He is moving to an arguably better tandem in Cleveland with Odell Beckham Jr. and Jarvis Landry.
Although Landry was snubbed from Pro Football Focus's top-25 wide receiver rankings, he had a very strong 2019 season.
Stefanski should be able to have both of them play to their potential in 2020.
Overall, Stefanski will lean on the running backs more than other teams will, but then be able to use the passing game when the game demands it.
There are many reasons that Stefanski should be the play-caller instead of Van Pelt.
So, should Stefanski be the play-caller?
Should Stefanski or Van Pelt Be the Offensive Play-Caller?
With it being the first year for both Stefanski and Van Pelt in their respective coaching positions, it seems Stefanski is the better option.
This is the first year that they are working together, and just to keep the coaching hierarchy in place, the standard play is to go with Stefanski.
Some may say that the decision is a moot point because they will be working together very closely.
Regardless of who calls the plays, the Browns have plenty of offensive weapons for Baker Mayfield in 2020.
With multiple potential standouts at running back, wide receiver, and tight end, this Browns offense projects to be in the top 10.
The play-caller could potentially have an impact on if the Browns offense can step up this year.
However, at this point, it is too early to tell if one person's play-calling is better than the other's.
Therefore, we will have to wait and see what decision is made.
In my humble opinion, Stefanski should be the play-caller because of his experience and previous success.