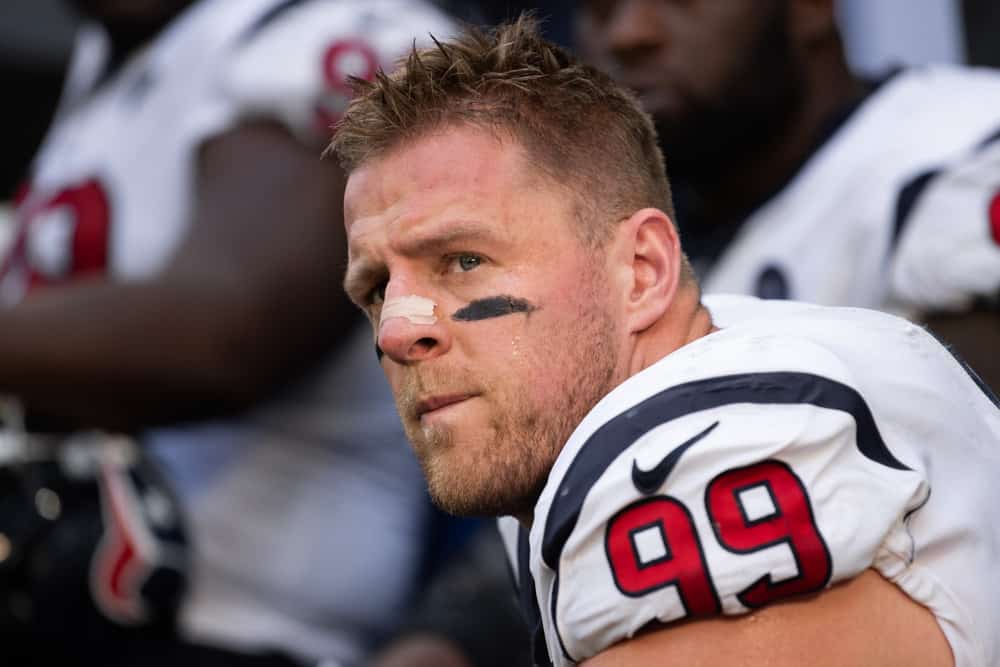 In a move few saw coming, J.J. Watt signed a 2-year deal to join the Arizona Cardinals today.
Fans of the Cleveland Browns can end one free-agent debate with a sigh of relief he is not in Pittsburgh.
Watt posted the announcement on social media, citing himself as the source.
source: me. pic.twitter.com/1Y6okQBUy5

— JJ Watt (@JJWatt) March 1, 2021
Arizona was not among the 4-5 teams believed to hold the best odds of adding Watt.
In fact, they weren't among the 12 rumored to make offers, either.
The only previous clue to be found about the signing is an Instagram post from former teammate DeAndre Hopkins.
Hopkins, traded from the Texans to the Cardinals last year, posted a photo of the two about a week ago.
But it was the caption, "let's finish what we started" that should have pushed Arizona into the rumor mill.
View this post on Instagram
Watt says his deal is $31 million with $23 million guaranteed over the two seasons.
That is more than what most teams were believed to offer before news broke of a $15-16 million deal on the table.
Watt was unceremoniously released by the Texans, allowing him to sign a deal before the official free-agency season.
Signing now did a lot of teams a favor by allowing them to adjust their edge rusher pursuits before March 17.
What About Watt's Super Bowl Dream? 
Arizona is not often listed among top Super Bowl contenders, which made them a long-shot to sign Watt.
As he nears the end of a great career, it was assumed someone with better odds would draw Watt's interest.
But Cardinal fans believe they are closer than the rest of the NFL might think.
Reunited in Arizona 👀@JJWatt 🤝 @DeAndreHopkins pic.twitter.com/bXzE7fpAMY

— ESPN (@espn) March 1, 2021
They have a franchise quarterback and a good mix of young and veteran skill players on offense.
Their defense was solid, and now boasts the magic ingredient Cleveland is looking for: bookend edge rushers.
Chandler Jones will play opposite Watt for the next two years if all goes as planned.
Jones racked up 72 quarterback sacks over the past 5 seasons before last year's injury-interrupted campaign.
But if the Cardinals are to win the big game in that time, they have to fix their offensive line real fast.
Expect Arizona to compete with the Cincinnati Bengals for the biggest free-agent offensive linemen.
What Is Cleveland's Plan B? 
Watt's signing will shift the focus of rumors about the Cleveland Browns' free-agent targets.
But they certainly won't diminish the number of them.
Previous rumors indicated Andrew Berry has an interest in bringing Von Miller to Cleveland.
But Ian Rappaport says the Broncos are likely to reach a deal keeping him in Denver.
There is no shortage of free agent edge rushers available.
Welcome to the Valley, @JJWatt!

We have agreed to terms with J.J. Watt on a two-year contract.

— Arizona Cardinals (@AZCardinals) March 1, 2021
Shaq Barrett is the best of the group, but Tampa Bay will do everything they can to meet his price.
Jadeveon Clowney might re-think his aversion to Cleveland, but that would be an unpopular fit for Browns fans.
Berry could make a pitch for Carl Lawson of the Bengals or Matthew Judon of the Ravens.
Cleveland could also go with a solid, but unspectacular player like Kyle Fackrell or Markus Golden, the player Watt replaces.
Overall, there are 78 edge rushers available in free agency of various ages and abilities.
Free agency signings begin on March 17, so there is plenty of time for conjecture and more rumors.