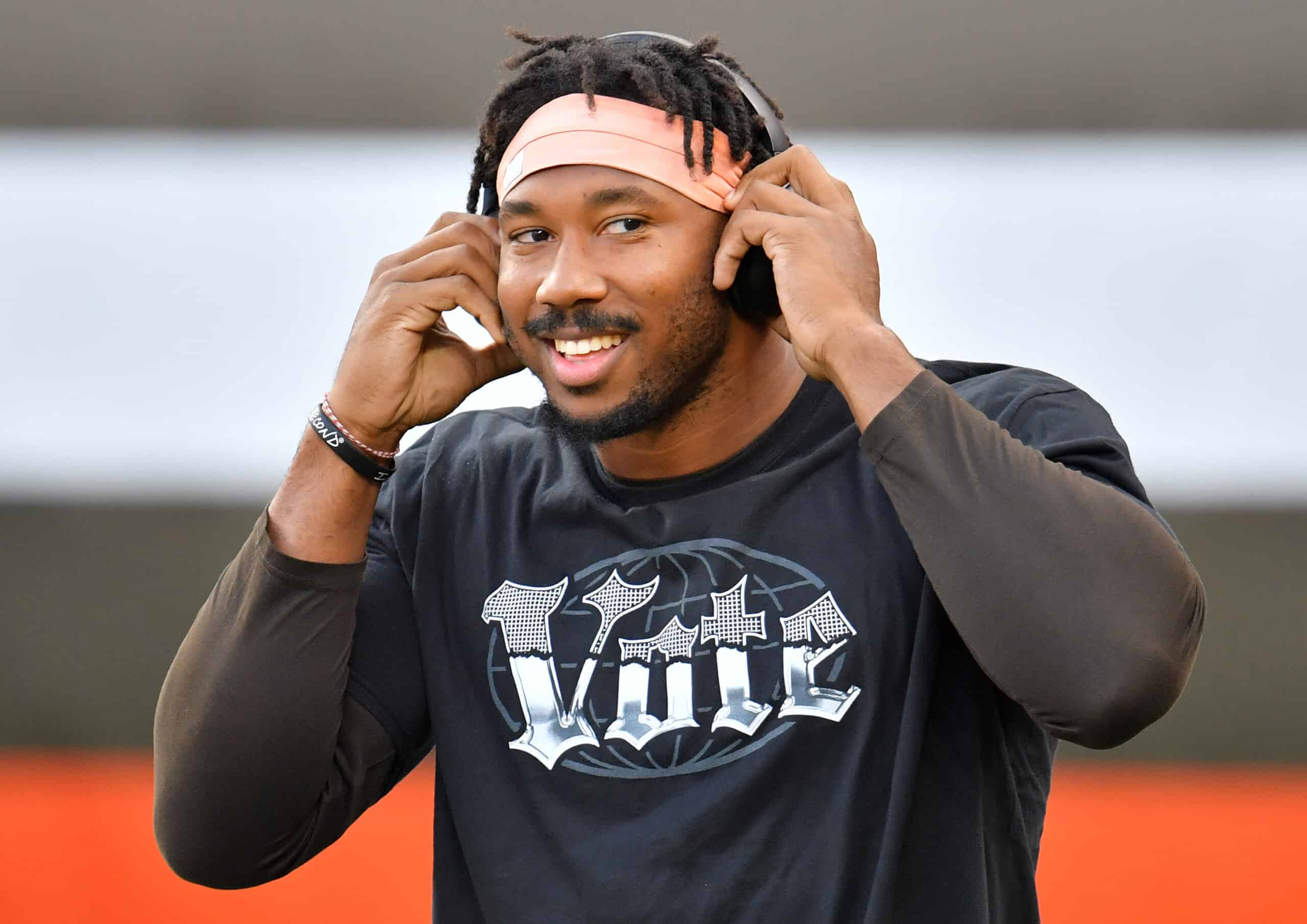 Who knew that Cleveland Browns defensive end Myles Garrett's Halloween decorations would be an ongoing story this month?
Besides adding holiday decor to his yard, Garrett was giving himself a little extra motivation by including a graveyard of quarterbacks.
Myles Garrett really decorated his front yard with QB gravestones for Halloween ☠️ pic.twitter.com/HBCj4Sd4ru

— Pickswise (@Pickswise) October 14, 2021
If Garrett thought his decorations would fly under the radar among current and former NFL players, he was sadly mistaken.
Players Responses
Kyler Murray
Kyler Murray mentioned his presence in the graveyard to Garrett after the Cardinals defeated the Browns in Week 6.
Kyler Murray confronts Myles Garrett over putting him in his QB graveyard 🪦 😂pic.twitter.com/67Zdzwidjl

— PFF (@PFF) October 20, 2021
Bruce Smith
Buffalo Bills legend Bruce Smith was only temporarily quiet.
He needed time to assemble his own graveyard which made Garrett's look minuscule in comparison.
Bruce Smith's QB graveyard puts Myles Garrett's to shame 😂🪦 pic.twitter.com/7Whgi78h1e

— PFF (@PFF) October 27, 2021
With 200 career sacks, Smith has plenty of quarterbacks to put in his Halloween graveyard including Browns legend Bernie Kosar.
Garrett Responds To Smith's Graveyard
#Browns DE @Flash_Garrett on #Bills Hall of Farmer Bruce Smith 1-upping his QB graveyard, beating holds & trying to be better than TJ Watt of #Steelers pic.twitter.com/1HeNzZp7un

— Daryl Ruiter (@RuiterWrongFAN) October 29, 2021
Myles Garrett was all smiles when asked about his thoughts on Smith's massive graveyard.
He hinted that he has a lot more work to do to catch up to Smith while noting that Smith included everyone.
Roethlisberger Is In Garrett's Graveyard
In order for the Browns to have a Happy Halloween, the Browns defense must be on point.
They need to be rushing Ben Roethlisberger to get rid of the ball quicker than he wants to and trying to elicit mistakes.
That starts with the play of Myles Garrett, and he knows it.
He also knows that TJ Watt is on the Steelers' defense.
Even though they do not directly play against each other, there are comparisons.
Each wants to be the best.
Garrett needs to best Watt and the Steelers tomorrow for the Browns and an injured Mayfield to have a chance in this game.
For those of us not tricky enough to score a ticket to FirstEnergy Stadium, watch Garrett and the Browns take on the Steelers at 1:00 PM EDT on Sunday, October 31.
Happy Halloween!