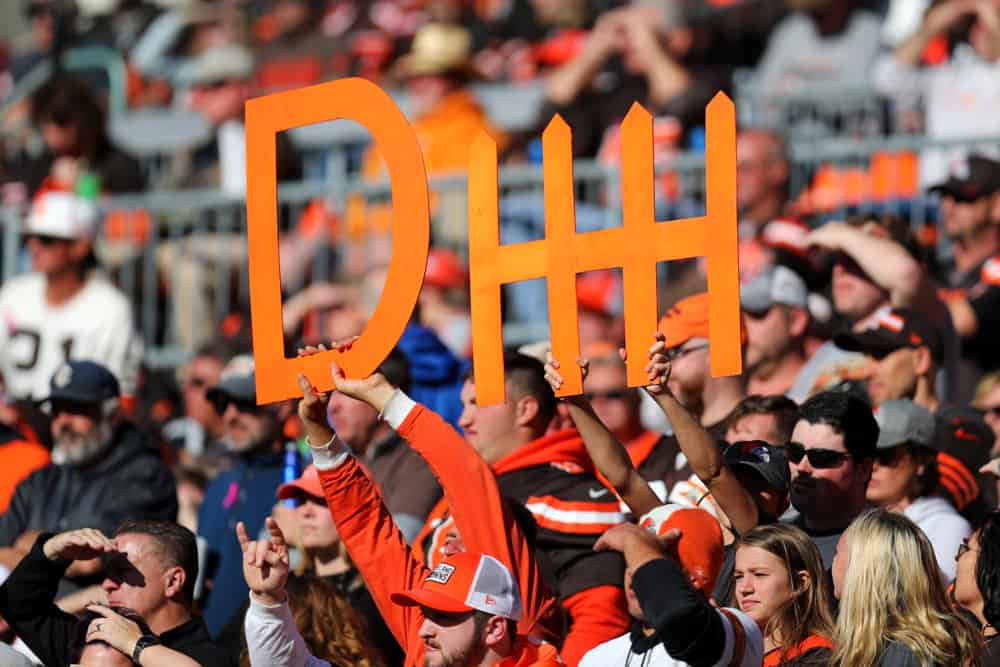 Kevin Stefanski's Cleveland Browns are 4-3 and hold an AFC Wild Card position heading into their Week 8 matchup.
But to hear some fans talk, the team is a bitter disappointment after some preseason Super Bowl prattle.
And Joe Woods' defense bears the brunt of Cleveland fans' wrath as they work to blend a new group of players.
#Browns Joe Woods on adjustments made after mini bye week pic.twitter.com/lpAWVa5Uef

— Fred Greetham (@FredGreetham9) October 28, 2021
But here are some fun facts about the Cleveland Browns defense:
They are the 2nd-best overall defense in the NFL by yardage allowed per game
They are the 2nd best rushing defense by yardage in the NFL
Most surprising, they are the 6th best passing defense by yardage in the NFL.
So why aren't the Browns 7-0 and sitting on top of the division?
Despite their yardage rankings, Cleveland ranks only 19th in points allowed.
The best defenses through seven weeks per @PFF_Sam:

5️⃣ #Browns

Full rankings ⤵️https://t.co/ArYL0aiavl

— PFF CLE Browns (@PFF_Browns) October 27, 2021
And they trail most of the league with only 5 takeaways and one of the worst 3rd down conversions percentages.
In short, they are a defense far more likely to give up a big play than make a big play.
Can they turn it around and have their best performance of the year against the Steelers?
Buy: Defense Ready To Bust Out in Division Game 
Nothing brings a Cleveland Browns defensive unit together like the thought of beating the Steelers.
And Pittsburgh, looking to avenge last season's wild-card loss, provided some bulletin board material for Cleveland.
Ben Roethlisberger might be making his final appearance in Cleveland.
And his comment about no longer being the winningest quarterback at First Energy Stadium was noticed.
Cleveland's front four should manhandle the Steelers' inept offensive line and shut down the running game.
Highest pressure rates in the NFL:

Myles Garrett: 19.8%
Maxx Crosby: 19.8%
Jadeveon Clowney: 19.5%

Two No. 1 overall picks and 4th-rounder

— Cris Collinsworth (@CollinsworthPFF) October 26, 2021
And Roethlisberger represents a mostly-immobile target for the pass rush.
Cleveland ran some disguised blitzes against Denver last week and would do well to subject Roethlisberger to the same.
Ben mitigates some lost arm strength with precision and touch, but if he has to hurry, both diminish in effectiveness.
Watch Troy Hill and Grant Delpit surprise Roethlisberger, as linebackers cut off his outlet receivers for big plays.
And I fully expect a multiple-sack day from Myles Garrett and his line-mates, too.
Sell: Tomlin Has Steelers Hyped Up on Revenge 
Did you know there are Steelers fans who insist the team beat themselves in last year's wild-card game?
They believe the team shot themselves in the foot and give no credit to the Browns' offense or defense.
And they don't even count the previous week as a real game since Roethlisberger was not behind center.
In the locker room, Mike Tomlin continues to will the Steelers to more victories than we expected.
From all the preseason post-mortems, this is supposed to be Tomlin's first losing season in Pittsburgh.
The #Browns have cited communication as the biggest issue for the defense. How do they fix that?

Kevin Stefanski said they've added walkthroughs to "over communicate" and have placed a "huge premium" in practice sessions on successful communication and reducing miscommunication

— Camryn Justice (@camijustice) October 18, 2021
But they are only 2-point underdogs on the road, effectively a pick-em or even a slight nod to the visitors.
As disrespectful as Roethlisberger might be to the Browns, Tomlin has the Steelers ready to punch us in the mouth.
He has all the memes and social media comments and bad press in their head.
And he knows the Browns secondary is playing too loose to not take advantage of.
Pittsburgh throws early and often to their speedy outside threats and piles on the Browns' big play woes.