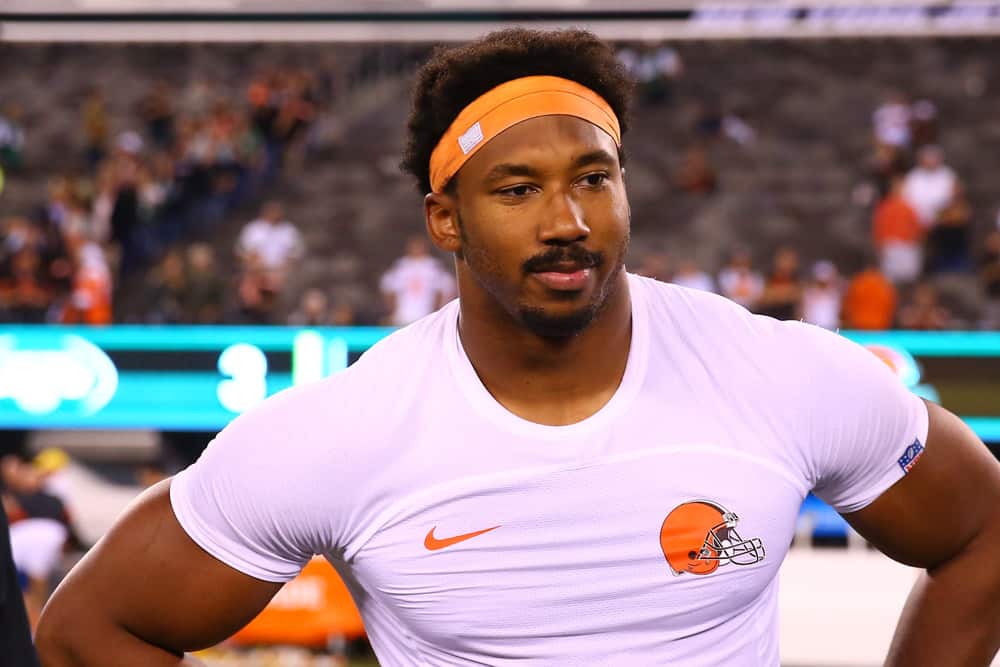 When Odell Beckham Jr. slapped the behind of a security guard at the College Football National Championship Game, he didn't expect an arrest warrant.
Cleveland Browns pass-rusher Myles Garrett knows exactly how OBJ thought it was going to go down.
He made that very clear on Twitter.
The Backstory
At the national title game between LSU and Clemson, OBJ was in attendance in support of LSU.
After the game, OBJ was accused of simple battery after he slapped the buttocks of a Superdome security guard.
According to Ramon Antonio Vargas and Carlie Wells of NOLA.com, the police sought chargers after a video of the incident was made public on social media.
In the video, Beckham is shown slapping the guard's behind and saying "get the gat" repeatedly.
OBJ wasn't gonna let that officer spoil the fun.. told him to get the gat. 🤣 pic.twitter.com/sWoWj53r42

— 🕊 (@wannabjoyful) January 14, 2020

In the end, the guard elected to not press charges.
Garrett Goes Troll Mode
After the conclusion of The Last Dance, many were engaged with discussions of the documentary.
The final two episodes chronicled the battles between the Chicago Bulls and Utah Jazz in the 1997 and 1998 NBA Finals.
As for Garrett, he couldn't help but use a clip that featured Jazz power forward Karl Malone and Bulls forward, Dennis Rodman to use as a reference to OBJ's incident.
How @obj thought spanking the cop was gonna go💀💀 pic.twitter.com/AzSRITQ4VI

— Myles Garrett ⚡️ (@MylesLGarrett) May 18, 2020
The Response
For the most part, the response has not been taken well.
That was because before Garrett posted the tweet, he was already taken flack for his tweet about Malone.
Karl Malone going into the bus after that last championship and saying congrats to MJ is sportsmanship at its finest. #LastDance

— Myles Garrett ⚡️ (@MylesLGarrett) May 18, 2020
After Garrett made that tweet, fans and analysts used it to rip him for his helmet hit on Steelers quarterback Mason Rudolph.
Take a look:
Myles Garrett's 'The Last Dance' tweet about sportsmanship had fans talking about the helmet incident https://t.co/1926RAmuA0 pic.twitter.com/T4bRslgzBI

— VIPortal INC (@VIPortalINC) May 18, 2020
So not only did your parents not teach you to spell correctly they taught you to act tough on Twitter. Nice.

— Studham Fan Club (@DCCYTFootball) May 18, 2020
Probably how you thought assaulting Rudolph was gonna go

— SyStEm ErRoR (@Mah0mes) May 18, 2020
In the end, it didn't really matter that he was poking fun at his teammate.
He had already poked the Twitter bear.