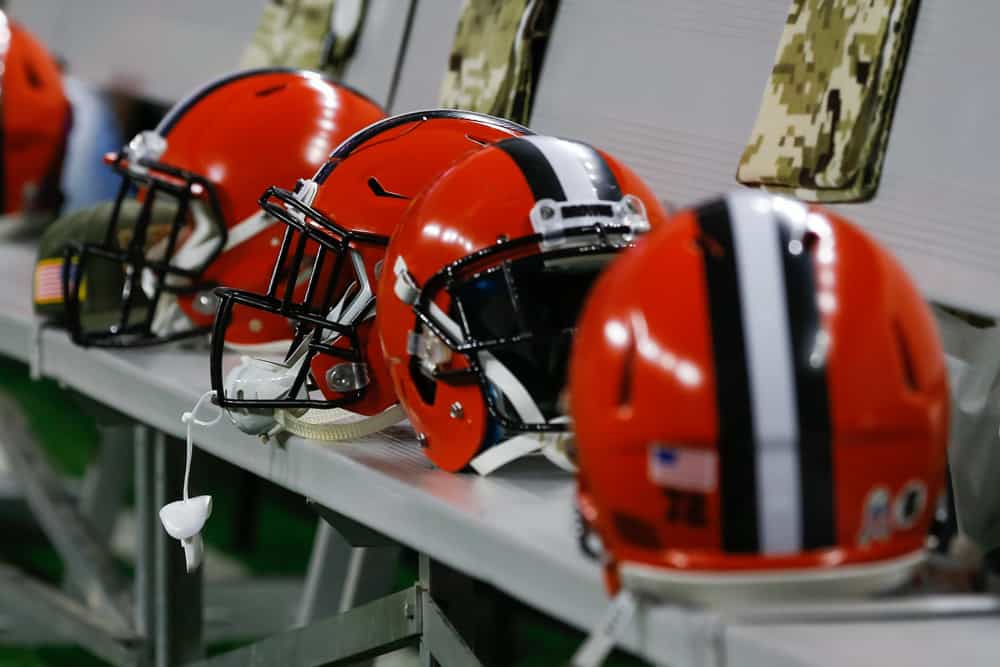 The COVID-19 pandemic has prompted NFL teams to hold virtual rookie minicamps, including the Cleveland Browns.
The latest episode of the team's YouTube series focuses on how the team's rookies are learning ahead of the 2020 season.
Here are three things we learned during episode four of "Building the Browns" entitled "Rookie Minicamp":
1. How first-round draft pick Jedrick Wills is preparing for his rookie season.
The episode featured footage of Wills meeting with general manager Andrew Berry, head coach Kevin Stefanski and offensive line coach Bill Callahan in February at the NFL Combine.
The episode also showed Wills and former Browns left tackle Joe Thomas meeting over a Zoom conference call.
Thomas — who is a future Hall of Famer — critiqued Wills' game tape from his on-field play at the University of Alabama.
One of the plays showed Alabama running back Najee Harris running a counter play right behind Wills during a 46-41 loss to LSU.
"This got me jazzed, right?" Thomas said. "[You] blew [the defender] out of the hole. The running back came right behind you, but then you showed a little bit of excitement. Like, you can tell this guy loves what he's doing on the offensive line. He loves playing tackle. He loves kicking ass."

"That was a point in the game where I think LSU was up by like two or three touchdowns at this point," Wills said. "This drive was nothing but run plays. I mean it was a great game. I was still fired up, ready to play."

"We call those the offensive linemen dream scenarios," Thomas said. "When you're going down the field, and you're doing whatever you want in the run game to that defense and they have no answers.

"They try to blitz, they can't stop you. They try to drop into coverage, they can't stop you. No matter what they do, they can't stop you and you're imposing your will on the defense. I love that. I love watching that stuff. It's a great example of what the Browns fans are going to see when you're playing left tackle for the Cleveland Browns at FirstEnergy Stadium in 2020."
2. Former LSU defensive coordinator Dave Aranda heaped praises for Grant Delpit and Jacob Phillips.
Aranda is now the head coach at Baylor, but coached Delpit and Phillips as LSU's defensive coordinator, a position he held from 2016-2019.
"When I think of Grant, he always had that dog in him. [He would] search out and compete against the best day in and day out," Aranda said. "I think he's a competitor. I know that Grant's going to make his mark here early on just with his flexibility, his mindset, his skill level. That always learning and always growing is a big part of who he is, but he comes alive on the field. His in-between the white lines [he becomes] a different person."
During the 2020 NFL Draft, the Browns selected Delpit with the 44th pick and Phillips with the 97th pick.
"We always look for traits to fit our positions, and for linebacker, obviously, in our scheme we need guy who can run and has good length," Browns defensive coordinator Joe Woods said of Phillips. In our evaluation of him, that's what we saw."

Woods said he didn't think Delpit would still be available with the 44th pick.

"I thought he was going to get drafted in the first round," Woods said. "So he was still there. It was very exciting."
The episode also featured Delpit, Phillips, LSU cornerbacks coach Corey Raymond and former LSU and current Browns cornerback Greedy Williams together on a Zoom call.
3. The team held its first rookie minicamp meeting on May 8.
The team currently has 22 rookies, which includes seven drafted players: Wills, Delpit, Jordan Elliott, Phillips, Harrison Bryant, Nick Harris, and Donovan Peoples-Jones.
Browns tight end coach Drew Petzing was complimentary of Bryant.
"Harrison Bryant was a kid, I mean the first time you turn on his tape, you're really impressed with what you saw," Petzing said.
Bryant explained to Berry, Stefanski and Petzing in February at the NFL Combine that he learns playbooks by using poker chips to figure out where he should line up in formations, a technique he learned from NFL quarterback Jordan Palmer.
The fourth-round pick also showed off his homemade weight room in his garage, which featured an Olympic bar held up by a wood rack in cement buckets.
Peoples-Jones also discussed how April's draft went for him, falling to the Browns in the sixth round.
"I can't have ever imagined being in a quarantine with the draft," Peoples-Jones said. "It was a hard process. [I could] never imagine it happening like that, but it was something I appreciated. I'm so happy that the Browns called me.

"[The] night before, it was really hard to sleep. You just don't know. You're asking your agent if they're hearing anything. You're around family members who want the best for you, and while the best sometimes isn't happening right then, it can build up anxiety."
Peoples-Jones said he was in "an emotional state" and decided to take a shower during the sixth round of the draft.
"I just wanted to just take a hot shower and sit there and think a little bit," Peoples-Jones said. "As I was running the shower water, my phone rang and my phone was upside down, so I grabbed it, looked at it and it said Cleveland, Ohio, and I'm like 'there it is.' Like I hope this is who it really is. I hope it's not a random person in Cleveland. I hope it's not a friend that I know from Cleveland, and got on the Zoom call and I got the feeling that they wanted me and they could use me."

"It was funny because, I don't know, they were probably like, 'why does this guy not have his shirt on?'"

"You gonna put on a shirt on or what?" joked Browns Senior Vice President of Communications Peter John-Baptiste during the draft day Zoom call with Peoples-Jones.
Peoples-Jones has the same agent as Odell Beckham Jr.
The Browns rookie has trained this offseason with Jarvis Landry in Florida.
Here's what to expect for the next "Building the Browns" episode:
New episodes of the "Building the Browns" YouTube series are released every two weeks.
The first episode came out on April 5, the second on April 19, and the third on May 4.
The next episode is due out on May 31.