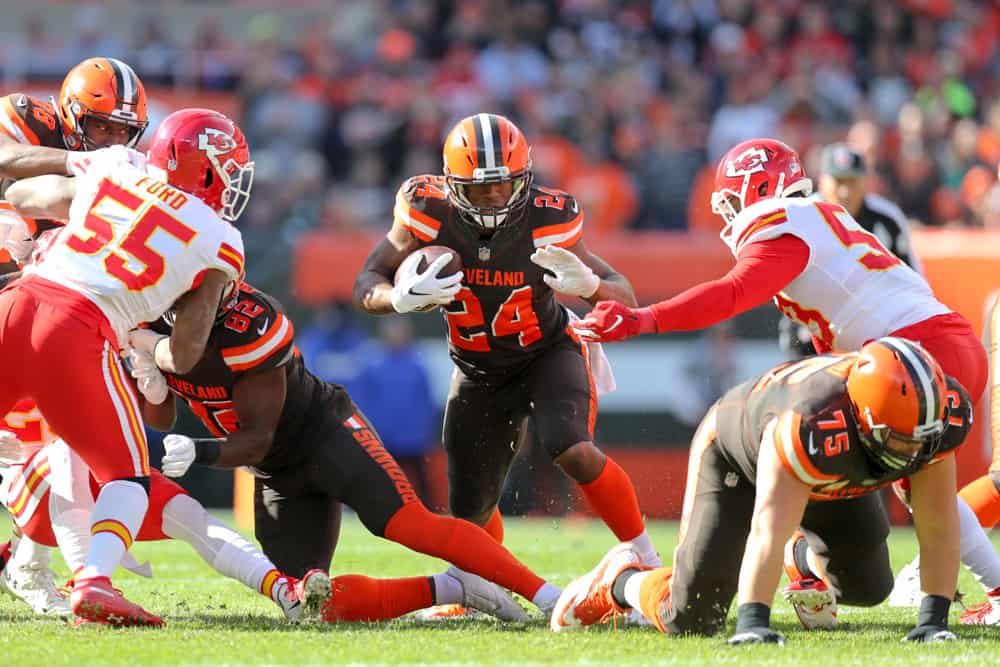 Baker Mayfield and Myles Garrett march into Kansas City this weekend ready to kick off the 2021 season.
Not many fans outside of Ohio give the Cleveland Browns much chance to knock off the defending AFC Champs.
Las Vegas set the point spread at +6.5 points for Kevin Stefanski's troops.
#Browns QB Baker Mayfield said Arrowhead Stadium is one of the most hostile environments in #NFL, our communication will be key, we won't be shocked by atmosphere, we know what we're heading into on road vs. #Chiefs

— Nate Ulrich (@ByNateUlrich) September 8, 2021
And more folks expect the home team to return to the Super Bowl again next February than the visitors.
But there is a reason they play the games and a reason Week 1 is always the most difficult to predict.
This is not the Cleveland team that fell to the Chiefs just 9 months ago.
#Browns RB Nick Chubb on feeling after last year's playoff loss to Chiefs: "We knew how we felt and we didn't want to experience it anymore."

— 92.3 The Fan (@923TheFan) September 8, 2021
It is a faster, smarter, and more versatile mix of players than the group Kansas City fans remember.
And so, here are 3 bold predictions for the Browns versus Chiefs rematch.
1. Odell Beckham Jr. Scores the Browns First Touchdown
For much of the 2021 preseason, nobody was quite sure Odell Beckham Jr would be ready to play by September.
Torn ACLs can require more than a year of rehab for some players.
But OBJ's target, as he uploaded rehab videos and practice routines to social media, was always September 12.
And heading into Week 1, reports are he is jumping, cutting, and accelerating as well as ever.
Odell Beckham Jr when targeted in the end zone during his career:

🔸 82 Targets
🔸 0 drops

The longest streak among active players 👀 pic.twitter.com/TjowteIw03

— PFF (@PFF) September 7, 2021
The first time Beckham gets tackled will likely cause a collective gasp along the sideline.
There is a good chance the team will limit Beckham's snaps.
But he will pull in the Browns' first touchdown of 2021, even if the ball is on the goal line.
And if that sounds like a setup by Mayfield and Stefanski, you're probably right.
2. Defense's First Sack Comes From the Secondary 
Without a doubt, Garrett, Jadeveon Clowney, and the rest of the defensive line are salivating.
Kansas City is expected to roll out 5 offensive linemen who never played together.
And that includes three rookies facing what might be the top pair of edge rushers in the league.
Patrick Mahomes might not be as concerned as some quarterbacks as he is as mobile and quick as anyone.
Jadeveon Clowney, Myles Garrett set to create 'favorable matchups'

📰 » https://t.co/3vvfbNWwjf pic.twitter.com/JwYCzJnnUA

— Cleveland Browns (@Browns) June 24, 2021
And that will be what robs the defensive line of the Browns' first sack of the 2021 season.
My bold prediction is that Mahomes will scramble or roll away from pressure early in the game.
And a blitzing cornerback will wrap him up before the linemen can catch him.
Garrett and company eventually get theirs, but they won't get the first.
3. Mayfield Throws More Touchdown Passes Than Mahomes 
Don't expect a repeat of their classic 2016 matchup when Mayfield's Oklahoma team beat Mahome's Texas Tech squad 66-59.
This game will include decidedly fewer points as the defenses remind fans they exist, too.
But there will be touchdowns in a close, well-fought battle between these two playoff contenders.
Mahomes will get his yards and end the day with 2 touchdown passes.
Baker Mayfield & Patrick Mahomes put up NUMBERS when they met in college! 😮 pic.twitter.com/pt10OqREOq

— NFL UK (@NFLUK) January 17, 2021
And Mayfield will flip a pair of short touchdown passes to his array of receiving weapons.
But Kevin Stefanski understands the importance of messaging in the NFL.
And so, it will be the third Mayfield touchdown pass that everyone is talking about on Monday.
Donovan Peoples-Jones won't break stride as he hauls in a long strike from the Browns' quarterback.