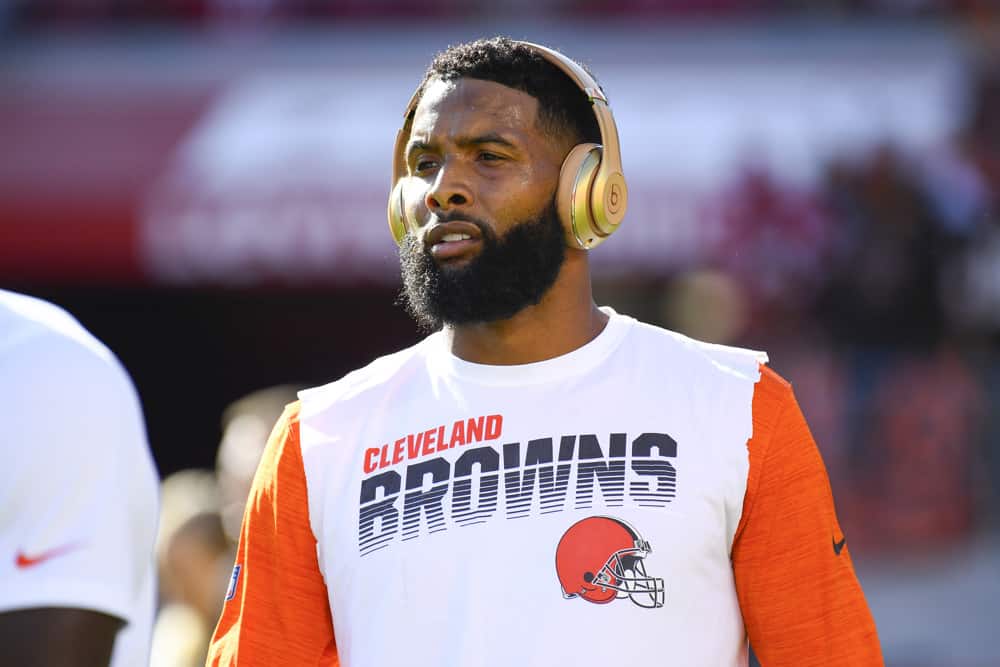 The Cleveland Browns released WR Odell Beckham Jr. and the speculation has begun on where he will land.
It didn't take long for some stars around the league to start the recruiting process.
New Los Angeles Rams linebacker Von Miller has already started by posting this to his Instagram:
"Happy Birthday @obj I love you man! Frfr! Come to the @rams so we can chase this ring together!!!"
View this post on Instagram

The Instagram post by the longtime Denver Broncos Pro Bowler also celebrated Beckham Jr.'s recent 29th birthday.
Miller has not even been a Ram for a week and has yet to play a game in a Los Angeles uniform.
Yet, he is looking to add to the team's impressive offense.
The Rams have become a juggernaut in the NFC West.
According to the odds, the Rams, who waived veteran receiver DeSean Jackson on Wednesday, could be in need of a receiver.
Los Angeles is tied for eighth in terms of odds to land OBJ.
The Rams, Colts, Titans, and Packers are all standing at +700.
However, the Rams are 30th in terms of waiver order:
Current #NFL Waiver Order

1. DET
2. MIA
3. HOU
4. JAX
5. NYJ
6. NYG
7. WSH
8. PHI
9. SEA
10. CHI
11. ATL
12. SF
13. MIN
14. IND
15. NE
16. DEN
17. CLE
18. KC
19. CAR
20. LAC
21. PIT
22. CIN
23. NO
24. TB
25. BUF
26. LV
27. DAL
28. GB
29. BAL
30. LAR
31. TEN
32. ARZ

— Spotrac (@spotrac) November 5, 2021
Therefore, it may just be wishful thinking by Miller.
But the Rams could be a strong fit for the eighth-year receiver.
How Would the Rams Receiving Group Look with OBJ?
Matthew Stafford has impressive receiving weapons in the following players:
Cooper Kupp: 63 receptions, 924 yards, and 10 touchdowns this season
Robert Woods: 38 receptions, 458 yards, and four touchdowns this season
In addition to the 28-year-old and 29-year-old receivers, 25-year-old Van Jefferson already has contributed 392 yards and three touchdowns as well.
These three strong pass catchers along with Tyler Higbee have helped Stafford make this team into a top-five passing offense.
Even though Cam Akers has been for out of all 2021 thus far, Darrell Henderson  (507 rushing yards, 141 receiving yards, and seven total touchdowns) has started and played valiantly.
His versatility has helped the passing game.
With all of these impressive offensive players, the rich could get richer at SoFi Stadium.
Sean McVay is in pursuit of his second Super Bowl appearance, as he has his best offense since his 2018 NFC Champion Rams.
Unfortunately, that squad lost, 13-3, in the Super Bowl to the Patriots.
If McVay has another offensive clunker in the playoffs with such an impressive offense, it would be bad news for him.
The addition of OBJ to this roster could be the difference for an offense that is firing on all cylinders this season.
Stafford leads the NFL in QBR and is in second in passing yards and passing touchdowns.
Kupp is the league leader in receiving receptions and touchdowns.
This offense could be an amazing fit for OBJ.
If he is excited about the prospect of playing with the Rams, it could be a great landing spot for him.
As far as Browns fans go, maybe Cleveland can beat OBJ and the Rams in Super Bowl LVI at SoFi Stadium.
What a storyline that would be.