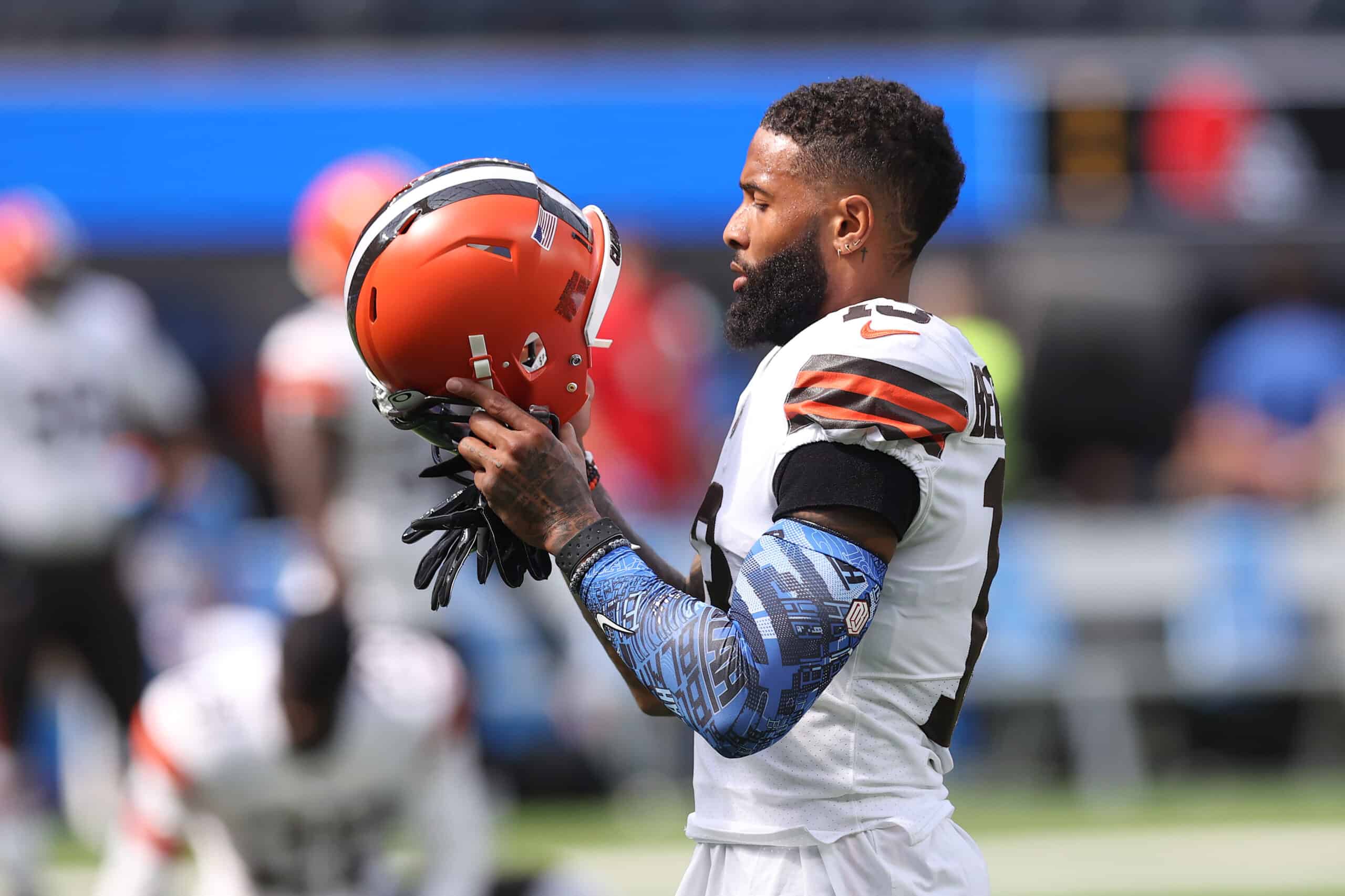 The Odell Beckham Jr. era is officially over with the Cleveland Browns.
Bovada released odds on Friday about which team Beckham will play for next.
Here's a look at the pros and cons of which team Beckham could join next.
Las Vegas Raiders: +200
It makes sense the Raiders are looking for a wide receiver to replace Henry Ruggs III, who got released due to his involvement in a crash that left a woman dead.
Ruggs faces felony charges of driving under the influence of alcohol resulting in death and reckless driving.
The Raiders released Ruggs after the report showed he was clocked driving 156 mph a few seconds before impact.
On the field, Ruggs was one of the NFL's fastest receivers.
It's a void Beckham could look to fill.
The Raiders have some talent with their skill position players of running back Josh Jacobs, wide receiver Hunter Renfrow and tight end Darren Waller.
Also, the Raiders (5-2) lead the AFC West division heading into Week 9.
The Browns are scheduled to play the Raiders in Week 15.
Detroit Lions: +250
Friday is Beckham's 29th birthday.
It's unlikely the three-time Pro Bowler would want to join a winless Lions team (0-8), especially considering OBJ is probably looking to get a taste of postseason success.
However, the Lions have first dibs on claiming Beckham followed by the Miami Dolphins and Houston Texans.
Current #NFL Waiver Order

1. DET
2. MIA
3. HOU
4. JAX
5. NYJ
6. NYG
7. WSH
8. PHI
9. SEA
10. CHI
11. ATL
12. SF
13. MIN
14. IND
15. NE
16. DEN
17. CLE
18. KC
19. CAR
20. LAC
21. PIT
22. CIN
23. NO
24. TB
25. BUF
26. LV
27. DAL
28. GB
29. BAL
30. LAR
31. TEN
32. ARZ

— Spotrac (@spotrac) November 5, 2021
Baltimore Ravens: +275
The Ravens have looked to get Lamar Jackson receiving help, which is why they drafted rookie Rashod Bateman and signed Sammy Watkins in the offseason.
However, Bateman and Watkins have missed time with injuries.
Plus, the Ravens run the ball more frequently than most teams.
Entering Week 9, the Ravens run the ball on 45.44% of their plays, which ranks seventh in the NFL.
The Ravens would probably run the ball even more frequently if not for the season-ending injuries to running backs J.K. Dobbins, Gus Edwards and Justice Hill.
With the addition of OBJ, the Ravens would have a pretty nice group of receivers with Marquise "Hollywood" Brown, Bateman and Watkins.
New Orleans Saints: +300
Starting quarterback Jameis Winston (ACL) and star wide receiver Michael Thomas (ankle) are both out for the season.
Beckham might not want to play alongside quarterbacks Trevor Siemian or Taysom Hill, but he's from Baton Rouge, Louisiana.
OBJ also played college football for LSU.
Buffalo Bills: +400
Josh Allen's completion is slightly down this year (65.4%) compared to last year (69.2%), but Beckham would give the Bills yet another offensive weapon.
The Bills already have talented receivers in Stefon Diggs, Emmanuel Sanders and Cole Beasley.
Entering Week 9, the Bills are already the NFL's highest-scoring team, averaging 32.7 points per game.
The Bills also lead the AFC East division with a 5-2 record.
Jacksonville Jaguars: +400
Beckham would be a nice target for rookie quarterback Trevor Lawrence, but the Jaguars are still rebuilding as shown by their 1-6 record.
As of Friday morning, the Jaguars do have the most salary-cap space in the NFL at $28.02 million.
Offering lots of money is really the Jaguars' only appeal to Beckham.
If Beckham somehow signed with the Jaguars, I would look forward to seeing OBJ-Jags jerseys at future music festivals.
New England Patriots: +450
The Patriots and Bill Belichick have had disgruntled players perform well in New England in the past: Randy Moss and Corey Dillon come to mind.
Beckham could help rookie quarterback Mac Jones further develop.
Entering Week 9, the Patriots have a 4-4 record and need to make a second-half push for a playoff birth.
Plus, the Browns play the Patriots on Nov. 14.
Indianapolis Colts: +700
Wide receiver T.Y. Hilton has struggled with injuries throughout his career.
Hilton and Parris Campbell have missed time this season with injuries.
Signing Beckham would give the Colts and Carson Wentz another receiver.
Tennessee Titans: +700
The Titans could look to upgrade their offense after news broke of Derrick Henry's season-ending foot injury.
Plus, OBJ would join a talented Titans receiving corps that features A.J. Brown and Julio Jones.
Los Angeles Rams: +700
The Rams waived wide receiver DeSean Jackson after Tuesday's trade deadline.
Perhaps one speedster (OBJ) could fill the void of another (Jackson).
It would be fun to see what Rams head coach Sean McVay and quarterback Matthew Stafford could do to rejuvenate Beckham.
Green Bay Packers: +700
What better way to appease Aaron Rodgers than to sign Beckham?
The nine-time Pro Bowl quarterback has been vocal about how he wants the Packers front office to get better receivers.
OBJ and Davante Adams would be a nightmare for opposing teams' secondaries.
Plus, Marquez Valdes-Scantling has a lingering hamstring issue.
The Browns play the Packers on Christmas Day.
Minnesota Vikings: +1,000
Signing Beckham would add to the Vikings' firepower of Justin Jefferson, Adam Thielen, Dalvin Cook and Alexander Mattison.
While Beckham and Jefferson weren't college teammates, both players share a connection to LSU.
San Francisco 49ers: +1,100
Beckham would help pair with wide receiver Deebo Samuel.
The 49ers rank 12th on the NFL's waiver order.
Kansas City Chiefs: +1,500
Opposing defenses have put the top on the Chiefs' offense by putting two deep safeties and forcing Patrick Mahomes to throw underneath.
Defenses can bracket tight end Travis Kelce and Tyreek Hill.
The Chiefs haven't had a good counter against defenses' focus on Kelce and Hill, especially since second-year running back Clyde Edwards-Helaire suffered an MCL sprain on Oct. 10 in the loss to the Bills.
OBJ could help solve that problem.
Sure, the Chiefs are trying to resolve their defensive problems by trading for Melvin Ingram, but another way to combat that would be to score more points.
The Chiefs lead the NFL with 19 giveaways and rank 31st in turnover differential.
If the Chiefs can cut down on their giveaways and play marginally better defense, they could get back into the playoff hunt.
Seattle Seahawks: +1,500
Once Russell Wilson returns from injury, he already has one of the NFL's best receiver tandems in Tyler Lockett and D.K. Metcalf.
OBJ would add yet another target.
Philadelphia Eagles: +2,000
What kind of message would the Eagles send to DeVonta Smith and Jalen Reagor — both first-round picks — if they take a flyer on Beckham?
Carolina Panthers: +2,000
If Beckham didn't get along with Baker Mayfield, how would OBJ get along with fellow 2018 first-round pick Sam Darnold?
It's no secret Mayfield and Beckham didn't mix.
Since joining the Browns in 2019, Odell Beckham Jr. has averaged 54.7 receiving yards per game and caught 54.3% of his targets.
While playing for the Giants from 2014-2018, OBJ averaged 92.8 receiving yards per game and caught 62.7% of his targets.
Since 2019, Browns quarterback Baker Mayfield has a 69.0 passer rating when targeting Odell Beckham Jr., which is the lowest figure of any NFL quarterback and receiver with more than 100 passing attempts in that span.
New York Giants: +2,000
LOL
Pittsburgh Steelers: +2,500
Wide receiver JuJu Smith-Schuster suffered a season-ending shoulder injury earlier this year, but the Steelers already have Diontae Johnson and Chase Claypool.
Ben Roethlisberger is in his 18th season and in the final year of his contract.
The Steelers are best when they limit Roethlisberger to 25-30 throws per game, and try to establish rookie running back Najee Harris.
Steelers' improved rushing game during three-game winning streak:
Weeks 1-4: 55.25 rushing yards per game
Since Week 5: 127 rushing yards per game
Since the Steelers are best when putting Roethlisberger on a pitch count, it's unlikely Beckham would be a good fit.
Cincinnati Bengals: +3,000
The Bengals have three talented receivers already in Ja'Marr Chase, Tyler Boyd and Tee Higgins.
If Beckham was disgruntled about his role in Cleveland, it would be more of the same in Cincinnati considering who is already on the roster.
Tampa Bay Buccaneers: +3,000
This is a long shot, but Tom Brady helped the Buccaneers bring in Antonio Brown a year ago.
The Buccaneers already have plenty of pass catchers for Brady in Mike Evans, Chris Godwin, Brown, Rob Gronkowski and Leonard Fournette.
The appeal would for Beckham is he could help the Buccaneers try to repeat as Super Bowl champions, even in a reduced role.
Dallas Cowboys: +3,000
Like the Buccaneers, the Cowboys already have plenty of offensive weapons, especially at the receiver position.
Realistically, how many touches would OBJ get considering the Cowboys already have CeeDee Lamb, Amari Cooper, Cedrick Wilson and Michael Gallup?
Any Canadian football League team: +5,000
You're better off lighting your money on fire than betting on Beckham to join a CFL team.
The internet would break if Beckham signed with a CFL team.
Bless Bovada for listing this as an option.