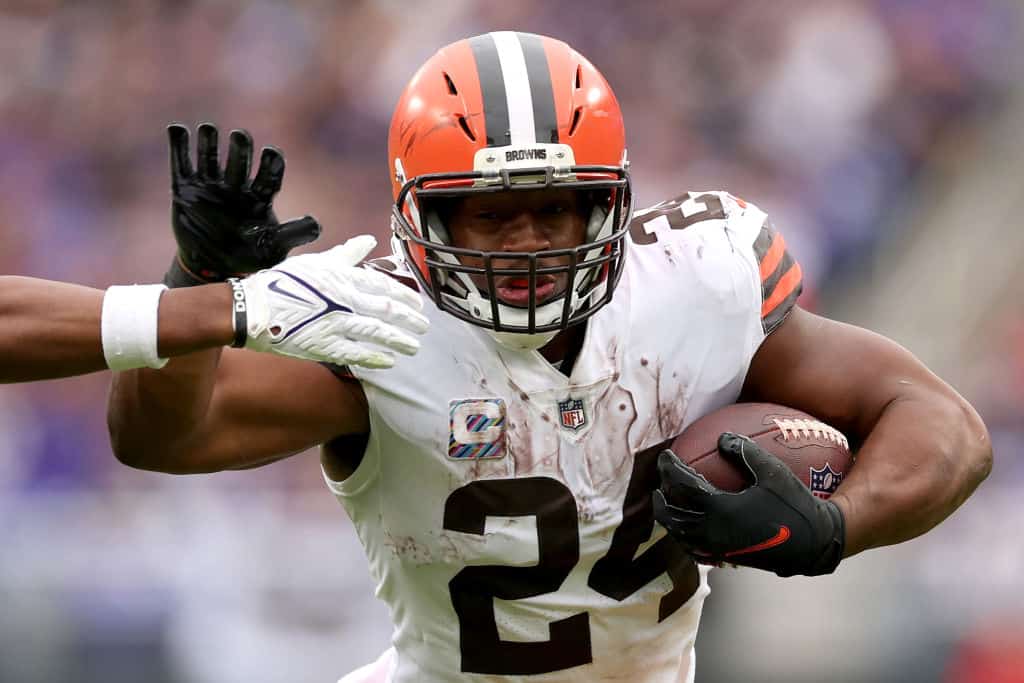 With apologies to Jonathan Taylor, Derrick Henry, and Josh Jacobs, Nick Chubb of the Cleveland Browns is probably the best running back in the NFL today.
He ran for a career-high 1,525 yards last season while scoring 12 touchdowns, and he has put up at least 1,250 rushing yards in three of the last four seasons.
However, that is just the start of the argument that he's the best at his position.
Chubb averaged 5.0 yards per carry last season, which was more than the three aforementioned players — in fact, he has averaged at least 5.0 yards per carry in each of his five pro seasons.
He is a master at breaking and evading tackles, and analyst Brian Baldinger broke down his outstanding abilities while even comparing him to arguably the greatest running back ever — late Browns legend Jim Brown.
.@Browns @NickChubb might be the hardest RB to tackle since Jim Brown; and now he is dedicating the '23-24 season to the best player this league has scene. I can't find another RB who averaged 5.0+ /rush each year for 5 years. Can't wait to watch the Browns every week #dawgpound… pic.twitter.com/w4avVv7LDK

— Brian Baldinger (@BaldyNFL) June 21, 2023
For much of his career so far, Chubb has had to carry the Browns for long stretches, as they haven't had a stacked team on offense, a high-level quarterback, or a reliable defense.
But it looks like all that could change this fall.
Deshaun Watson will have an entire season under center with his new teammates, and those new teammates include four-time Pro Bowl wide receiver Amari Cooper and ascendent speed threats in Donovan Peoples-Jones and Elijah Moore.
On the other side of the football, defensive tackle Dalvin Tomlinson and pass rusher Za'Darius Smith should shore up what was a porous unit in 2022.
At age 27, Chubb is in the prime of his career, and perhaps he will make his second playoff appearance this January.