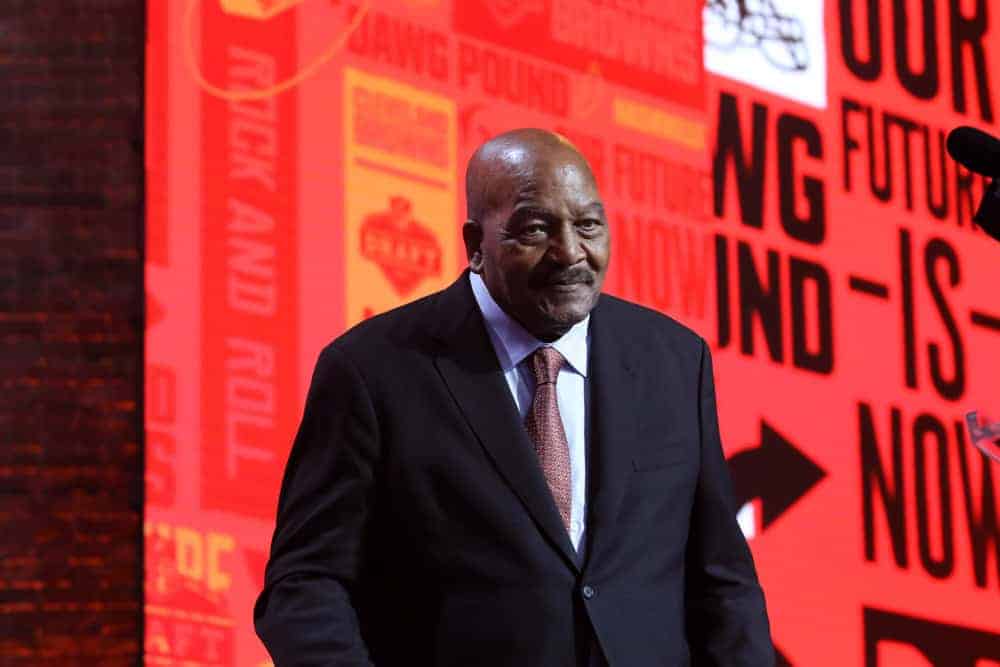 Joe Thomas isn't the only Cleveland Browns great honored by the NFL this week.
During the league's honors show Thursday night, the NFL announced that the annual rushing title is now called the Jim Brown Award.
Brown played his entire 8-year career in Cleveland, winning the rushing title all 8 seasons.
And in 7 of those seasons, he averaged over 100 yards per game, including his personal best of 133 ypg in 1963.
The NFL has renamed the award that goes to the league's leading rusher after #Browns Hall of Famer @JimBrownNFL32 – it is now "The Jim Brown award"

— Daryl Ruiter (@RuiterWrongFAN) February 10, 2023
Brown's 12,312 career rushing yards rank 11th all-time and he held the NFL record until Walter Payton came along.
His career mark of 5.2 yards per carry is tied for the third-best of all running backs in NFL history.
Fellow Browns legend Marion Motley (5.7) holds the record and current Browns star Nick Chubb (5.2) is tied with Brown at the moment.
Oakland Raiders running back Josh Jacobs is the first Jim Brown Award winner after racking up 1653 rushing yards.
Brown Shined Off The Field, Too
Younger, flashier rushers might push Browns' NFL records further down the charts.
But his post-career efforts to promote civil rights will not soon be forgotten.
Jacobs calls it an honor to be the first recipient of the newly-named award.
And NFL commissioner Roger Goodell agrees with Jacobs' assessment of the former Brown.
The very first. 🏆@iAM_JoshJacobs is the inaugural Jim Brown Award winner, given to the player with the most rushing yards each season. pic.twitter.com/LnetbA2CLP

— Las Vegas Raiders (@Raiders) February 10, 2023
Brown is a frequent visitor to NFL locker rooms and Goodell notes his influence on generations of NFL players.
Besides talking about these things, Brown helps finance economic development initiatives for black businesses.
He also founded an organization called Amer-I-Can, which works with gang-involved youth in Cleveland and Los Angeles.
All Around Athlete And More
Before devoting himself to football, Brown earned letters in baseball, basketball, track, as well as lacrosse.
He is a part-owner of New York's professional lacrosse team, the New York Lizards.
Brown tried his hand at color analysis, working with Vin Scully and George Allen in 1978.
He is boxing's first black TV announcer and is credited with pushing the famous Bob Arum into boxing promotion.
"If you truly want to define the position, it starts and ends with a guy by the name of Jim Brown." 🐐

📺: #NFLHonors on NBC & NFLN pic.twitter.com/P2XtFiKlF3

— Cleveland Browns (@Browns) February 10, 2023
Brown sports a lengthy acting resume with 50 movie credits and over 150 TV appearances.
Biographer Mike Freeman calls Brown the first black action hero based on his role in the classic Ice Station Zebra.
MGM made him a rare black leading man and his interracial love scene with Racquel Welch caused a stir.
Brown's life is already interesting enough to be the subject of the Spike Lee documentary, Jim Brown: All-American.