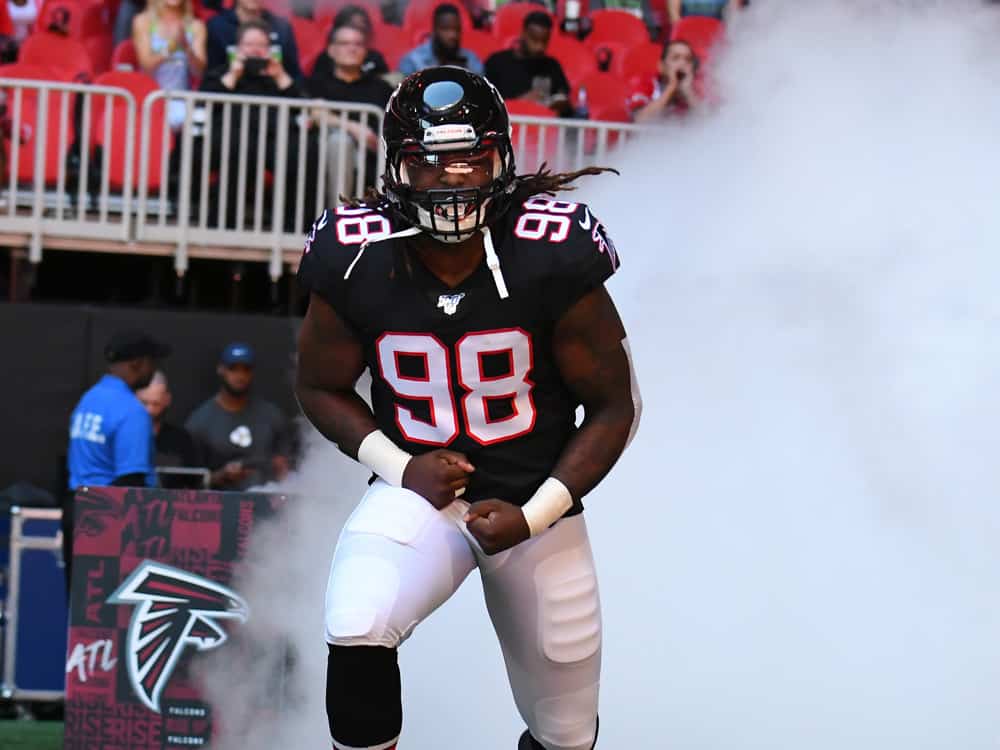 In a move that might underwhelm some Cleveland Browns fans, Takk McKinley agreed to a new 1-year deal.
Considered an athletic freak at UCLA, Atlanta used a 2017 first-round pick (26 overall) to draft the edge rusher.
Over his first three seasons, McKinley logged 16.5 sacks and 71 tackles in 45 games.
#Browns are are signing former #Falcons first-round DE Takk McKinley to a 1-year deal, per @jjones9. He bounced around last year but will have a chance to reset his footing in Cleveland.

— NFL Update (@MySportsUpdate) March 16, 2021
Atlanta opted not to pick up his fifth-year option, which did not sit well with McKinley.
After a public trade demand and multiple declined trade offers, the Falcons waived him in November of last season.
What followed was a series of teams picking McKinley up, only to see him fail a physical.
He was a Bengal less than a week, and it took the 49ers just one day to waive him after another failed physical.
Per @jjones9, the Cleveland Browns are signing former Falcons first round pick Takk McKinley to a 1 year deal. A possible chance to revive his career opposite of Myles Garrett.

— Full Press NFL (@FullPressNFL) March 16, 2021
But then Jon Gruden signed him to the Raiders' roster and placed him on injured reserve.
Gruden hoped McKinley would be well enough to provide a late-season boost to their defense.
But when he became eligible to come off the reserve list, Oakland immediately announced McKinley's season was over.
Cleveland, who is reported to have sought a deal for McKinley last year, now gets their man on a prove-it deal.
Can McKinley Prove To Be Worth His Deal?
It is reported McKinley's deal is worth $4.5 million, with incentives that could earn McKinley a total of $6 million.
McKinley jumped out as a fine young pass rusher and run stuffer with 20 stops, 2 forced fumbles, and 6 sacks as a rookie.
He tacked on 7.5 more sacks in his second season before fading off to just 4 more in 2019.
But despite the diminished sack total, McKinley remained among league leaders in quarterback pressures.
Berry and the Browns believe McKinley can still be a force to be reckoned with.
New #Browns DE Takk McKinley pic.twitter.com/PLImjoarm9

— MoreForYouCleveland (@MoreForYou_CLE) March 16, 2021
There was some tension between McKinley and the Atlanta staff, and reports say he first asked for a trade in 2019.
In 2020, Atlanta made him inactive for 5 of their first 9 games before releasing him.
It is unclear how or when McKinley suffered the groin injury that caused Oakland to place him on IR.
But a healthy and happy McKinley could prove to be a tremendous addition opposite Myles Garrett.