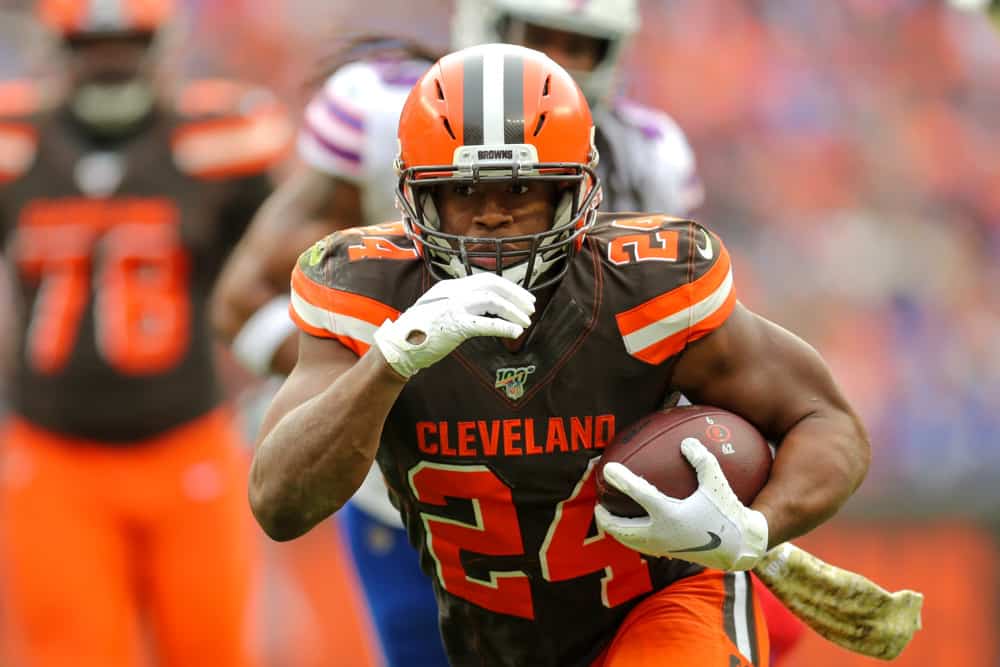 Cleveland Browns running back Nick Chubb is seeking a bit of redemption after missing out on the NFL's rushing title in 2019.
Chubb entered the final week of the season as the league's rushing leader, but ran for only 41 yards in the regular-season finale against the Cincinnati Bengals to finish with 1,494 rushing yards.
Tennessee Titans running Derrick Henry ran for 211 yards in the final week of the season to finish with 1,540 yards.
"It didn't really bother me, [but it provides] more motivation [to] try and do it this year," Chubb told reporters on a Zoom call Tuesday.
Chubb, 24, expressed his excitement in the addition of right tackle Jack Conklin, who blocked for Henry last season.
"I haven't gotten to talk to him yet," Chubb said. "He blocked for the rushing title champion last year, so hopefully we do that again here this year."
Chubb is entering his third season with the Browns.
"I believe everything happens for a reason and you just keep working and striving, and things will fall into place for you, so that's my mindset," Chubb said.
Chubb said he is excited for the versatility of the Browns' skill-position players, including fellow running back Kareem Hunt.
"You can't go wrong with who has the ball," Chubb said. "Pick your poison."
Chubb also addressed how the Browns and the NFL will address concerns related to the coronavirus this upcoming season.
"I think if everybody does our part right, follow the protocol [and] the guidelines," Chubb said. "I think we'll have a season."
It comes after Cleveland Indians pitchers Zach Plesac and Mike Clevinger broke the MLB's COVID-19 protocols while the team had a road trip in Chicago.
The Indians have instructed Plesac and Clevinger to quarantine.
Chubb said the Browns are testing players every morning for COVID-19.
As of Tuesday afternoon, the Browns do not have any players on the reserve/COVID-19 list.
The following players have been cleared after appearing on the list: running back Dontrell Hillard, safety Jovante Moffatt, punter Jamie Gillan and wide receiver Ja'Marcus Bradley.
The list is for players who either test positive for COVID-19 or who must quarantine after being in close contact with an infected person.
On Tuesday, Chubb said new Browns head coach Kevin Stefanksi and his staff have done a great job teaching and coaching the players virtually during the offseason.
"They did a great job of planning and getting us ready for what's happening right now," Chubb said. "For the most part, I like that. Everybody is on the same page. There's no confusion and everything's all in place, and we're ready to get out there and get rolling."
Chubb also expressed his optimism for quarterback Baker Mayfield.
"Baker looks good. I mean he's come back and saying all the right things and not saying some things," Chubb said. "I've believed in Baker from day one, and nothing has changed my opinion of Baker. I know he's excited to get out there and show the world who he is.''
The Browns are scheduled to hold their first full practice on Friday.